Sean Baker: "The Florida Project"
In 2015, Sean Baker shot, wrote, produced, edited and directed "Tangerine" all on an iPhone. In 2017, the Tisch alumnus made waves again with his Academy-Award nominated film, "The Florida Project."
Baker credits his alma mater for shaping the virtuoso filmmaker that he is today. In fact, he hung around campus for a year after graduation just to use the school's wealth of resources.
"I spent a year hanging out at NYU just trying to get back into those classrooms," Baker told WSN. "It gave me a very well-rounded education. I always tell young filmmakers even if you consider yourself only a writer or director, you still need to understand the camera. You need to understand everything."
This rings true for "The Florida Project," where the auteur is present in every aspect of production in some capacity or another.
The film follows precocious six-year-old Moonee (Brooklynn Prince) and her juvenile mother Halley (Bria Vinaite) as their lethargic summer days unfold at a desolate motel outside of Disney World. Lurking behind Prince's whimsical performance and Baker's vibrant vision is a surprising examination of classism and homelessness in the United States today. As Daniella Nichinson wrote in WSN last year, "in the worst situations, children see the splendor of life."
To excavate this story of poverty and extract breakout performances from newcomers Prince and Vinaite, Baker credits his team and the amount of time dedicated to pre-production.
"This world and issue were brought to me via news articles," Baker said. "I was intrigued because if this story was happening in the so-called happiest place on Earth, it might be happening in your own community."
Baker is no stranger to this underground and marginalized America and has extensive background in working with first-time actors. His last film, "Tangerine," unearthed the day-to-day lives of transgender sex workers and was led by performances from Kitana Kiki Rodriguez and Mya Taylor –– both of whom had no prior acting experience.
This time around he worked with an Instagram model and an ensemble of children.
"You just have to take your time," Baker said. "You can find so many people who have amazing personas and physicality, but you have to remember to make sure that they can act … [It's] a long list of steps, but it's about the time taken with those steps."
Time is of the essence for Baker, who typically spends years of research on a project before a screenplay can even begin. With "The Florida Project" and all of his films, there must be a clear beginning, middle and end, and until he is 100 percent comfortable with the world he is depicting, Baker won't even think about a story's structure.
Right now, Baker sits in this prolonged stage of filmmaking as he figures out his next move. All we know for sure is that his unconventional style of filmmaking will remain at his work's core.
"I'm not actually taking the regular Hollywood route," Baker said. "I would rather work with a nonprofit that is all about the art, like Centereach, than try and get myself into bed with the studios … It's about getting on the road and really seeing America and trying to figure out what story needs to be told next."
While "The Florida Project" only managed to garner one Oscar nomination, for Willem Dafoe as 'Best Supporting Actor,' at the 90th Academy Awards, Baker is steadily gaining traction in the industry as a daring cinematic voice who values substance and humanity over fame and market value.
Read more from Washington Square News' "Awards" feature.
Email Ryan Mikel at [email protected].
About the Writer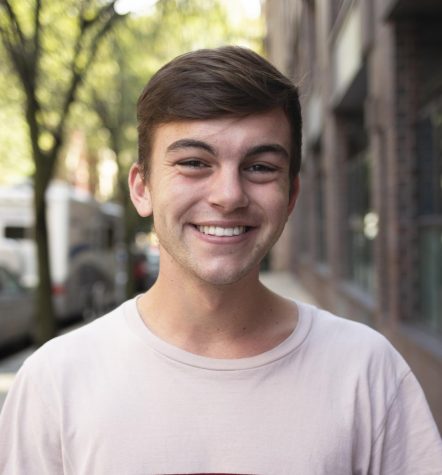 Ryan Mikel, Arts Editor
Ryan is the Arts Editor and a culture reporter at Salon. He studies Journalism and Cinema Studies in CAS, with hopes of owning A24 or Penske Media Corporation...