André Aciman: "Call Me By Your Name"
Somewhere in Northern Italy, André Aciman drafted his 2007 novel "Call Me By Your Name." Somewhere in West Hollywood, his queer coming-of-age romance garnered four Academy Award nominations –– including Best Picture, Best Actor for Timotheé Chalamet, Best Adapted Screenplay for James Ivory and Best Original Song, "Mystery of Love," for Sufjan Stevens.
The story is universal –– a tale of love and subsequent heartbreak –– as seen through the eyes of 17-year-old music prodigy Elio, played by on-and-off Gallatin student Chalamet. Aciman, Ivory and director Luca Guadagnino transport their audiences to the Florentine countryside, where a summer romance between Elio and Oliver (Armie Hammer) is ending as soon as it was beginning.
Contrary to popular belief, the Egyptian-born author and former NYU Creative Writing professor had no involvement in the 2017 film adaptation. Aciman claims he was simply protecting himself from disappointment.
WSN sat down with Aciman at the Lillian Vernon Creative Writers House early last month to talk more about the book, the film and the surprise masterpiece.
"To my surprise, it was totally enlightening," Aciman told WSN. "I loved the film. I thought the ending of the film was by far superior to the one I wrote in the book … I could have never done that. Try writing: boy stares at fireplace, cries, song plays in background. It was such a masterpiece that there was nothing to say."
The success surrounding the film has been unprecedented, making "Call Me By Your Name" one of the year's most successful endeavours in cinema. With an approval rating of 96 percent on Rotten Tomatoes, the big screen adaptation was one of the highest rated movies of 2017. Garnering almost 70 accolades and over 200 nominations, it is one of the most decorated films as well.
Its success can largely be attributed to the dream boat that is Chalamet, who made waves as a rising young star last year in films like "Lady Bird" and "Hostiles." In "Call Me By Your Name," Chalamet lounges around half-naked, transcribing music, mastering Bach and Liszt on both piano and guitar and always clutching a classic novel or two.
This fictional world of Elio's seems to largely be based off of Aciman, who totally geeked out over literature during his time in the English department and with WSN.
"I wish someone would film the book 'Olivia,'" Aciman said. "It's about a girl who falls in love with her woman teacher… It's a beautiful story. It's a big inspiration for my own novel. As a professor, I tried to bring a knowledge of the classics, which most teachers don't try to do because they always teach you to read contemporary work … but I'm always reading and teaching the classics. They also have things to teach us."
Even though Aciman was absent in the film's production, his touch resonates through the saturated shots of peach trees and a fateful summer romance that tugs at the heartstrings of every moviegoer.
"Call Me By Your Name" won Best Adapted Screenplay last night at the 90th Academy Awards.
Read more from Washington Square News' "Awards" feature.
Email Ryan Mikel at [email protected].
About the Writer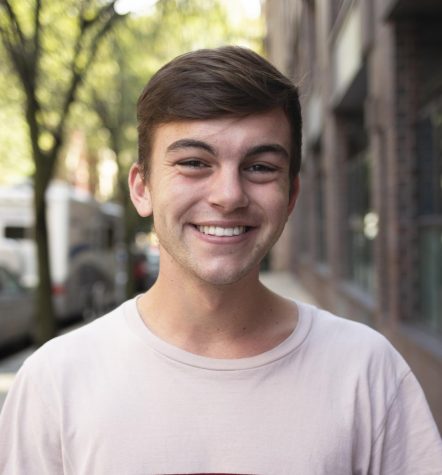 Ryan Mikel, Arts Editor
Ryan is the Arts Editor and a culture reporter at Salon. He studies Journalism and Cinema Studies in CAS, with hopes of owning A24 or Penske Media Corporation...