Does Going Social @NYU Matter?
With #NYUMoveIn and #NYUWelcomeWeek in the books, #NYU2020 is here and ready to rep some #VioletPride. All they have to do now is follow @nyuniversity on Facebook, Twitter, Snapchat, Tumblr and Instagram.
Of course, NYU has more social media than just the official @nyuniversity. On Facebook and Twitter alone, there are over 1,000 accounts associated with the university. Even when taking into consideration the many different departments scattered across the world, that number is shockingly high. But at a university where "school spirit" is more often a punchline than anything else, social media makes sense as a way to bring students together.
The most popular accounts are those run by NYU's Office of Public Affairs. Though @nyuniversity is ubiquitous today, it's only been three years since the university ventured beyond Facebook.
An account run by the university probably isn't the first place a person would look to connect with others. But Eileen Reynolds, assistant director of social media for the Office of Public Affairs, said she believes in the ability of an online community to act as a substitute for a real-life one.
"Social media can be a way for people to feel connected to each other even if they may not be meeting face to face," Reynolds said.
The official accounts try to foster this community by engaging as much as possible with the students. Reynolds' two favorite things that @nyuniversity has done so far were delivering coffee to students in Bobst Library during finals and filming faculty singing "Don't You (Forget About Me)" for the class of 2015.
Because they represent the entirety of the university, official NYU accounts have a wide range in what they post. Much of it is actually about academics, but those posts happen to be a bit less popular than, say, Javier Muñoz. Yet Reynolds said creating school spirit is a driving goal behind much of what they do.
"There's broadly a bunch of different categories that most of our content can fall into," Reynolds said. "In terms of the community-building aspect, a lot of it falls into what I would call '#VioletPride.' I don't know whether that hashtag itself has caught on, but these types of posts are often among our most popular in terms of likes and shares."
But years before the official NYU appeared on Twitter, there was @HashtagNYU. While @nyuniversity has to contend with being the official voice of the university, HashtagNYU can have a little more fun.
Nick Jensen, their marketing manager, said @HashtagNYU is about spotlighting individuals and groups, so that someone going through their posts can see a somewhat cohesive identity for the university, even if it's splintered in real life.
"We're like digital cheerleaders for the university," Jensen said. "We have a definite bias that there are so many exciting things going on here that if only we could capture it, everyone would know how great it is."
Caroline Osse, @HashtagNYU's social media manager, focused on perhaps the most helpful aspect of the account, which is helping students find resources that may get lost in email inboxes or brochures.
"It's overwhelming how much information there is," Osse said. "We like to narrow it down a little and create a curated way to find resources to get involved."
It's worth noting that NYU's social media most strongly attracts new and prospective students. When @nyuniversity conducted a poll on Snapchat, it found that what people wanted most were virtual tours of campus. Because @nyuniversity and @HashtagNYU are so general, students tend to turn to these accounts as a starting point for guidance when navigating the campus and its resources. Then, they can splinter off into the other thousand NYU-related accounts, whether that be @nyusteinhardt, @nyuparis
or @nyunews.
The #myfirstweek photo contest is back! Share pics of your first days on campus to win: https://t.co/3f0WC5aj3N pic.twitter.com/Dnr2XapsjU

— New York University (@nyuniversity) August 29, 2016
It is unlikely @nyuniversity or @HashtagNYU will ever be able to create a single, cohesive community. However, there have been more successful attempts, including the #myfirstweek photo contest and tweets of the week. And that is because these posts don't try to force school spirit; they reflect the students' excitement, which is so often best-expressed online.
Not every student moving into NYU is going to favorite or retweet something NYU posts, but they are likely tweeting and Snapchatting their experiences. It is no surprise that #NYUMoveIn trended nationwide. When looking at hundreds of people post their very first pictures of the Washington Square Arch surrounded by heart emojis, even the most cynical students can feel a momentary twinge of Violet Pride.
A version of this article appeared in the Tuesday, Sept. 6 print edition. Email Thomas Devlin at [email protected]
About the Contributors
Thomas Devlin, Editor-at-Large
Who is Thomas Devlin? Unfortunately, we may never know the full answer. Apocryphal information, however, can lead us to some reasonable guesses. Born in...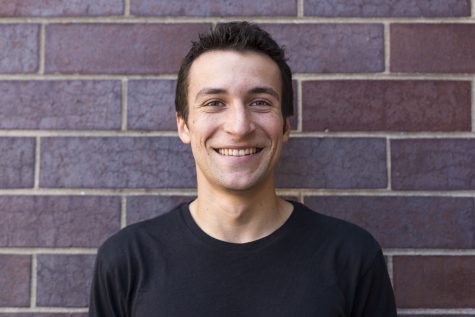 Alex Bazeley, Editor-In-Chief
Alex Bazeley is the Editor-in-Chief for the Washington Square News. Hailing from Oakland, he is a junior studying journalism and metropolitan studies....