Professor named MIT innovator, praised for brain research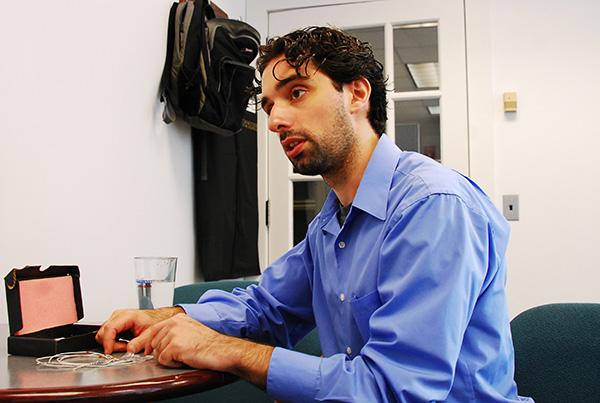 Polytechnic School of Engineering assistant professor of computer and electrical engineering Jonathan Viventi earned a spot on MIT's 2014 "Top 35 Innovators under 35" list for his research on electrical signals in the brain.
"[The title] brought more attention to my research," Viventi said. "I have been invited to give some talks, participate in conferences, so I think it's really helping to promote the work we're doing in my lab … It has been a great opportunity to expand the audience of people who know what we're doing."
His innovative tool to measure the brain's electrical signals has been especially well-received by neuroscientists studying seizures who, using Viventi's invention, will be able to map areas of the brain with high resolution. Unlike traditional devices with disks containing sensors 5 millimeters away from each other, Viventi's intricate device contains 360 sensors in about 1 square centimeter.
Viventi stressed how his device can measure electrical activities of the brain in much greater detail and over a larger spatial area than was previously possible.
"In theory, we can expand this thing to cover a larger area and give us a much more detailed idea of what is going on in the brain," he said.
Making his idea of a high-resolution interface a reality was no easy task for Viventi, however.
"There is always skepticism to new ideas, but as we have shown that we can make these things and they can really give us amazing insights into the brain," Viventi said. "We have yet to develop this as a commercial product that can be safe and reliable over long periods of time."
After seven years of hard work, Viventi hopes that his innovation will help diagnose and treat diseases such as epilepsy. He also looks forward to combining his innovation with motor prosthetics, which will allow paralyzed patients to control objects such as robotic arms and allow them to perform daily household tasks using their thoughts.
CAS freshman Sarai Colon, majoring in neuroscience, is excited by the future use of Viventi's innovation in motor prosthetics.
"It's a gateway into helping people find ways to improve their motor skills and ultimately help people who are cut off with their motor skills," Colon said.
Gallatin sophomore Kimberly Wang, studying neurophysiology, is also optimistic about the device's possible uses in the future and said such innovations are crucial to expanding knowledge in brain sciences.
"This technology looks very promising for future rehabilitation," Wang said. "Improvements in resolution of brain imaging are imperative to giving an opportunity to collect more detailed, more reliable information about the working of the brain. I am excited to see its potential to inform treatment of neurodegenerative diseases like Parkinson's disease."
SPS freshman Arkia Song, studying psychology, looks forward to the usage of Viventi's device to elucidate unexplained phenomena behind certain psychological disorders.
"This new technology can help assimilate more understanding about brain diseases, and could possibly accelerate research to discover a cure for physiological disorders," Song said.
 A version of this article appeared in the Oct. 2 print edition. Email Dhriti Tandon at [email protected].