Classic beauty spotted at Paris FW
This year's Paris Fashion Week amazed the style industy as designers showcased collections that returned to a simple beauty. With the cool street style looks that have been consistent on the runways lately, it was refreshing to see classic garments as a primary theme emerging this Spring/Summer '15 season.
Leading the pack of beautiful collections was Dries Van Noten. Models glided down a tapestry runway to the sounds of chirping birds and shuffling leaves. The dozens of colors, textures and patterns came together in a breathtaking way that could only be attributed to Van Noten's aesthetic. The collection featured tailored pants, flowy maxi dresses, clunky flatforms and a range of quirky jackets in contrasting prints and colors that brought festival fashion to a new level. Instead of stomping down the runway, the models proceeded to sit or lie down in a final romantic display that left the audience feeling as though they were one with nature.
Unexpectedly, a stunning collection came out of Chloé this season. The pieces were delicate, feminine and, simply put, pretty. There were fluid dresses of all lengths with floral embroidery, eyelets and knee-high gladiator sandals, all in earthy shades of beige, mustard, green and yellow. The runway's polished wood floor, along with the models' natural wavy hair and nude makeup, further enhanced the gorgeous yet simple aesthetic.
Stella McCartney evoked the same easy vibe that was found at the Chloé show. The collection featured wide-legged pants, denim dresses, uniquely placed cutouts and a continuation of the belt theme of the season. McCartney tinkered with buckles as shoulder straps, all in a color palette of white, navy and beige. Plaid and multicolor abstract patterns adorned a variety of cascading dresses of all lengths. These patterns were a standout in the collection, incorporating vibrant shades with classic cuts.
Once again, Isabel Marant produced a stunning collection that will undoubtedly be featured on every blog this spring. Her foolproof formula of mini skirts, slouchy jeans and what will certainly be the new it-shoe has proved effective once again. The distinctly Parisian clothes featured the biggest trends of the season: waist-cinching belts, intricate fringe details and a muted color palette that conveyed African inspiration throughout. The clothes are chic, cool and certainly must-haves for every spring and summer closet.
Balmain's modern Spring/Summer '15 collection featured feminine touches of sheer fabric, cutout detailing and cinched waists. Colors included pops of electric blues, reds and yellows. Some pieces in the collection were a bit too embellished to be worn practically. While the star pieces — bandeau dresses with elegantly placed cutouts, streamlined pencil skirts with Mondrian-esque prints and boxy blazers with sheer dresses underneath — were simple and sensual.
From cutouts to airy dresses, the unmatched style of Parisian designers sparked a return to femininity.
A version of this article appeared in the Wednesday, Oct. 1 print edition. Email Sophie Lewis at [email protected]
About the Writer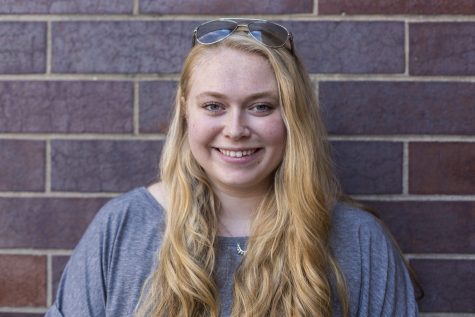 Sophie Lewis, Social Media Editor
Sophie Lewis is a junior in Steinhardt studying Media, Culture, and Communication and is the current Social Media Editor. She's from Long Island, but please...