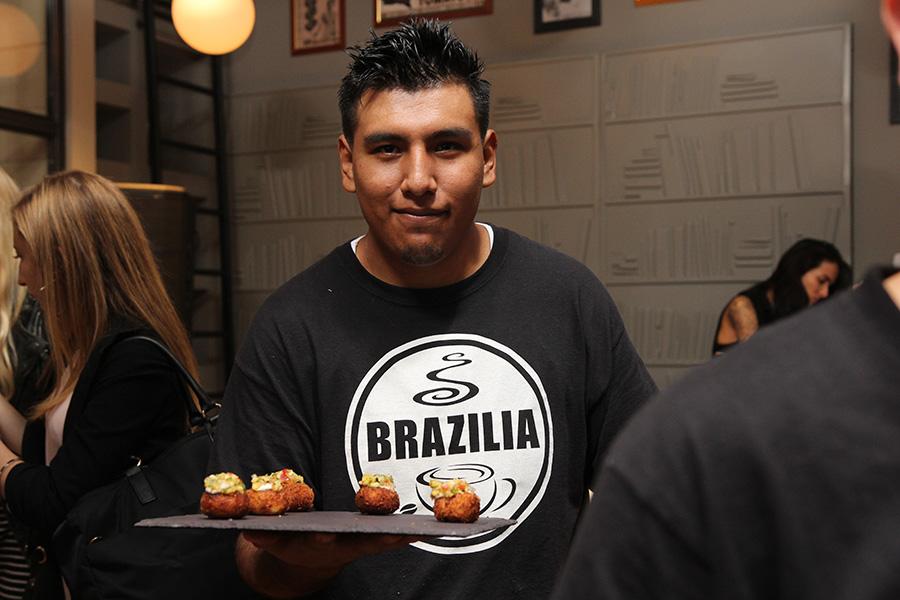 With its modern design and affordable prices, Brazilia Cafe offers students Brazilian-inspired fare that is just a short walk away from campus.
The cafe, which opened in May, has an extensive menu boasting excellent salads, soups, smoothies, baked goods and freshly squeezed juice at reasonable prices. With its beautiful décor, created by the same company that designed the euro chic look of Eataly, the space is bright, open and inviting. Brazilia Cafe also offers 15 percent off with an NYUCard and takes Campus Cash. It is located on Broadway and Great Jones Street.
The cafe has a small seating area for those looking for a quick bite from the cafe side, and a sit-down area with a different menu for a more leisurely meal.
The items on their cafe menu are well-executed. Their twist on a classic chicken avocado sandwich is a Chicken Avocado Salad BLT on a pretzel roll ($10.95). Their smoothies taste great, are less expensive than those at Liquiteria at just $6.95 each and include interesting flavors like the Brazilia, a combination of banana, mango, kale, acai and apple cider.
The coffee, which is imported directly from the owner's farm in Brazil, is smooth, strong and delicious. Depending on the drink, coffee ranges from House Drip Coffee at $2.75 to an Affogato al Cafe — the owner's favorite — at $4.50.
Brazilia Cafe offers great quality gelato for those looking to indulge, with flavors ranging from the classic Madagascar Vanilla to the adventurous Pineapple Cilantro, as well as dairy-free gelato and sorbet options.
Jonathan Buckingham, 29, is the head chef at Brazilia, and helped design the current menu.
"It's not just standard cafe food," Buckingham said.
However, some wonder where the Brazilian influence can be found on the menu.
LS sophomore Tina Paglioli, who is from Brazil, was disappointed with some of the options.
"They're on point with the acai bowls, but I don't understand why empanadas are on the menu," Paglioli said.
Buckingham mentioned that he has plans to rectify some of the menu options.
"We're looking to reflect the region in which the coffee's from," Buckingham said. "It's a very different combination of flavors and styles of cooking."
Buckingham's favorite item on the menu — the Guava Braised Pulled Pork ($14.95) — aims to do just that by adding Brazilian fruit flavors to the braising liquid.
Though every item on the menu might not be Brazilian, the cafe still offers a great selection of  food. The freshness of the baked goods, which are made in-house, coupled with the extremely high-quality ingredients makes the finished products truly delightful.
"It's good, it's just not Brazilian," Paglioli said as she bit into an empanada.
A version of this article appeared in the Tuesday, Sept. 30 print edition. Email Kari Sonde at [email protected]