Hackathon gears up for first round
Registration for Capture the Flag, the NYU Polytechnic School of Engineering's annual hackathon, opened on Aug. 25 in preparation for the preliminary, online-only round of the competition. It will be held from Sept. 19 to Sept. 21.
The hackathon is a part of Cyber Security Awareness Week, an annual week of events hosted by the student-run Information Systems and Internet Security cyber security laboratory with sponsors including the U.S. Department of Homeland Security, Yahoo and Facebook. Since its inception in 2004, the number of students participating has grown, and last year it attracted 15,000 students from 86 countries in high school, college and graduate school.
Poly senior Kevin Chung, one of the leaders of the lab, said what makes the competition unique is the design of the tasks that the teams have to complete, as both beginners and professionals are able to compete.
"It's very well-balanced," Chung said. "The competition is meant for people who are just starting out, but we also make sure that we have challenges that are there for people who have been in the industry for a long time, and because of that we can attract a very wide audience."
Participants are asked to complete a series of challenges, some alone and some in teams of two to four, that involve testing the vulnerability of and breaking into servers provided by the lab.
The contests aim to teach people about cybersecurity, but Chung said they also encourage students to work together.
"One person can't do all of it," Chung said. "It's very good to have other people to bounce ideas off of."
Chung added that different students come up with different ideas and it is refreshing to collaborate.
The lab itself is a space designed to allow anyone from undergraduates to professors the opportunity to better understand the world of hacking and the methods that hackers use in the real world in an effort to promote security.
"It's an open-source security lab," Poly alumnus Nick Anderson said. "Anything that anybody finds interesting, this is an outlet where you can come work on it."
Following the preliminary competitions, winning students from the United States and Canada will be invited to participate in the finals in Brooklyn from Nov. 13 to 15. While the hackers are competing for scholarships and prizes, Poly director of marketing and communications Kathleen Hamilton said the competition also allows students to network and make new connections.
"Not only does this introduce students to other students that they might be able to work with later on in their careers or lives as students, but it introduces people to the New York hack community," Hamilton said.
A version of this article appeared in the Monday, Sept. 8 print issue. Email Alex Bazeley at [email protected].
About the Contributor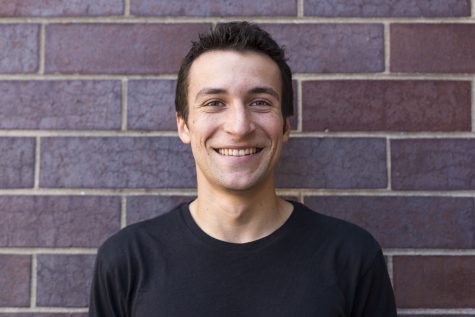 Alex Bazeley, Editor-In-Chief
Alex Bazeley is the Editor-in-Chief for the Washington Square News. Hailing from Oakland, he is a junior studying journalism and metropolitan studies....