New York Men's Day kicked off its 20th season at Location05 and Daylight Studios, nestled among the high-rises of Hudson Yards. The biannual fashion initiative founded by Agentry PR provides stages for emerging labels and designers to showcase their vision for the upcoming season. This year, 10 designers took the stage at New York Men's Day on Sept. 9, unveiling their vision for the future of menswear.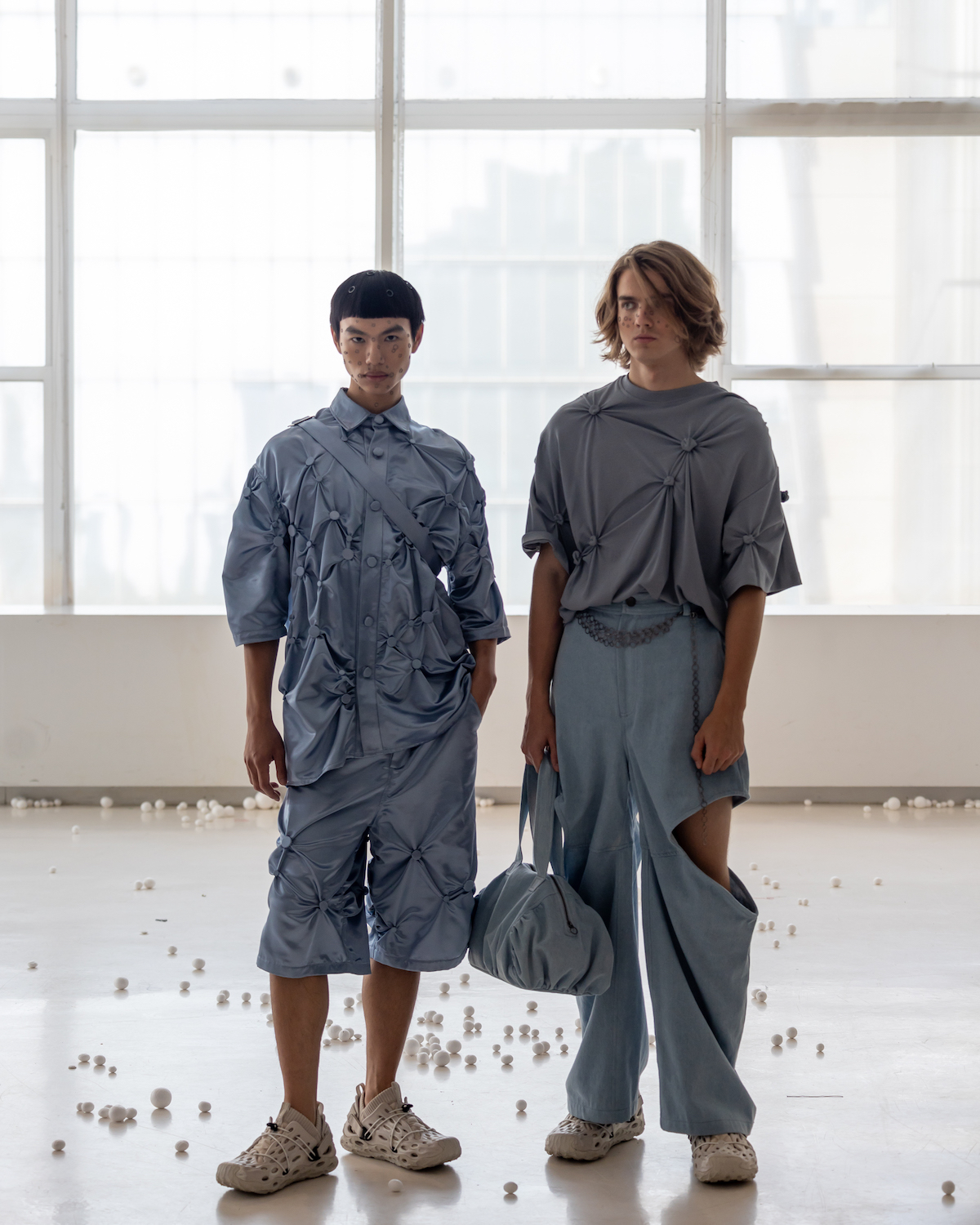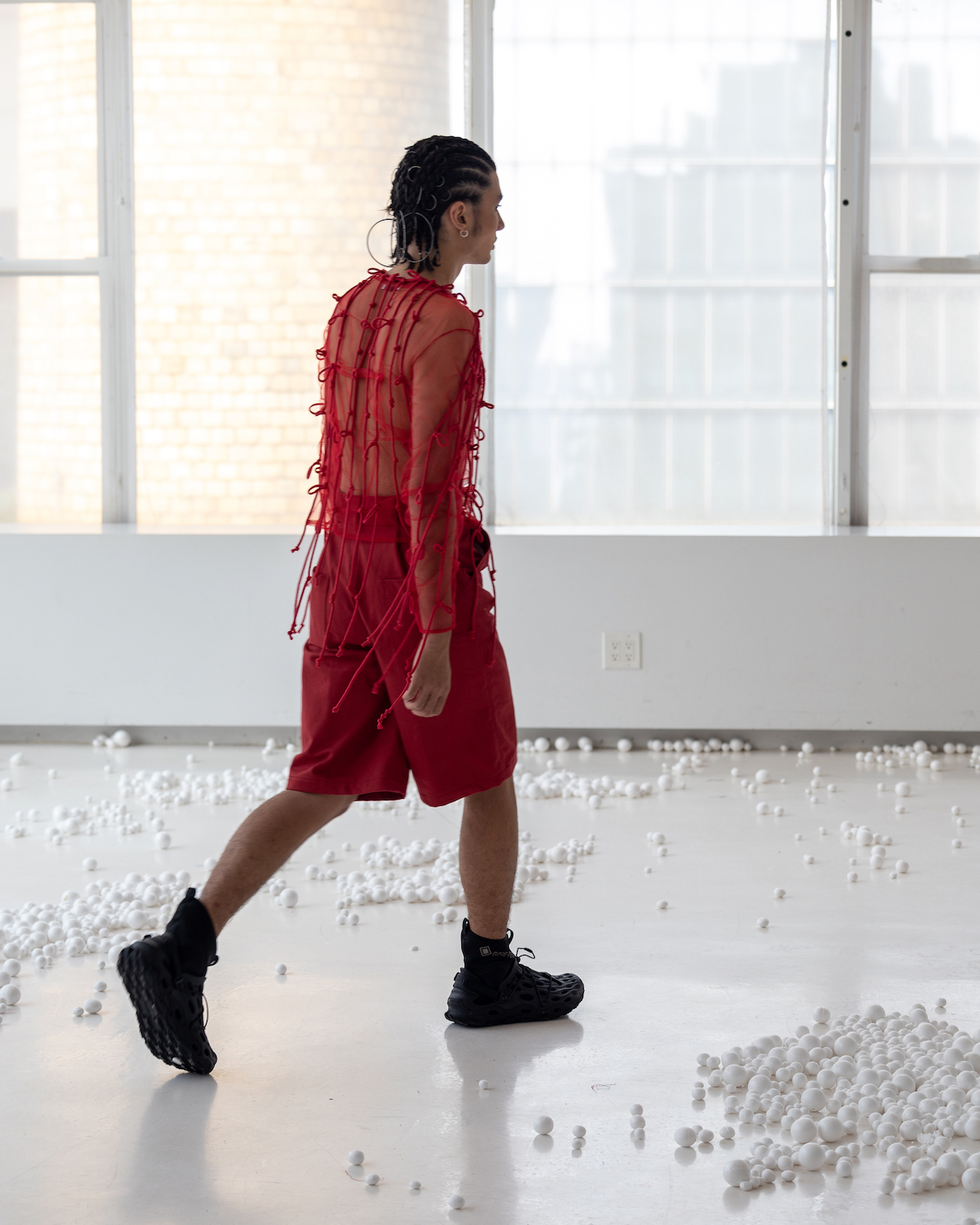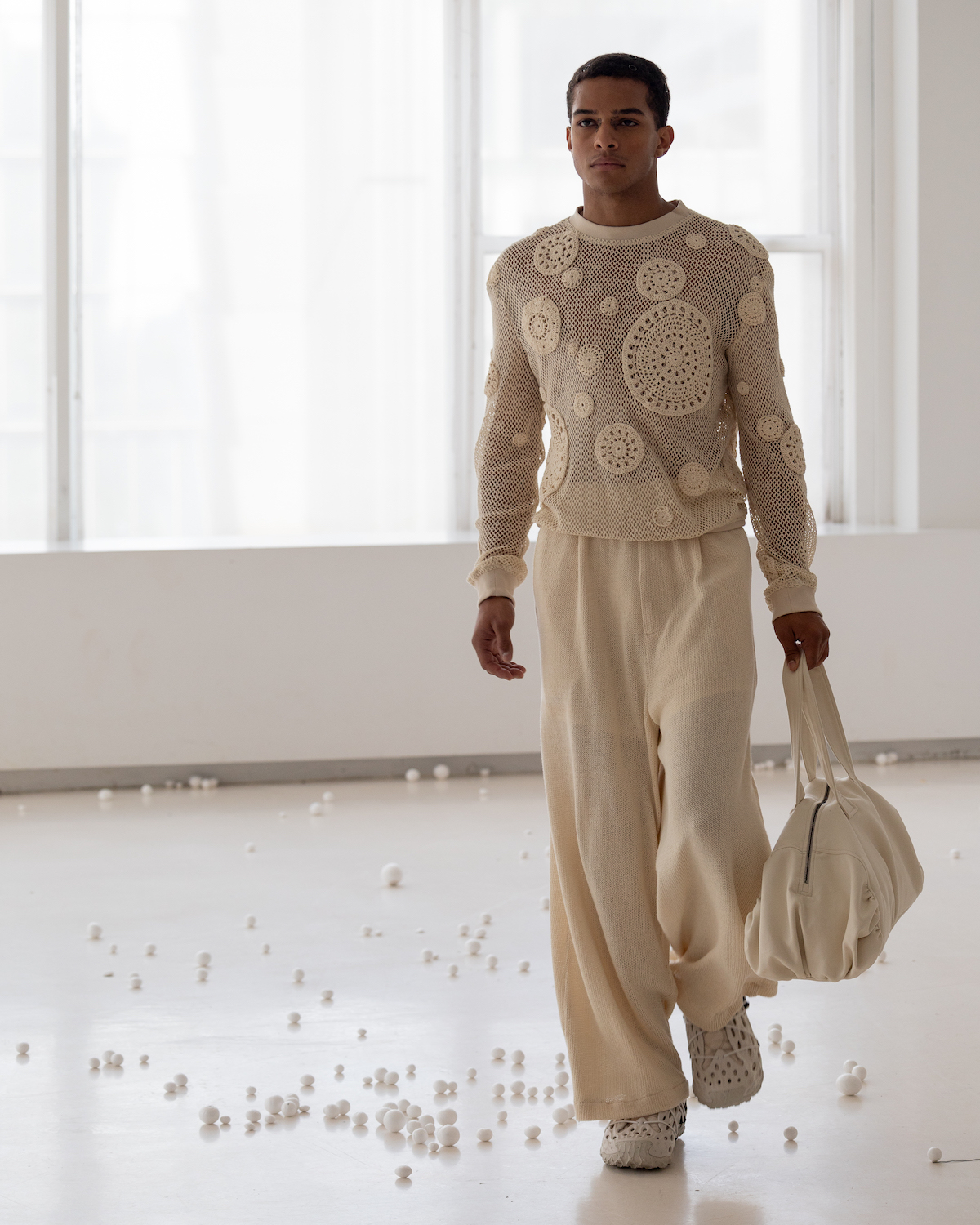 Designer Clara Son used her trypophobia — the fear of clusters of circles — as inspiration in her latest collection, "Emergence Capsule." As small white spheres cluttered the studio's floor, models bore ensembles that played into the theme of trypophobia, with design elements like mail coifs, mesh textiles and knotted rope loopings on clothes establishing a pattern of small holes throughout the collection. The collection's color palette — off-white, cream, murky blue, red and black — was diverse yet cohesive. Each of the five tones was present throughout the pieces, contrasted by silver jewelry.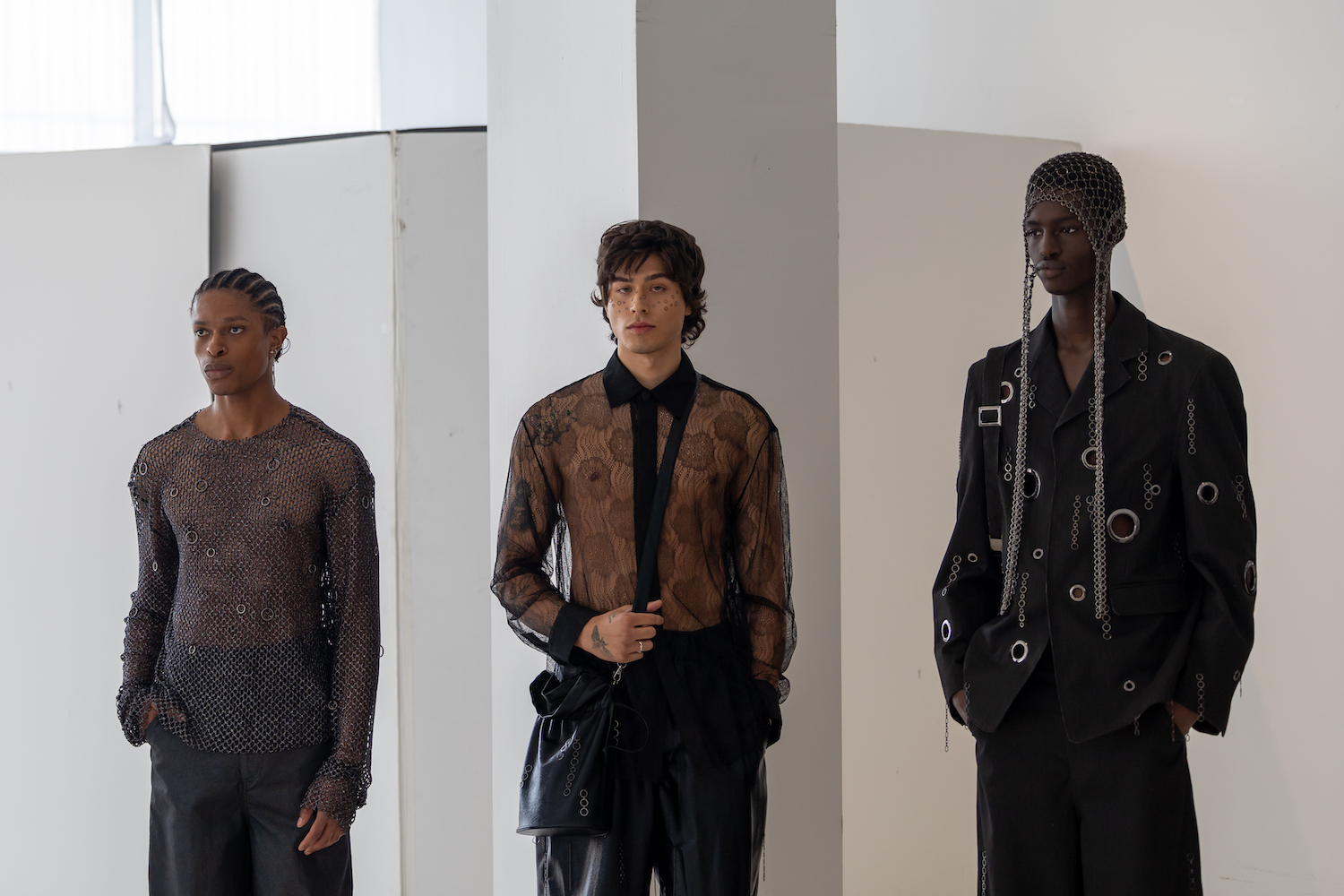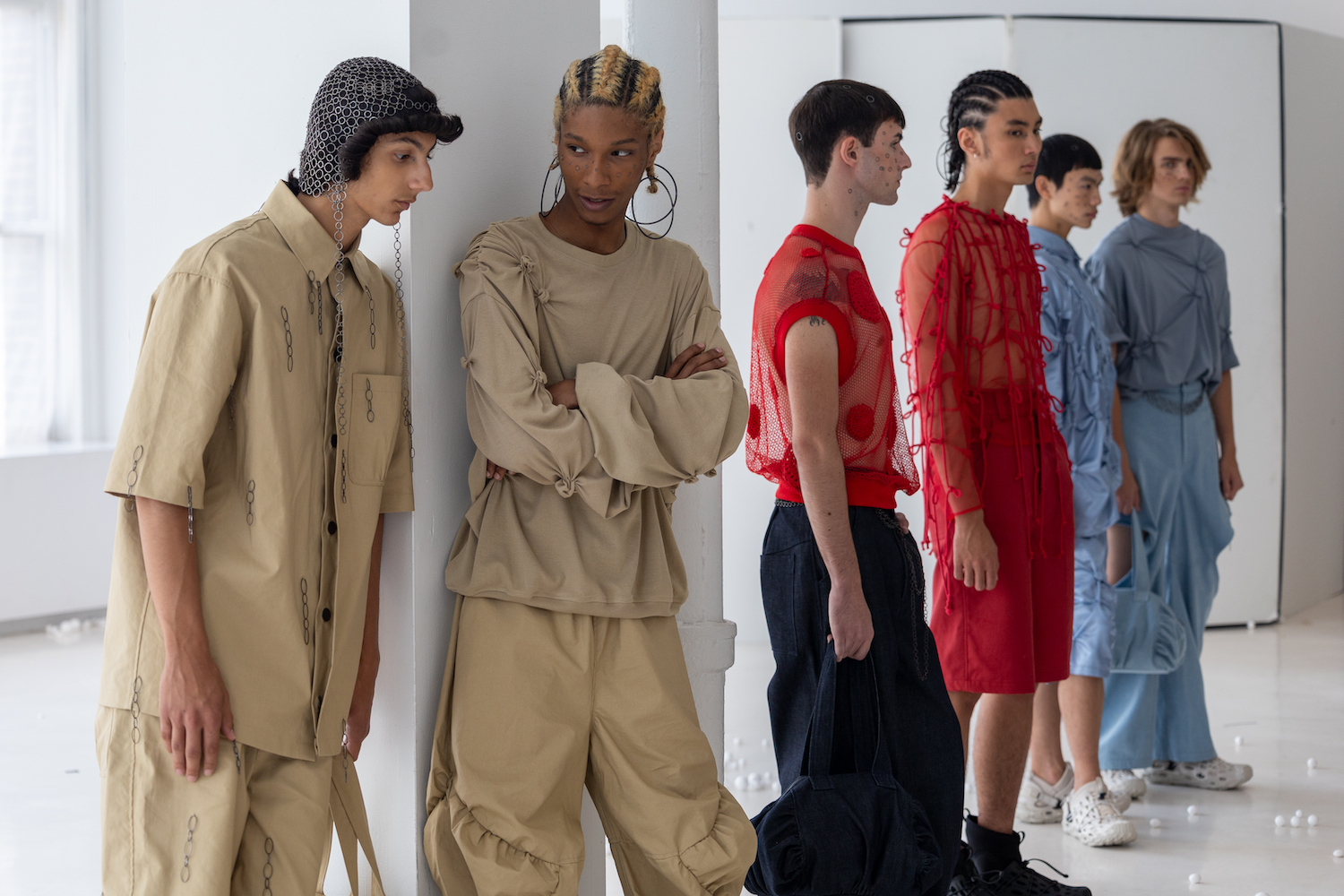 "I'm a huge fan of neutrals, earthy tones, [and colors that are] a little bit saturated — I love color," Son said. "I never work[ed] with the black color. I thought it was quite dull, but I'm rediscovering that there's so much possibility."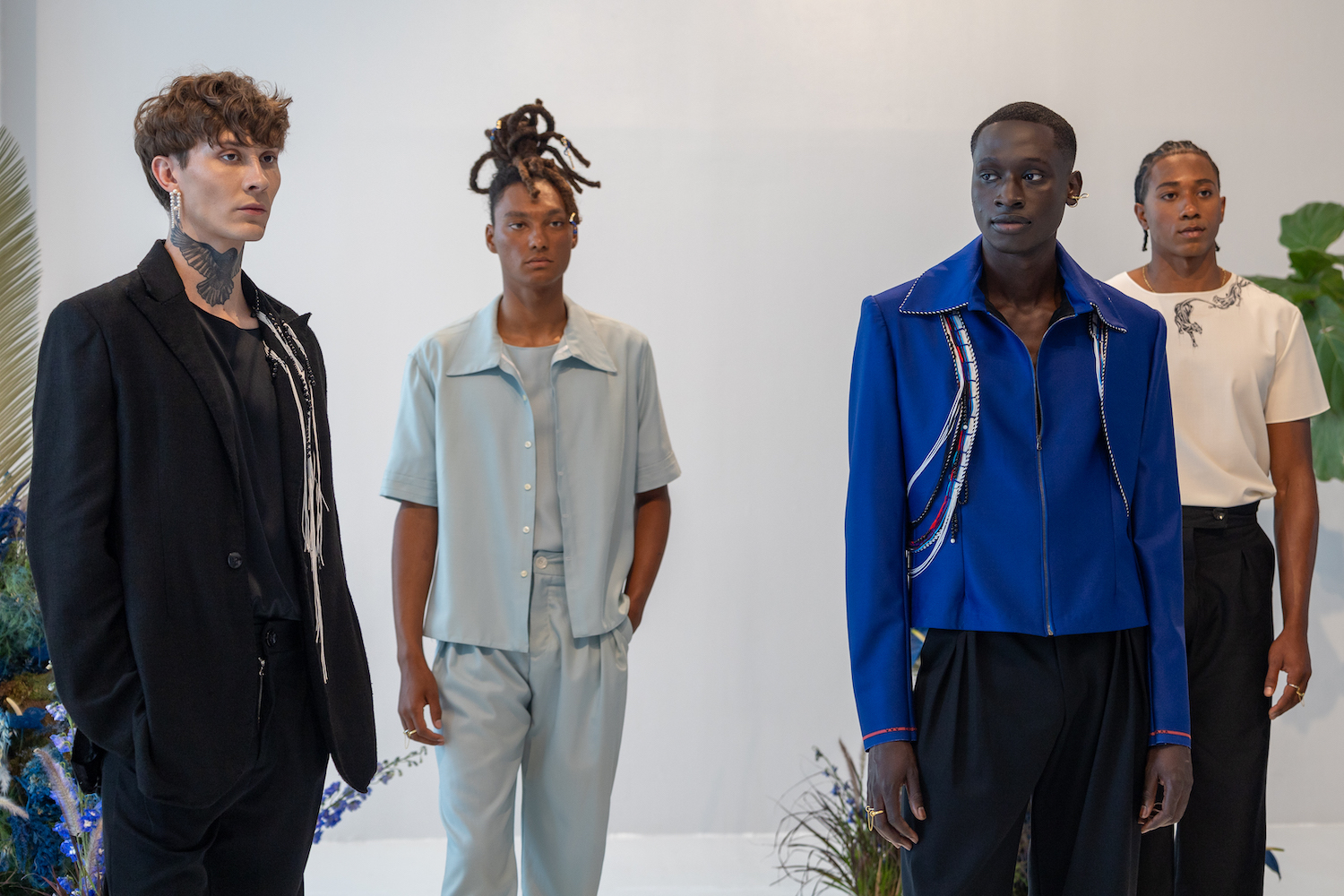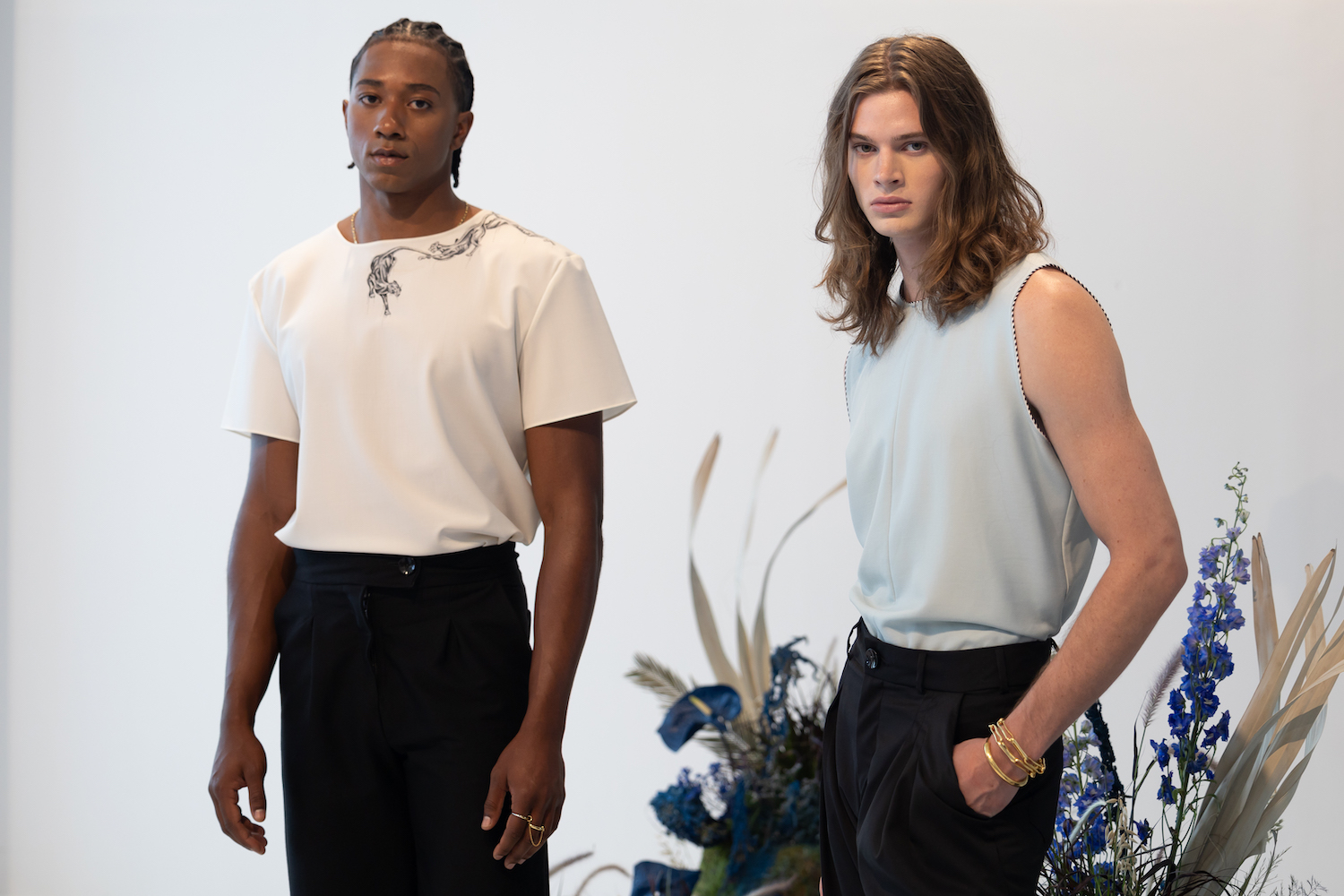 Kent Anthony's "MAKE EM SAY YOUR NAME" collection, inspired by the world of athletics, featured a slew of precisely tailored, streamlined silhouettes. Cropped shirts, collared jackets with curving lines and high-waisted pants were form-fitting, embracing physicality, and were complemented by gold jewelry, symbolizing victory.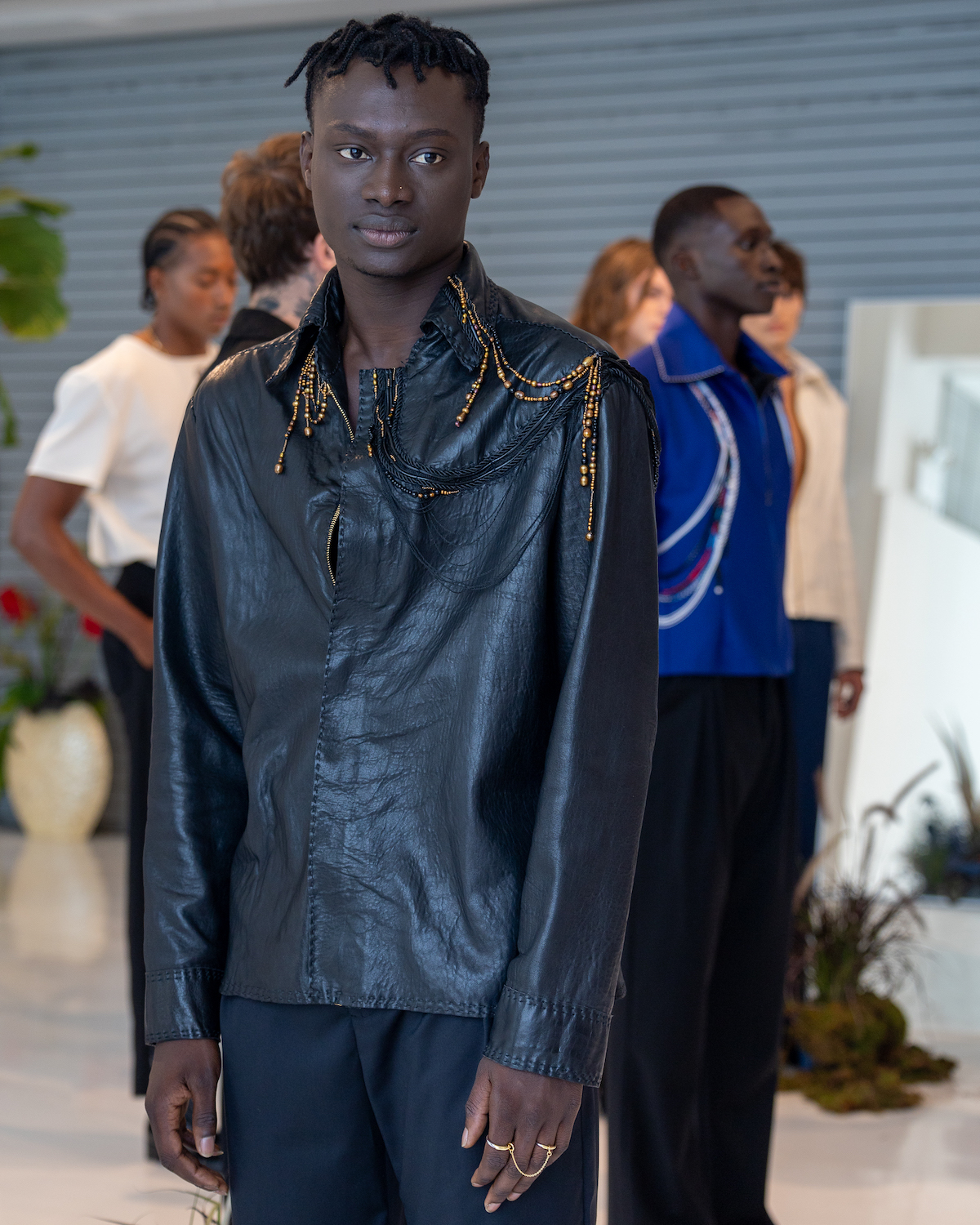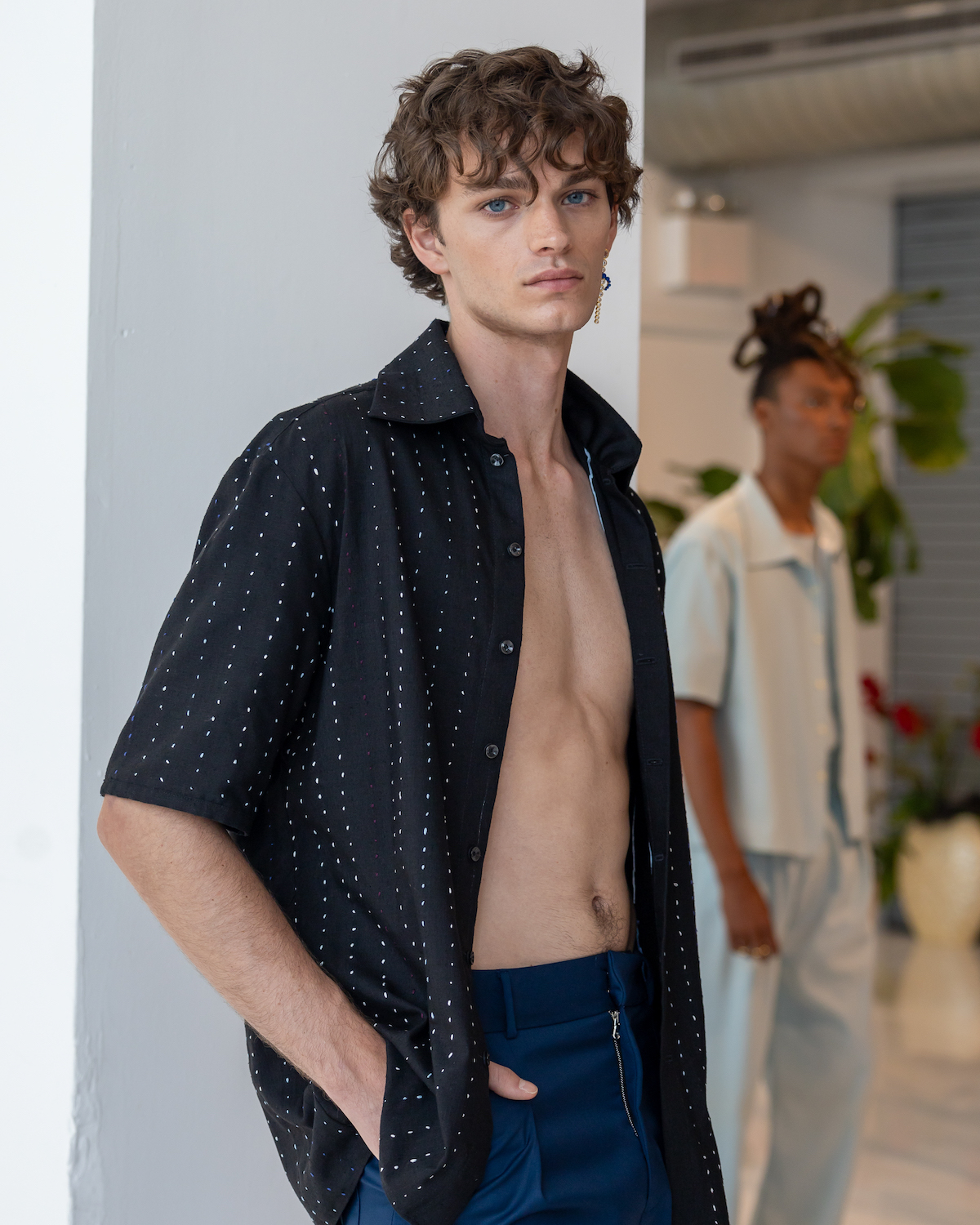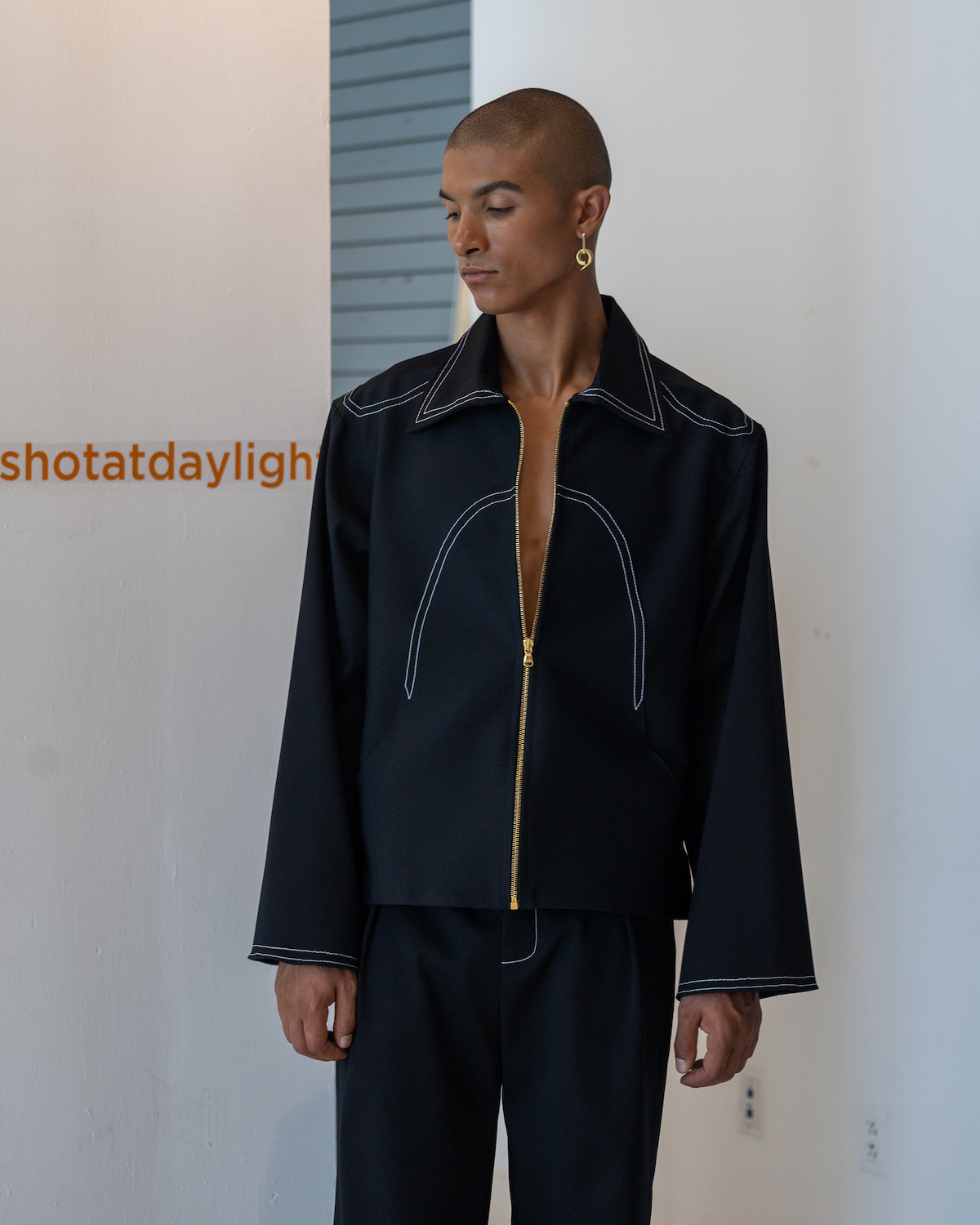 "We took this idea of track and field and needing to show up and create a moment — we brought that into the collection," said Kent Anthony, founder of the eponymous studio. "Working with the physical elements of the tracks, you'll see a strong vertical line in the striping as well as the beading and roping, which feels a little bit more theoretical. It's about the energy of the collection."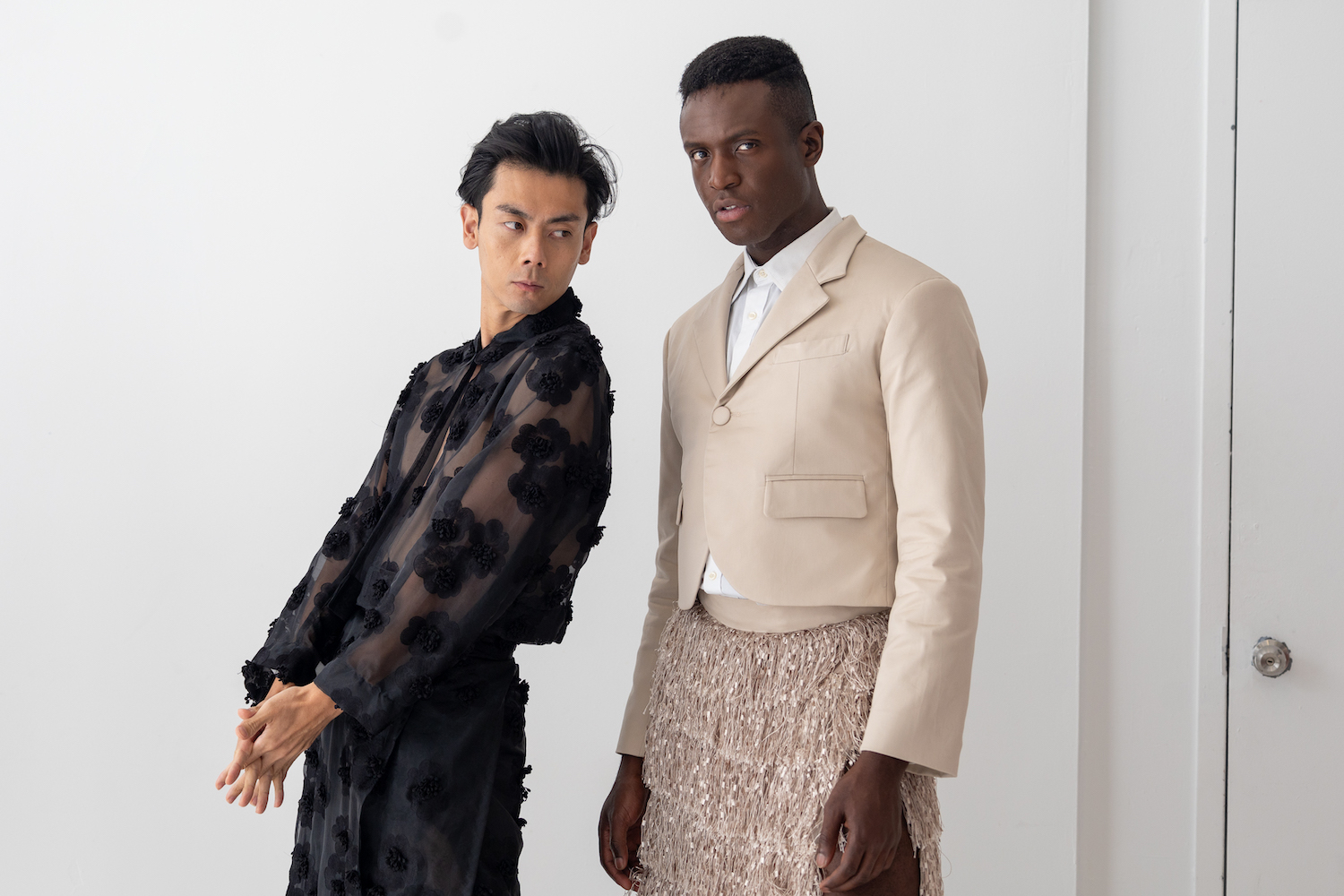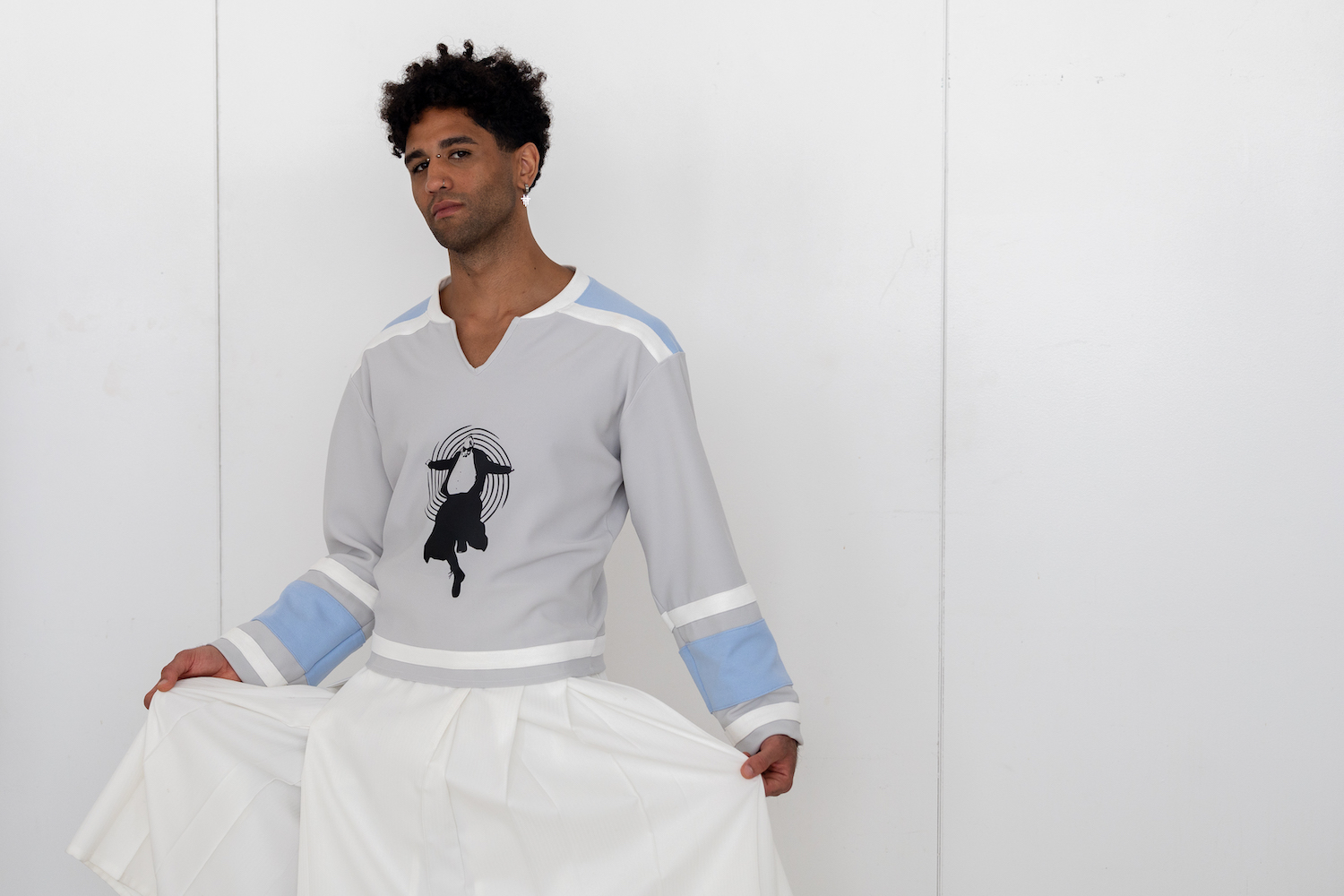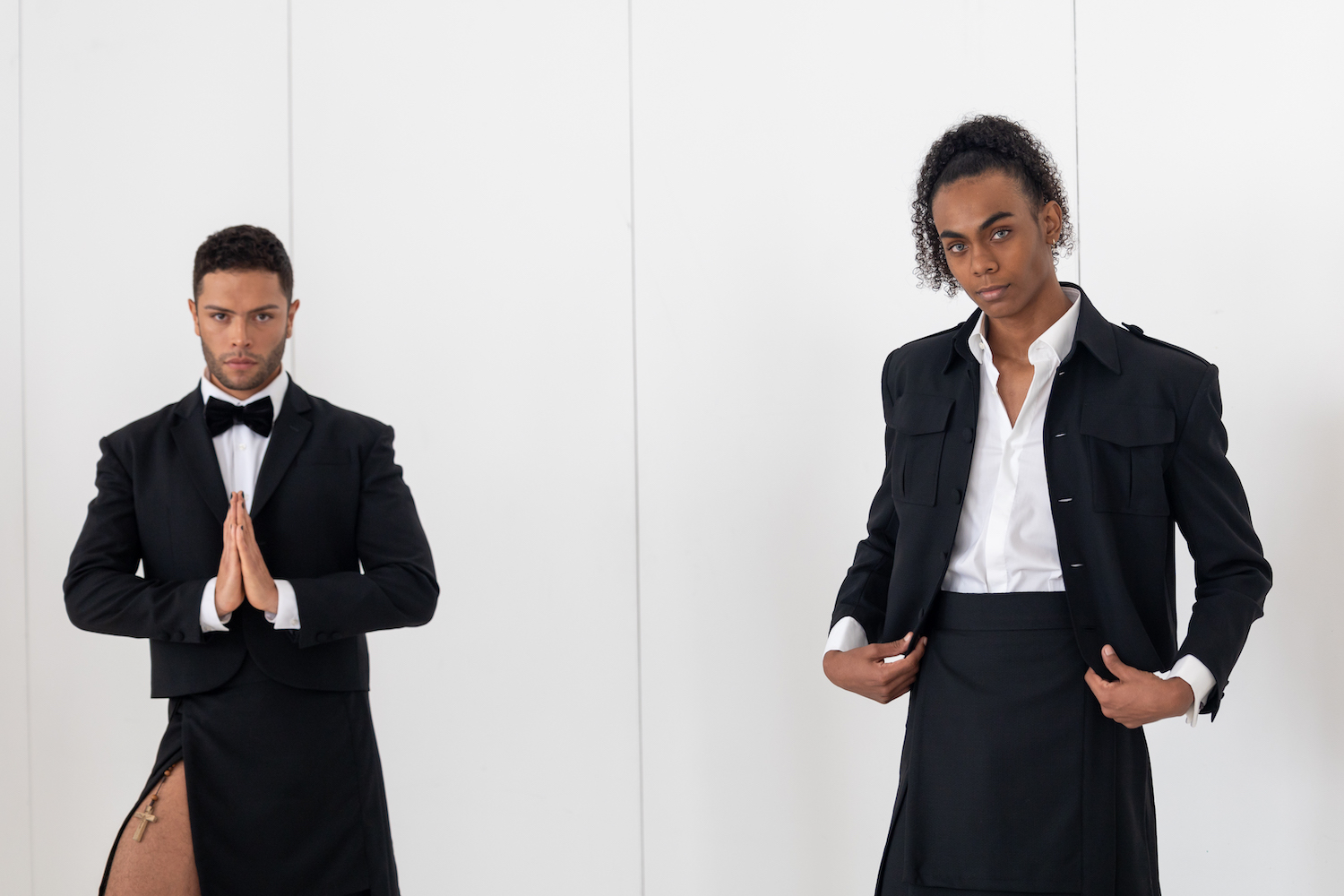 Terry Singh's unnamed Spring/Summer 2024 collection from his namesake fashion studio had an eclectic blend of designs breaking the boundaries of traditional menswear. Designs melded delicate sheers and light skirts with the strict cuts of tailored menswear, making for an elegant, balanced collection. Skirts were prominent among the designs, an aspect of the collection that Singh holds dear to his heart.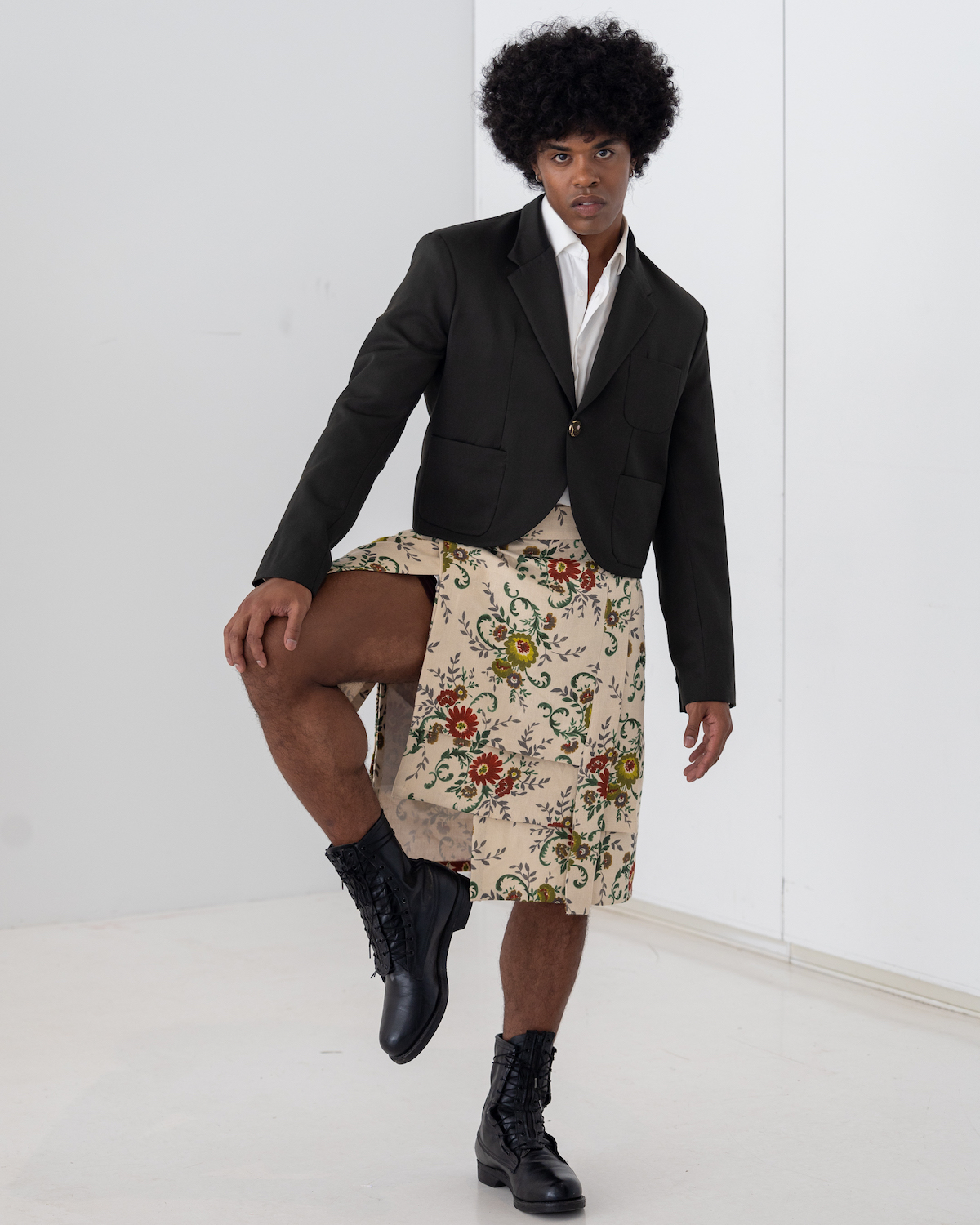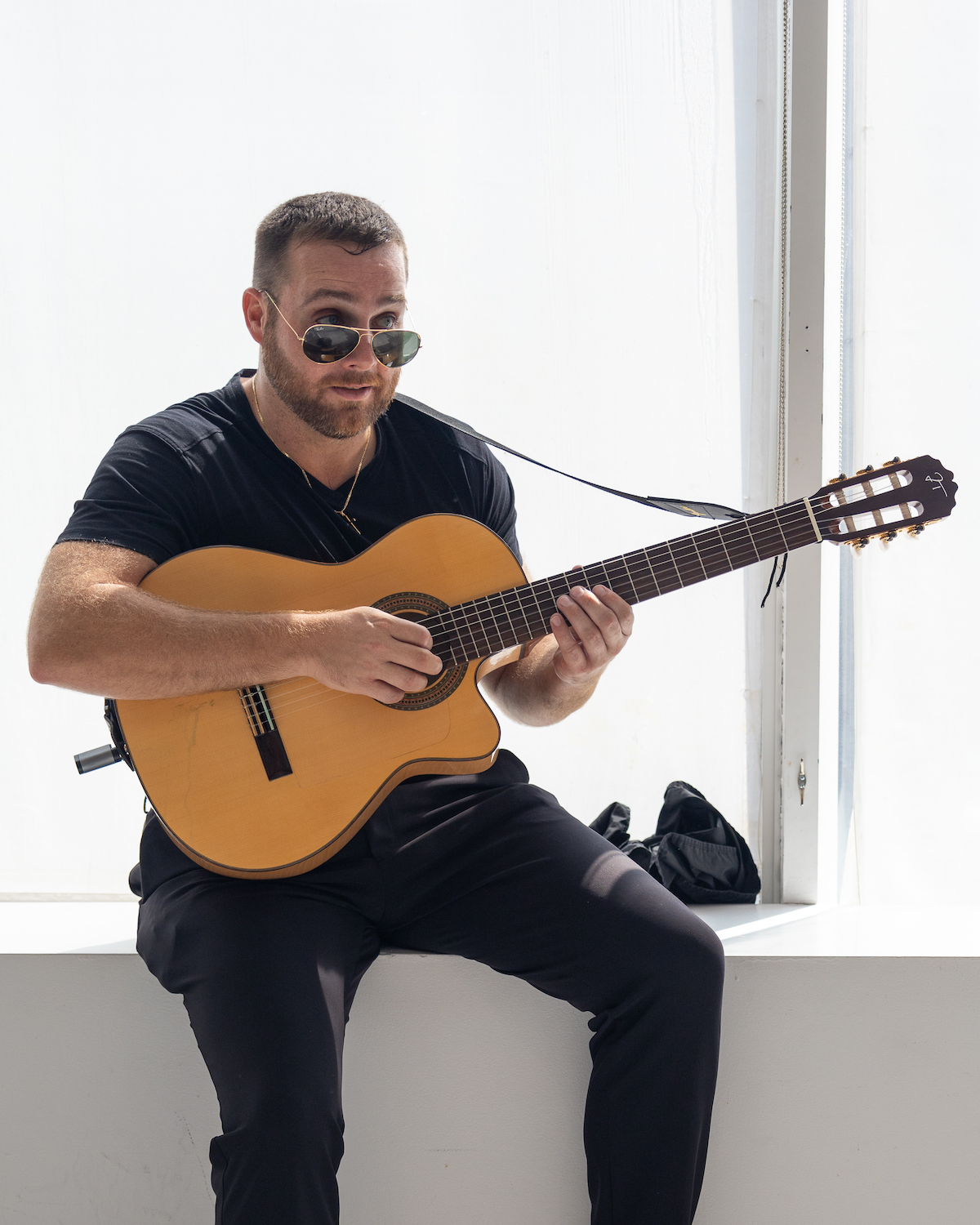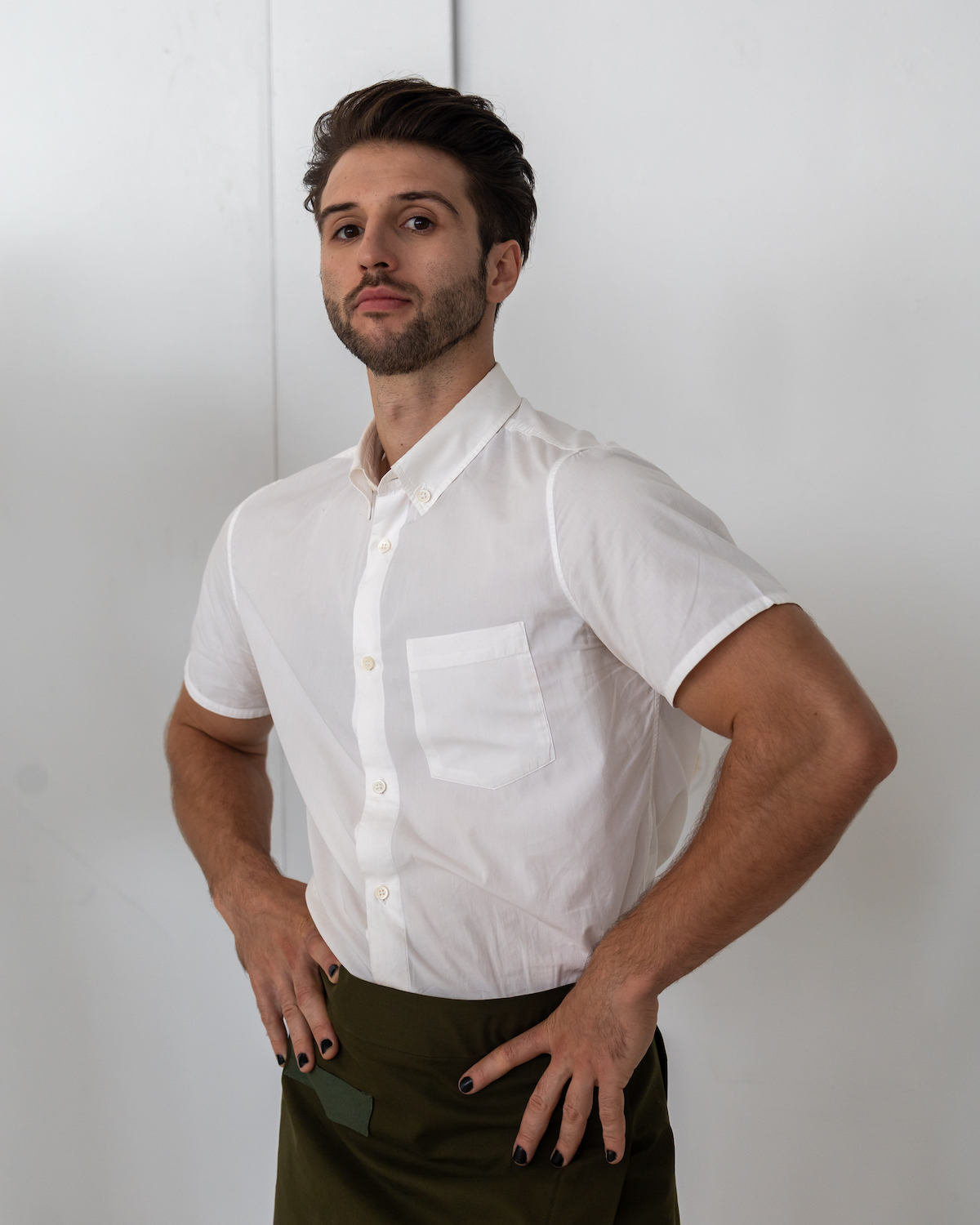 "We're addressing a social need for a young man in Brazil that likes to dress but can't wear a skirt," Singh said. "It is that simple. I just create a love for this young man in Brazil who is marginalized by culture."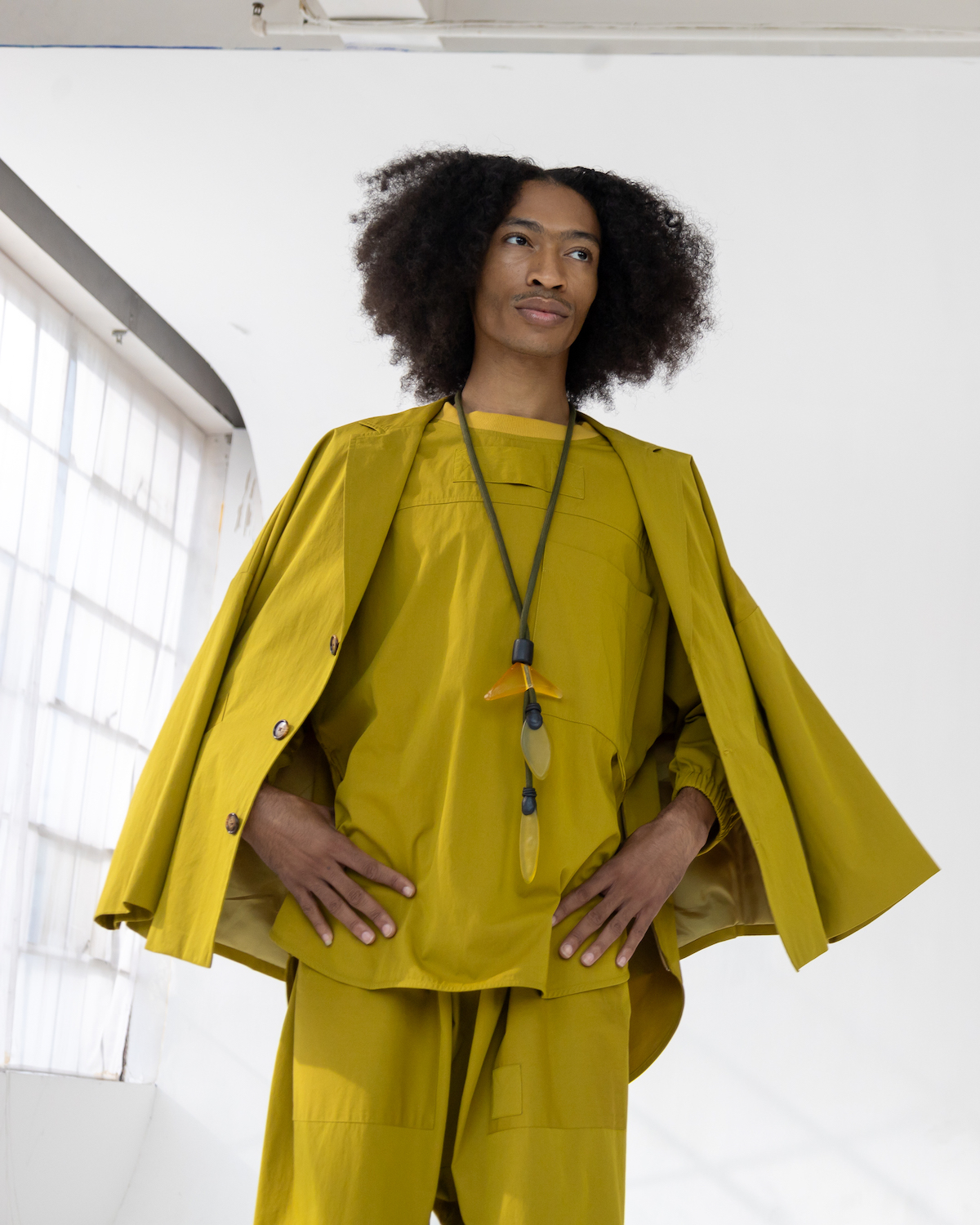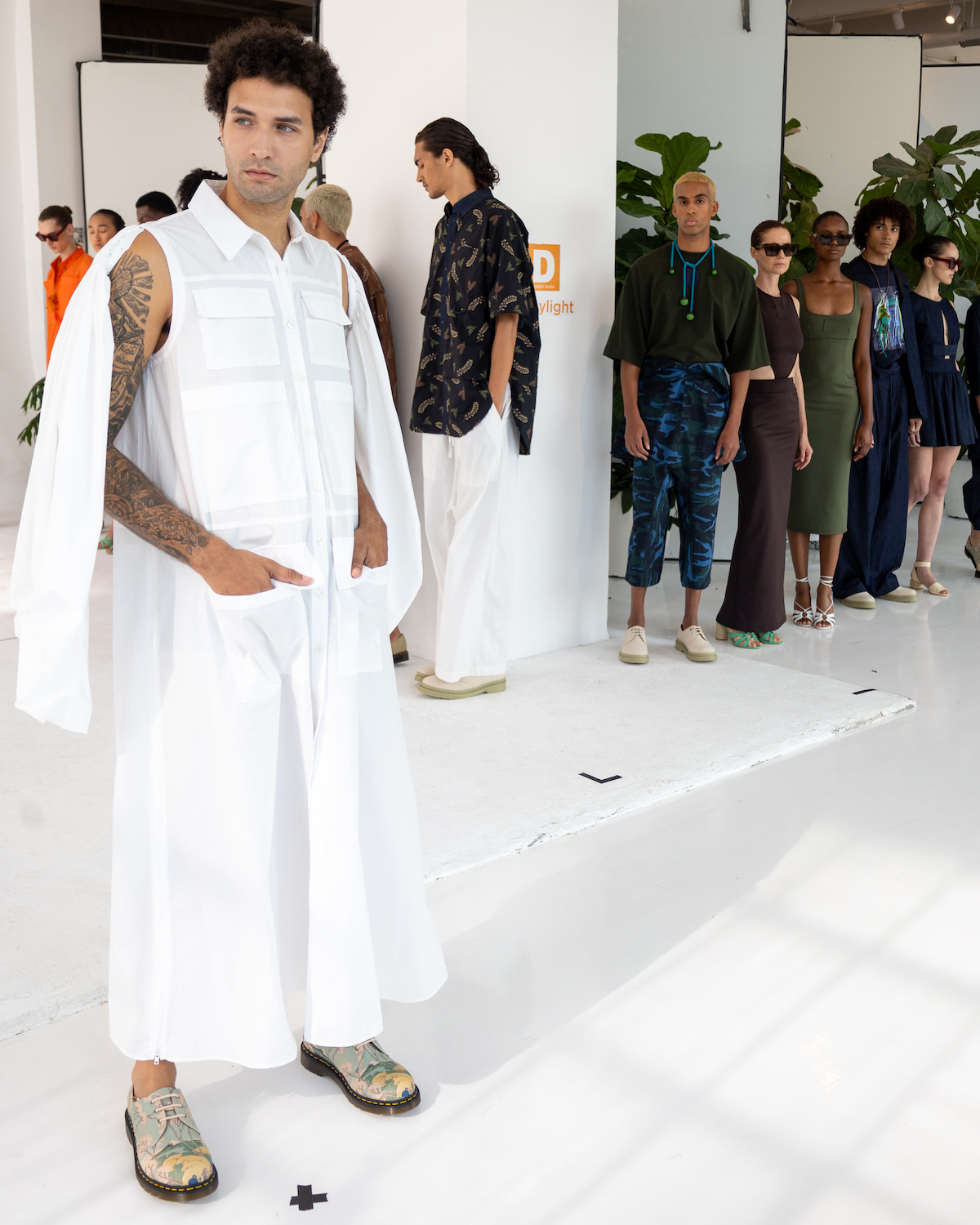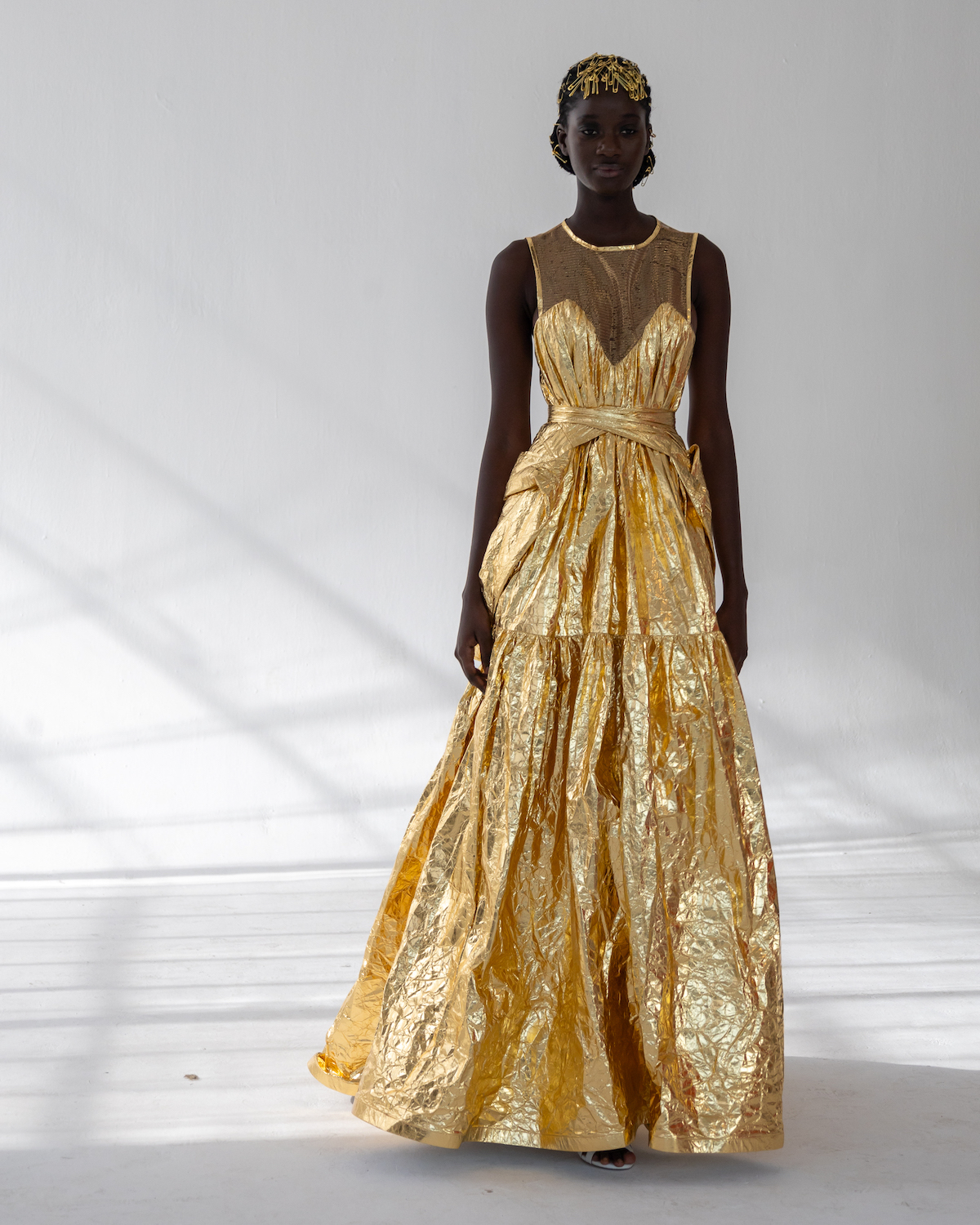 "URBANEARTH," designer Aaron Potts' unisex Spring/Summer collection, incorporated a runway with over a dozen models lit by large windows. Potts' usage of bold colors, especially as seen in his gold foil and mustard yellow pieces, brightened the models' striking silhouettes.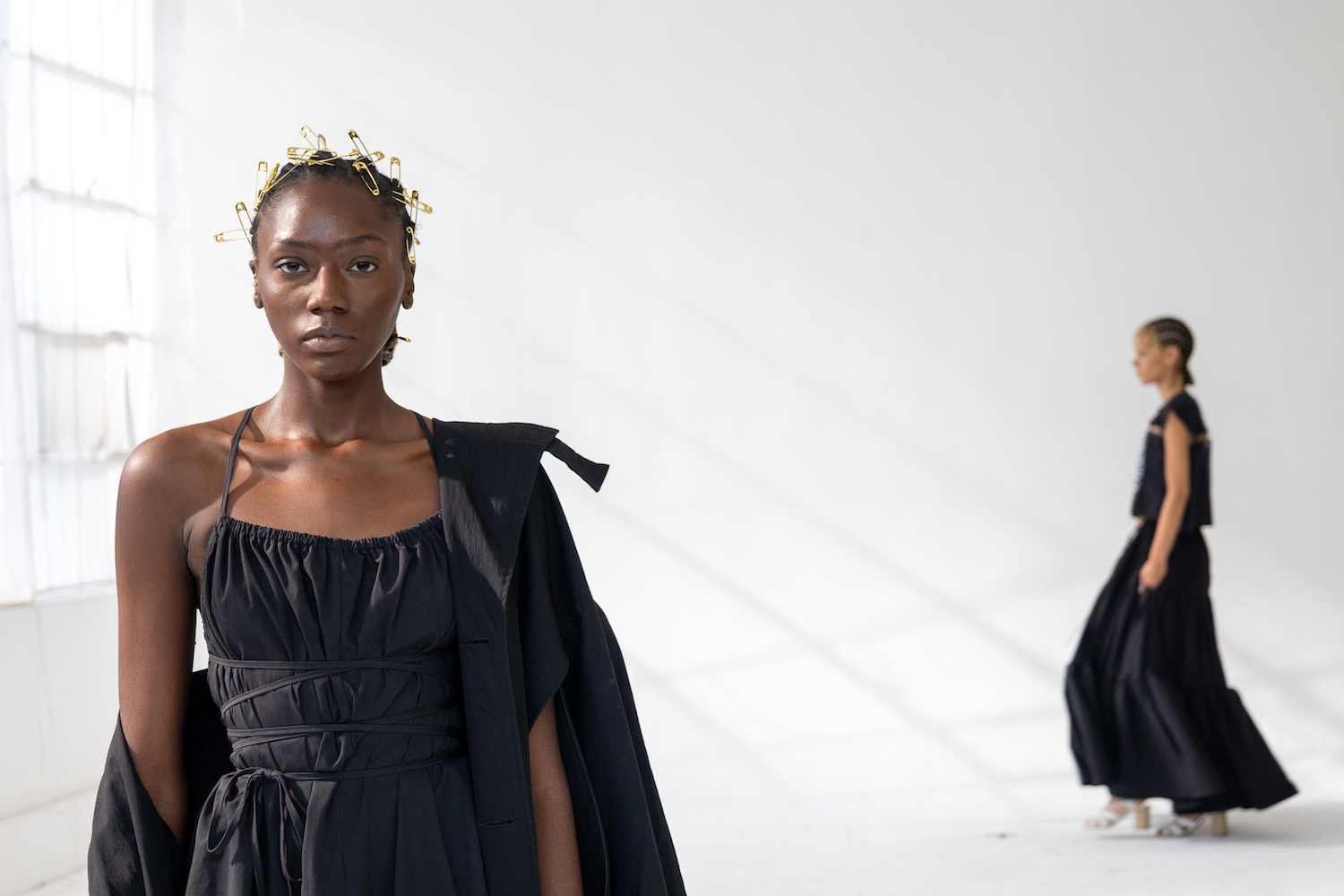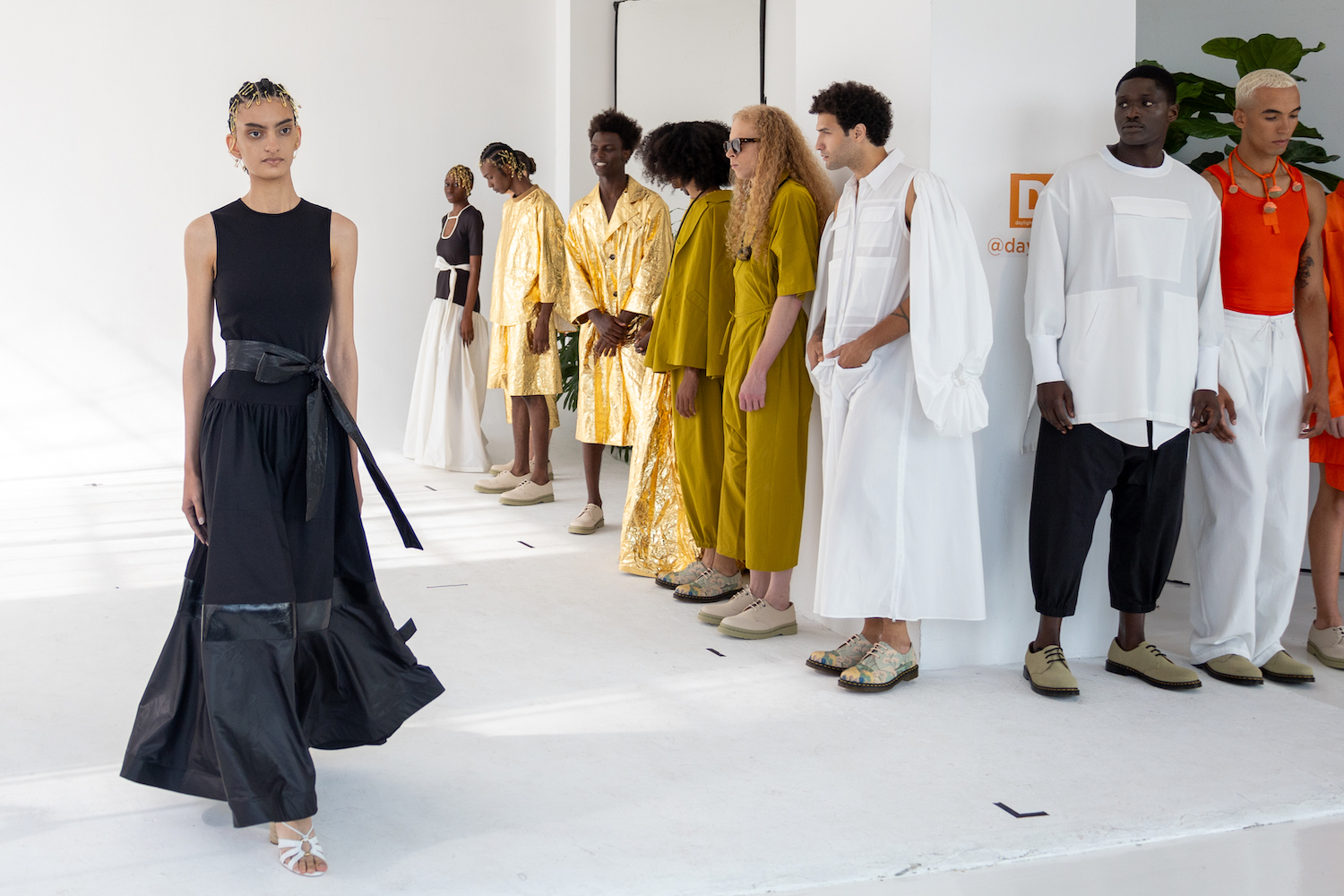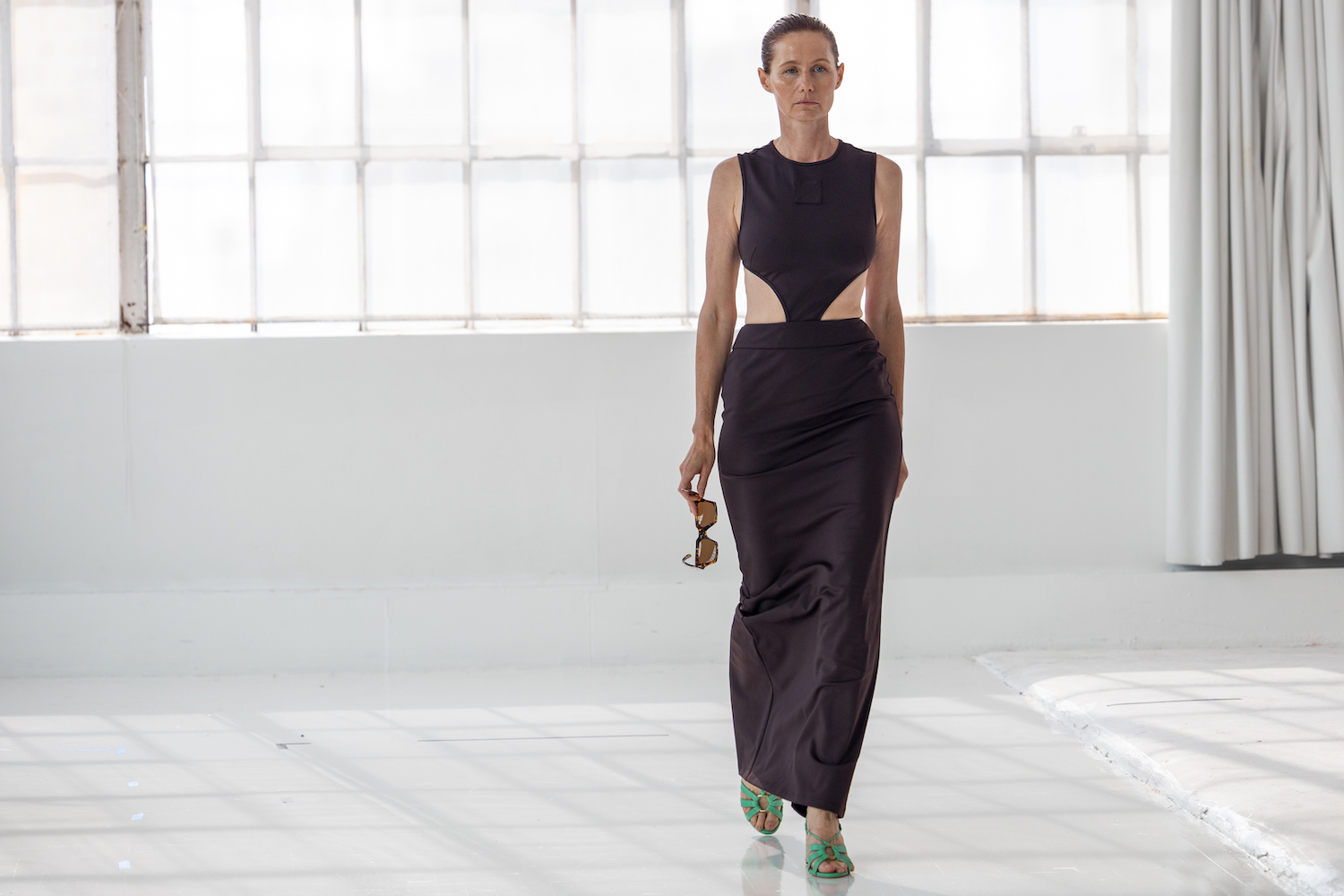 Attendee Shay Gipson, who works in fashion business development and has seen Potts' work at previous NYMD events, was particularly impressed by the diversity of the pieces.
"I'm really excited to see his progression; he has really grown as a designer over the years," Gipson said. "I'm excited to see the color palettes, silhouettes [and] the diversity in day-to-evening wear — the collection is consistent overall."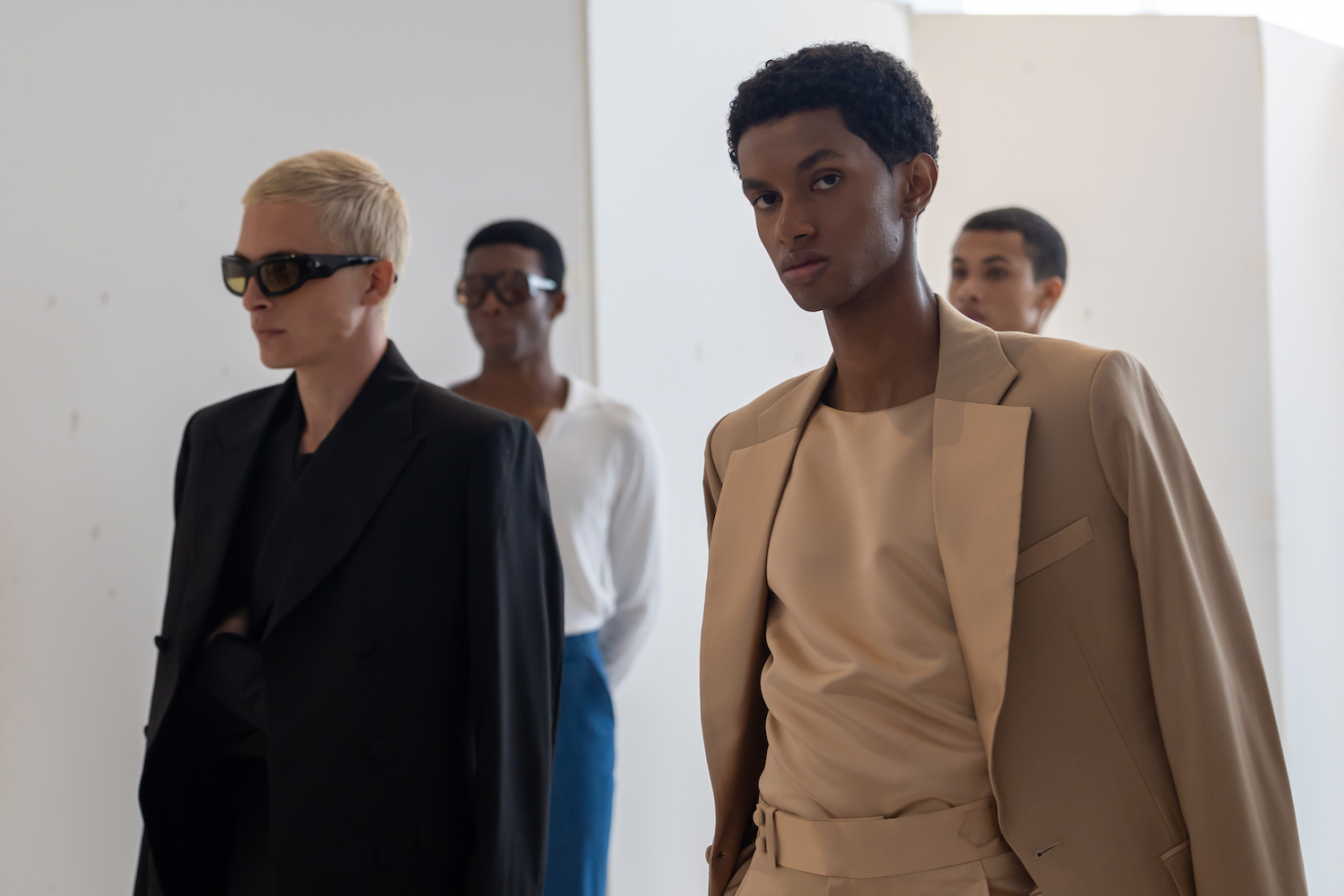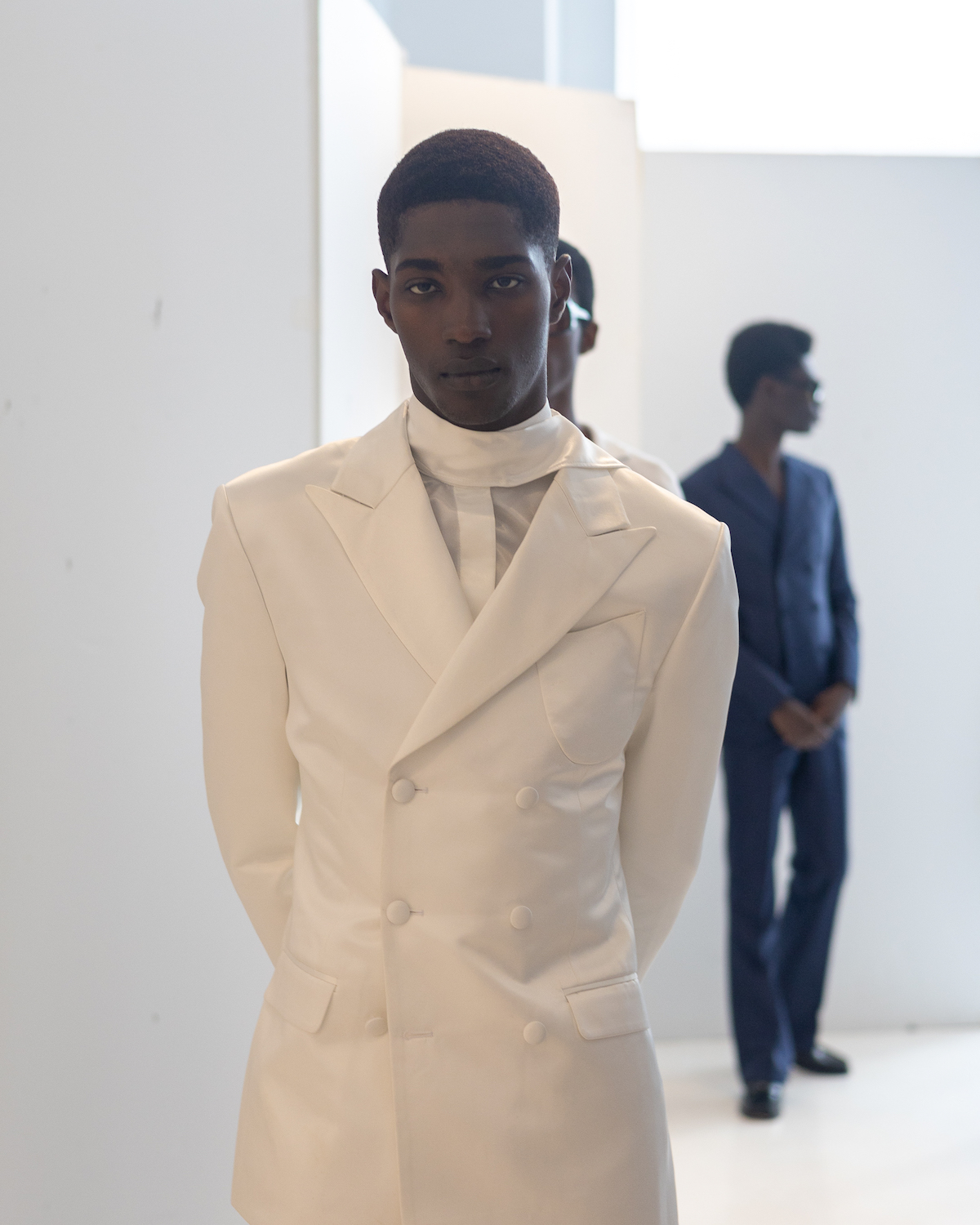 B|M|C's collection "STATUESQUE" showcased tailored suits in a spacious room shared with home appliance company De'Longhi. Fitted with sofas and De'Longhi coffee machines, the space matched the collection's classy attire. The suits were well-cut and made from high-quality fabrics in elegant, distinguished colors.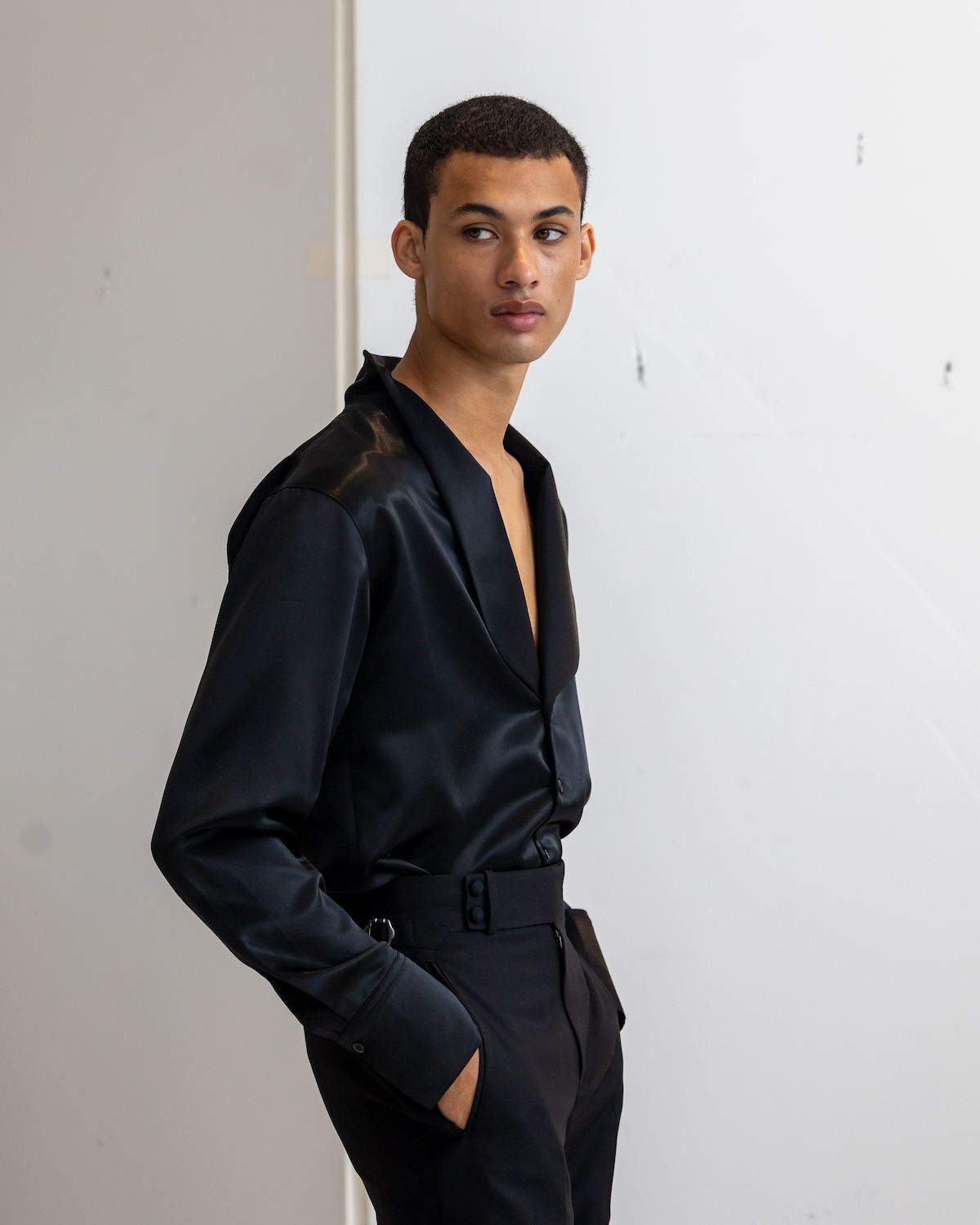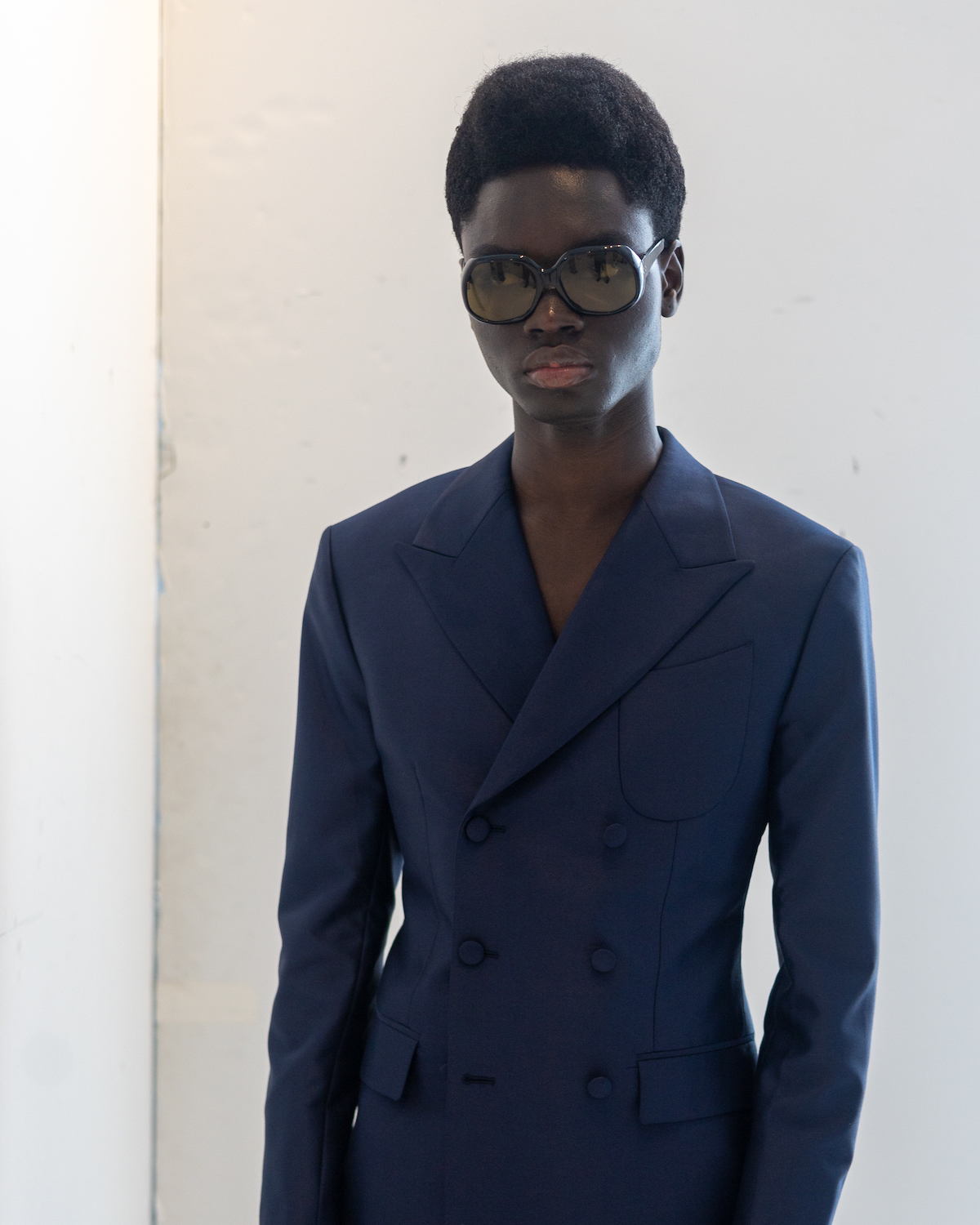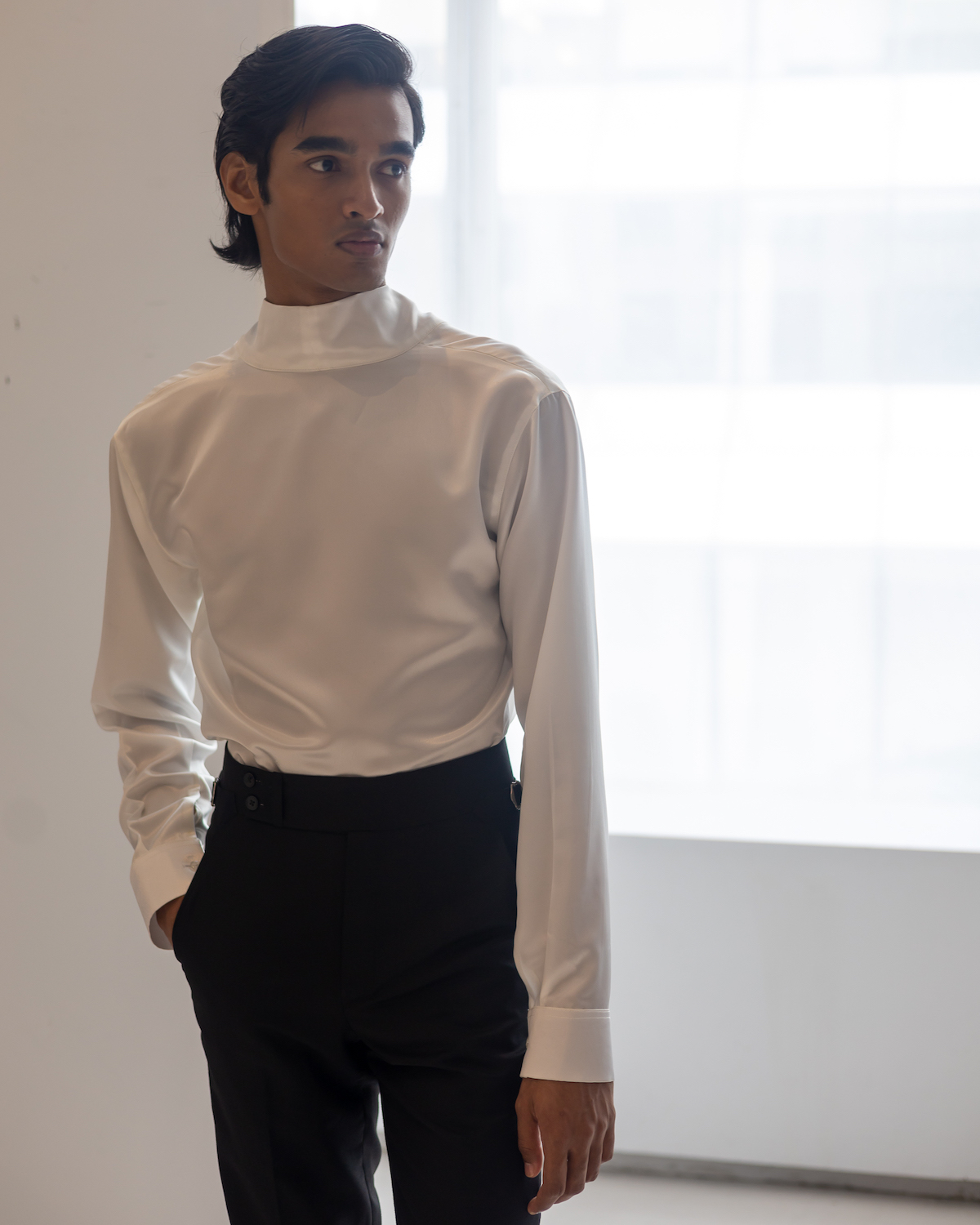 In an interview with the Council of Fashion Designers of America, Brandon Murphy, designer and founder of B|M|C, shared how his intimate relationship with fashion has changed how he interacts with the world.
"I adore my imagination and the escapism of fashion, which gives you the freedom to dress however you want and become anyone you want," Murphy said. "Fashion serves as a comfort blanket for me, protecting me from being overwhelmed by everything."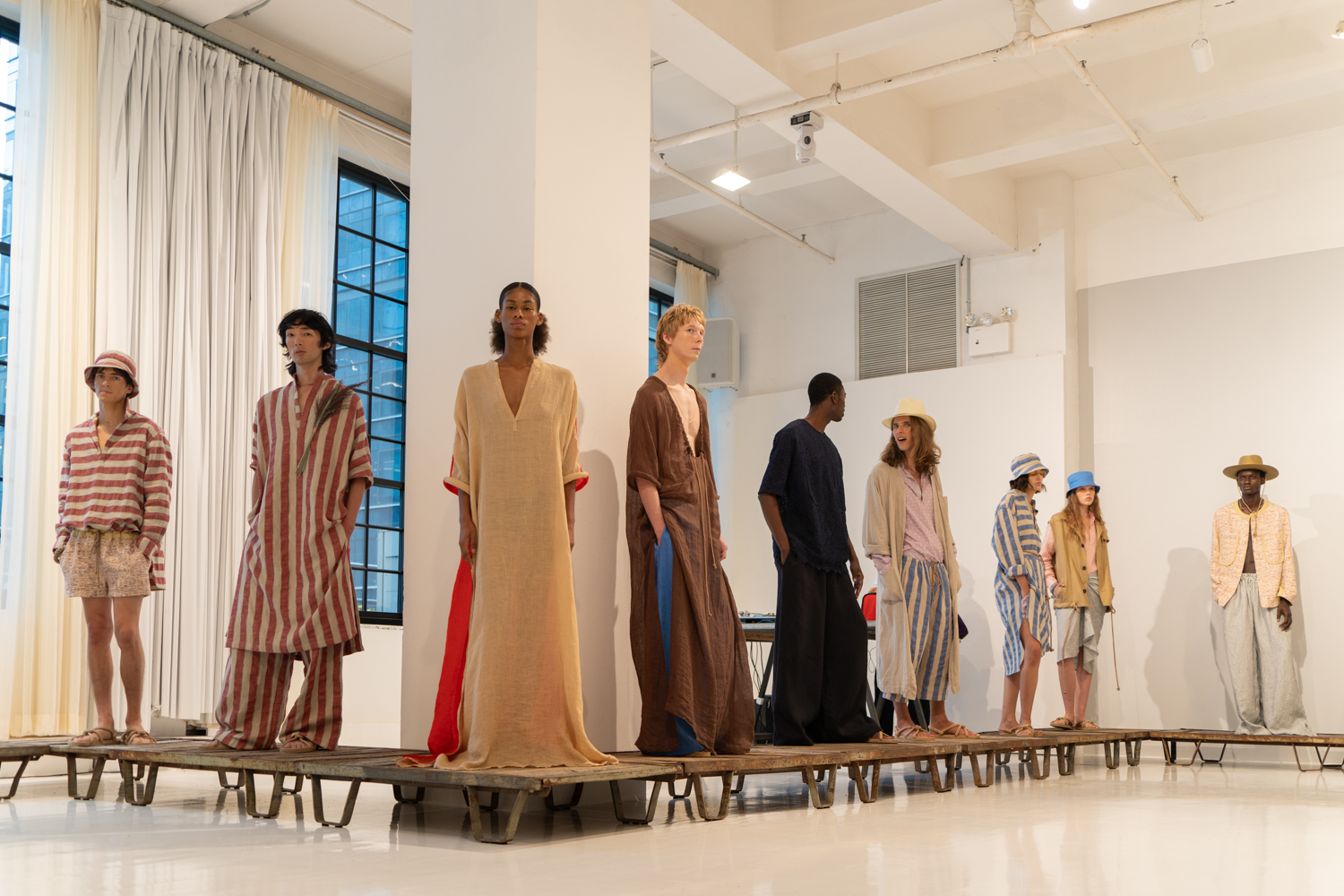 thesalting brought a breath of fresh air to NYMD. Founded by Michael Ward and Michael Smaldone in 2018, with co-owner Manel Garcia Espejo joining in 2020, the brand aims to bring unisex clothing with a focus on craftsmanship to consumers. Models took the stage on raised platforms reminiscent of boardwalks, and the collection's airy but concise styling, lightweight linens and pastel colors transported attendees to the breezy shorelines of the beach.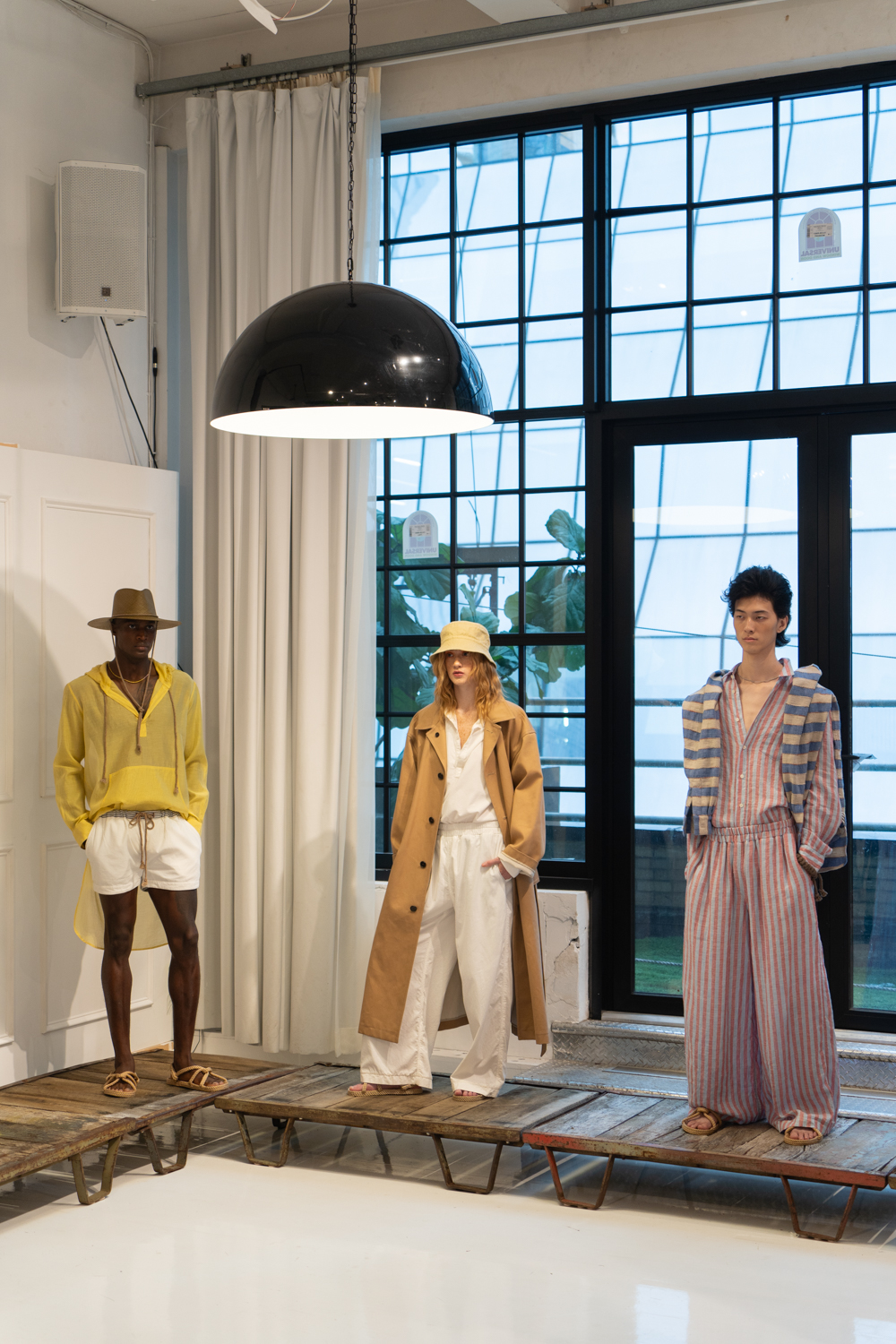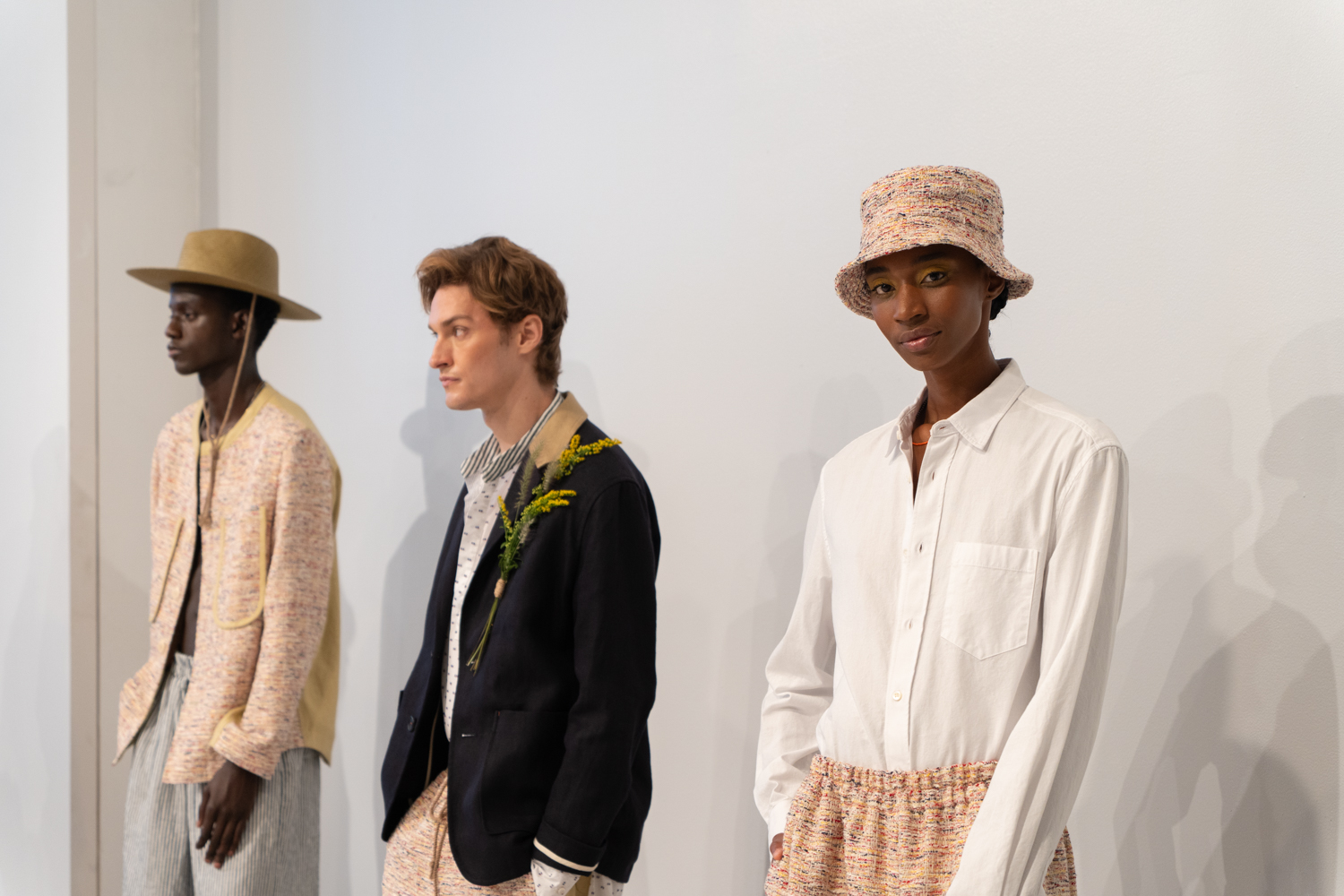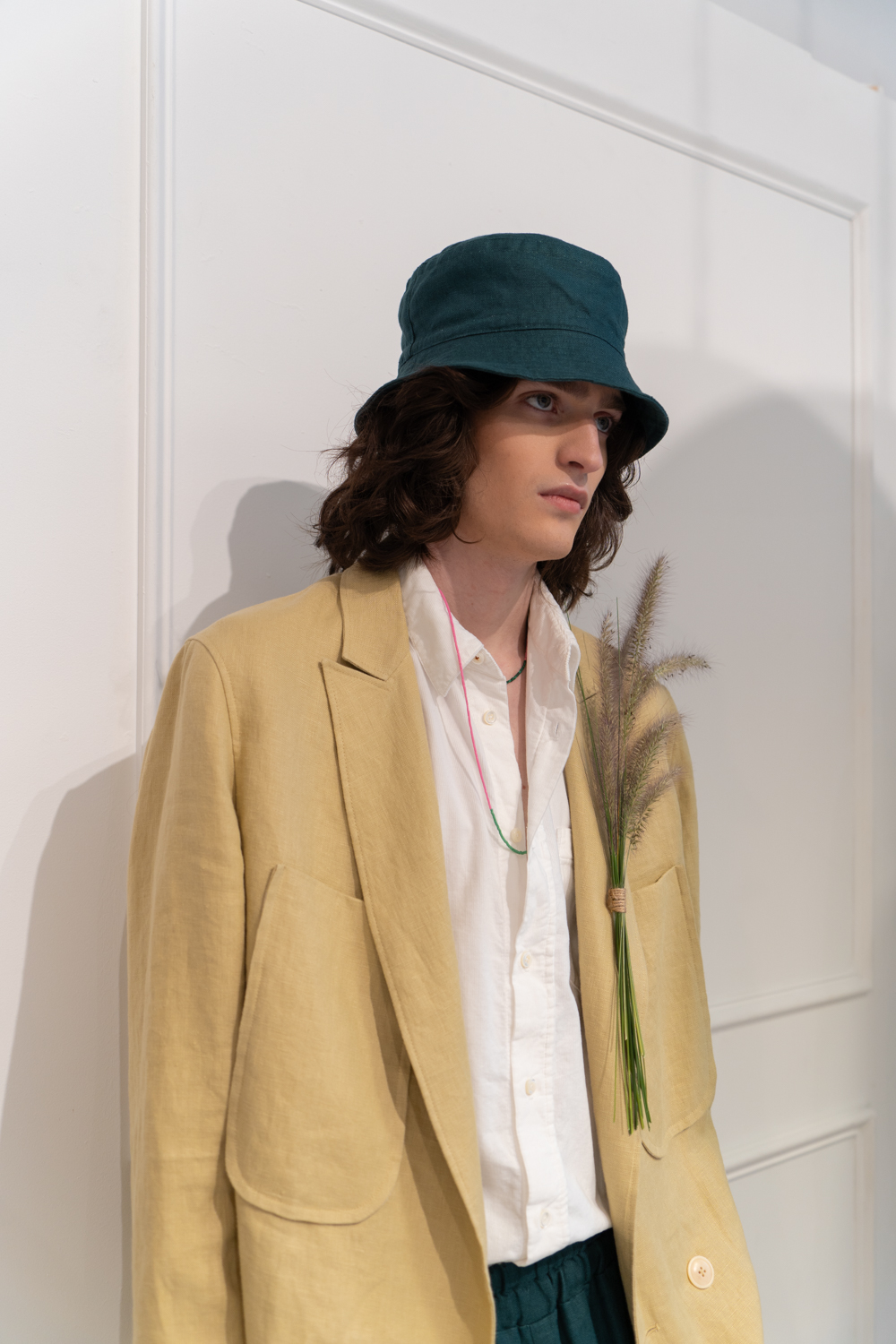 Models stood relaxed, chatting amongst themselves and with attendees, creating a light-hearted atmosphere that matched the brand's cohesive designs. Accessories including beachy bucket hats, strappy sandals and bouquets pinned to lapels complemented the clothing.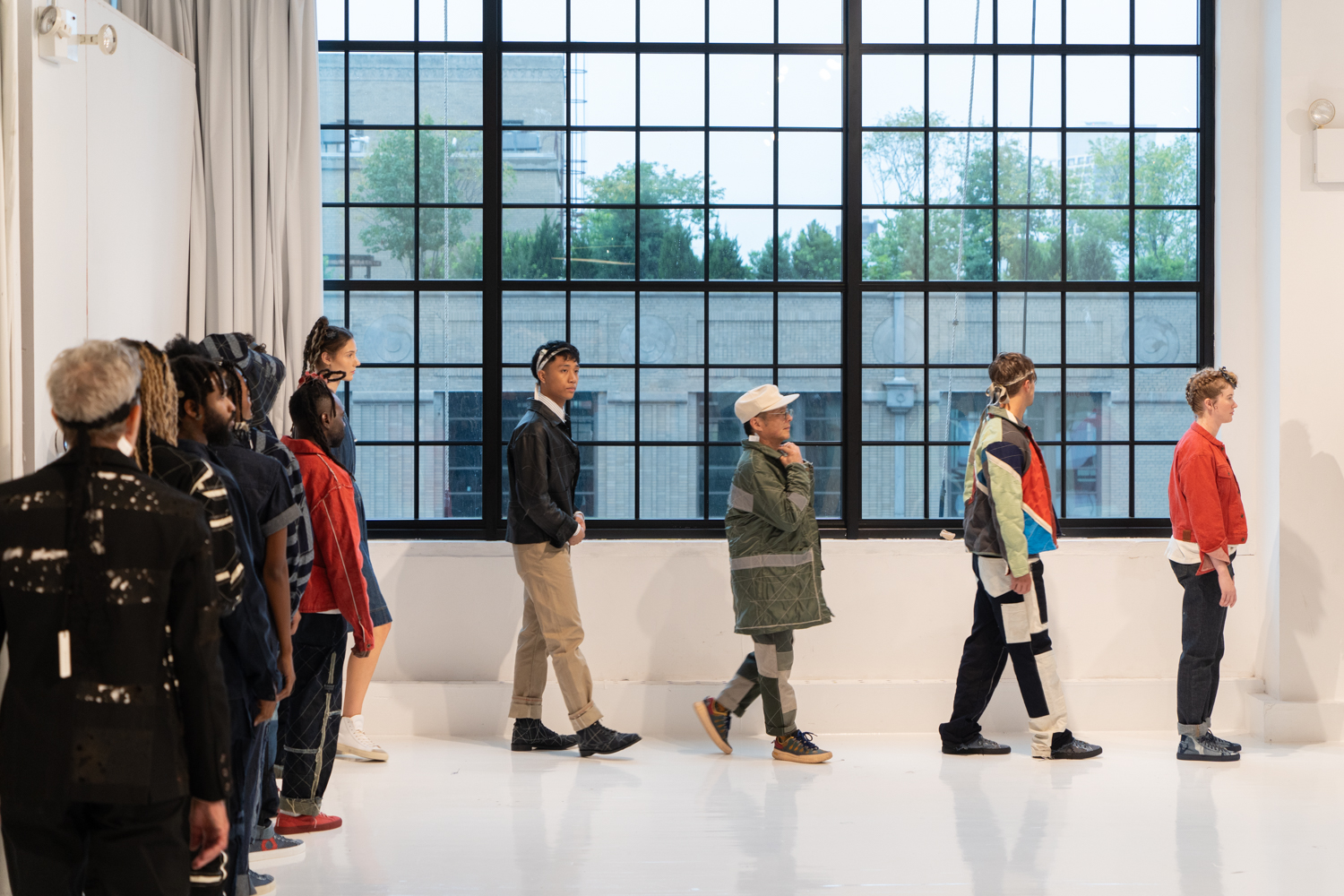 The North Carolina-based Raleigh Workshop brought its love for denim to the showroom. Founders and married couple Sarah Yarborough and Victor Lytvinenko have separated themselves from the inundation of fast fashion through meticulous handcraft and styling. The collection both reimagined denim while paying homage to the traditions of the fabric. The boxy, stiff silhouettes typical of denim grounded the featured looks, but the designers brought them alive with vibrant color blocking, bright patterns, and contrasted stitching patterns.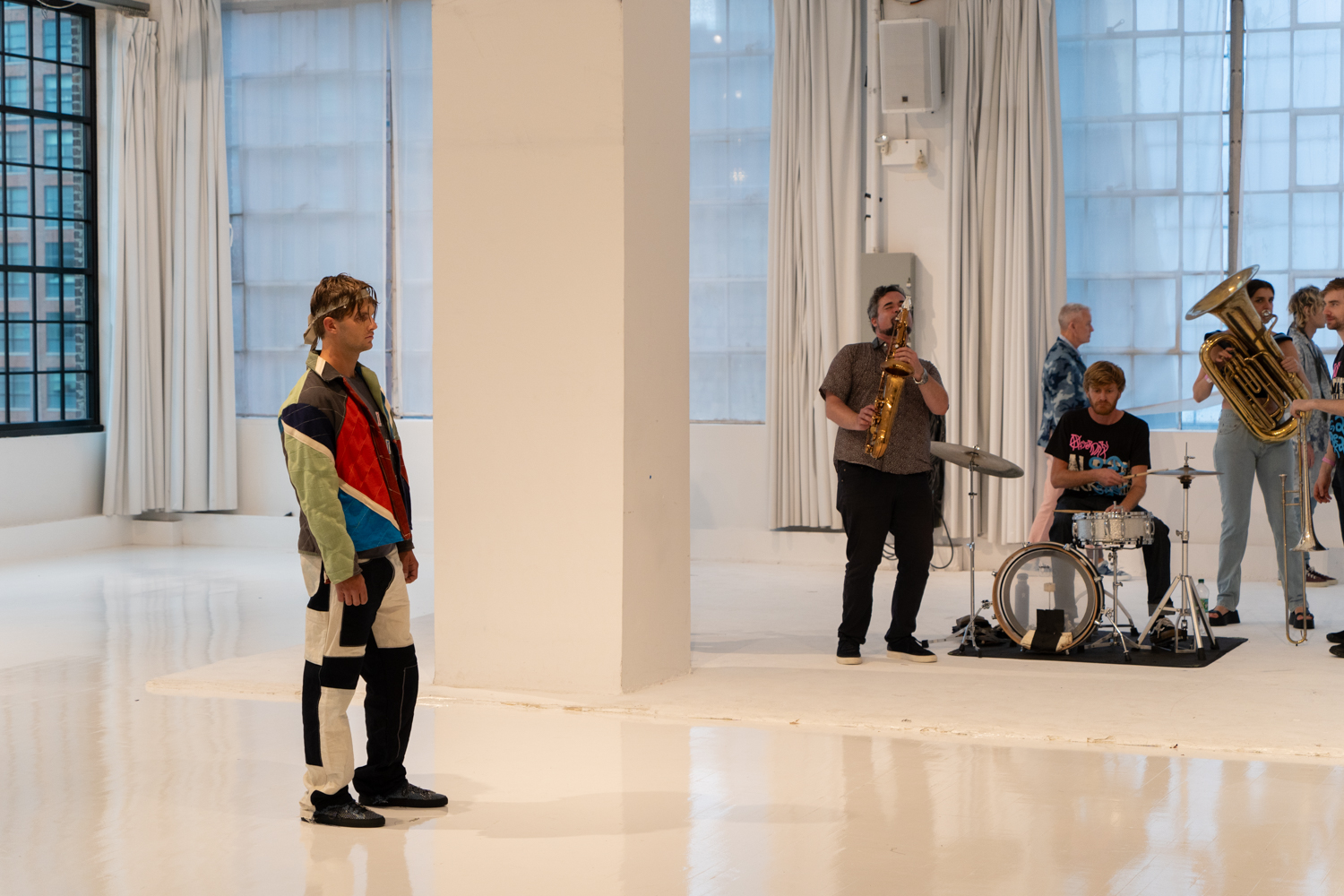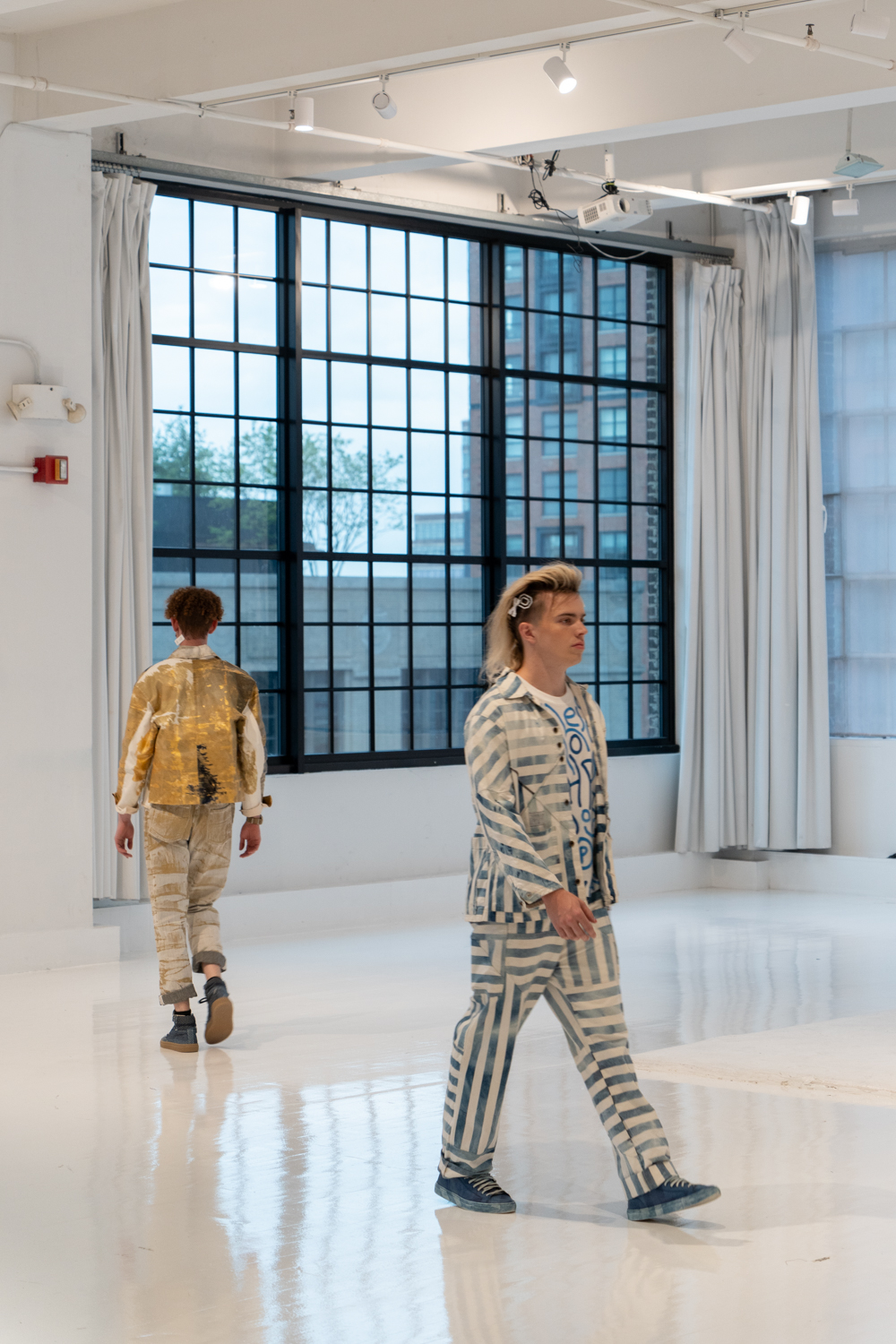 The combined smell of coffee-inspired cocktails, sweat and perfumes filled the air of Skyco's showroom, setting the scene for its 2024 Spring/Summer collection. Skyco easily drew in a large crowd, attracting attendees with its collage-inspired designs and funky colors. The collection incorporated elements of art printing, graphic linework reminiscent of Keith Haring and unconventional materials like burlap. The quirky meshing of patterns and styling continued to Skyco's accessories — a yellow cotton reptile-shaped handbag with numerous metal zippers and clips added an eclectic finish to one of the looks.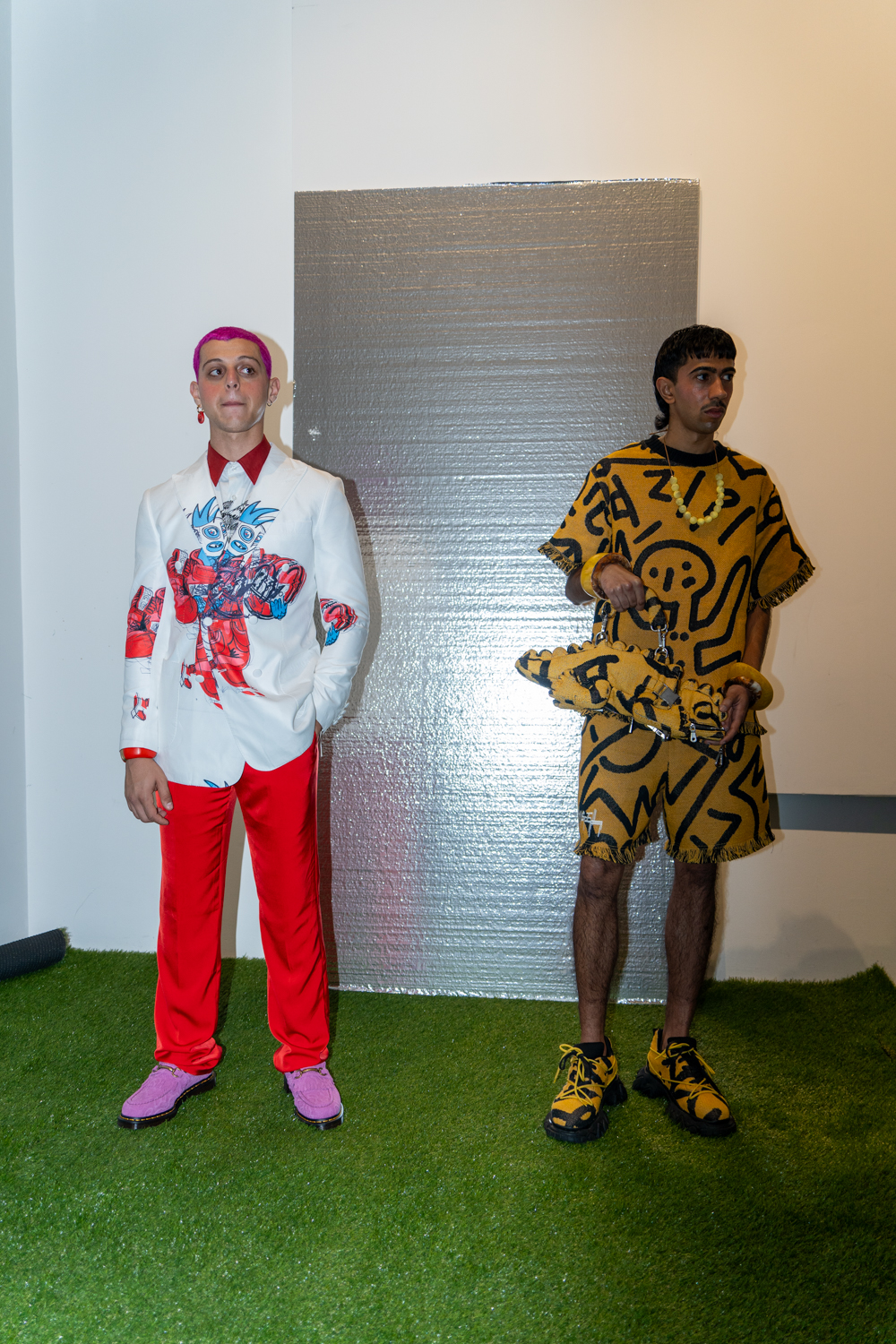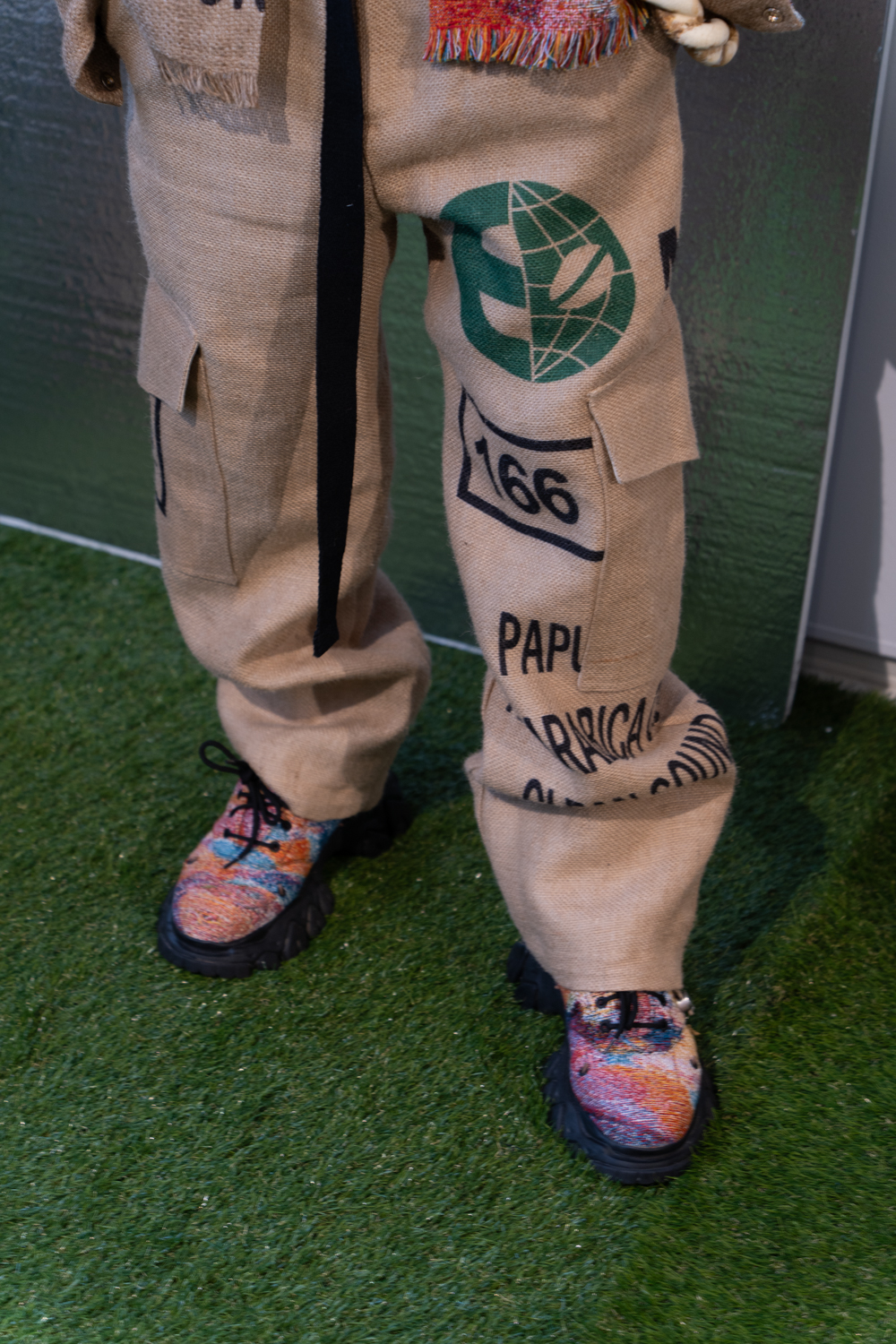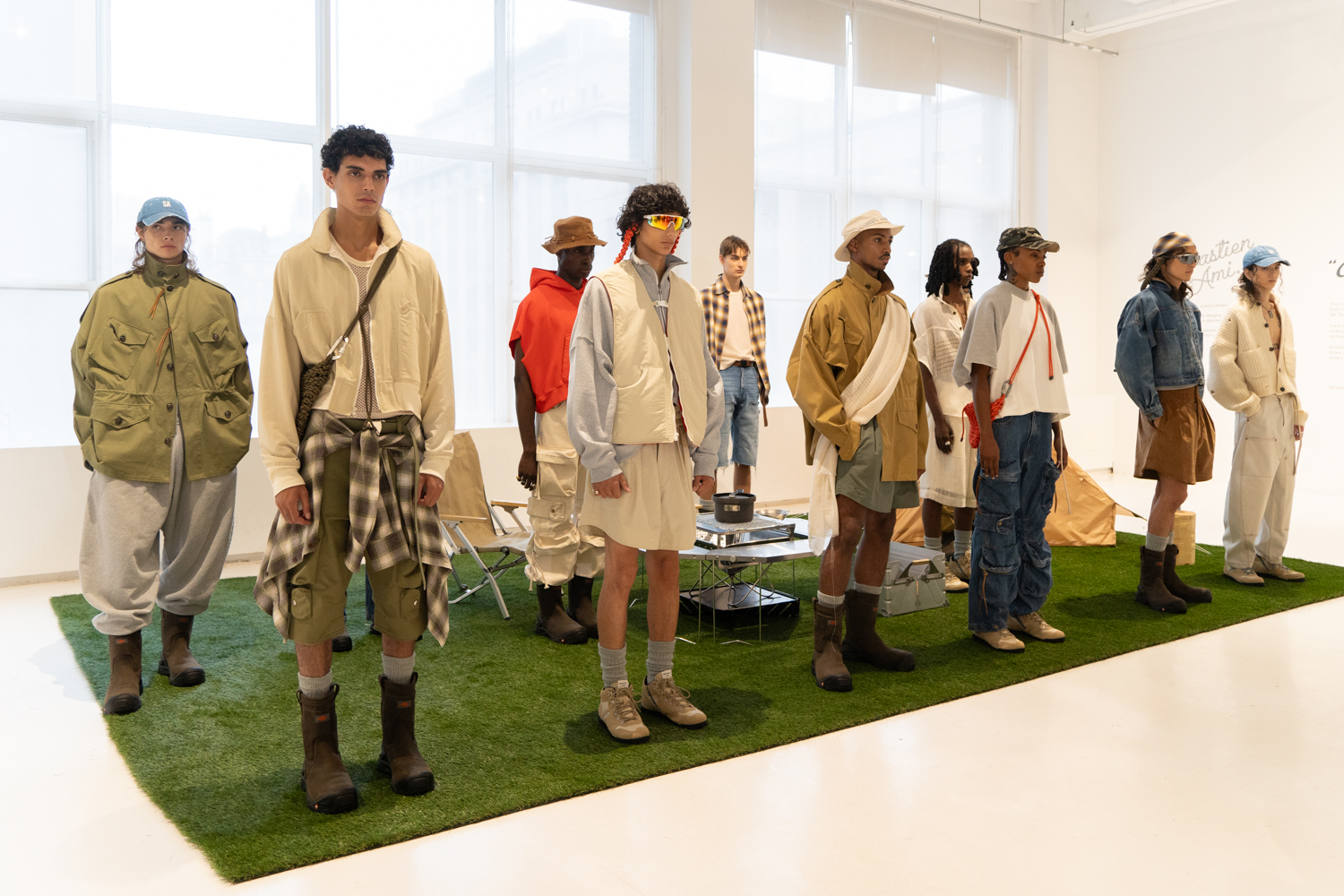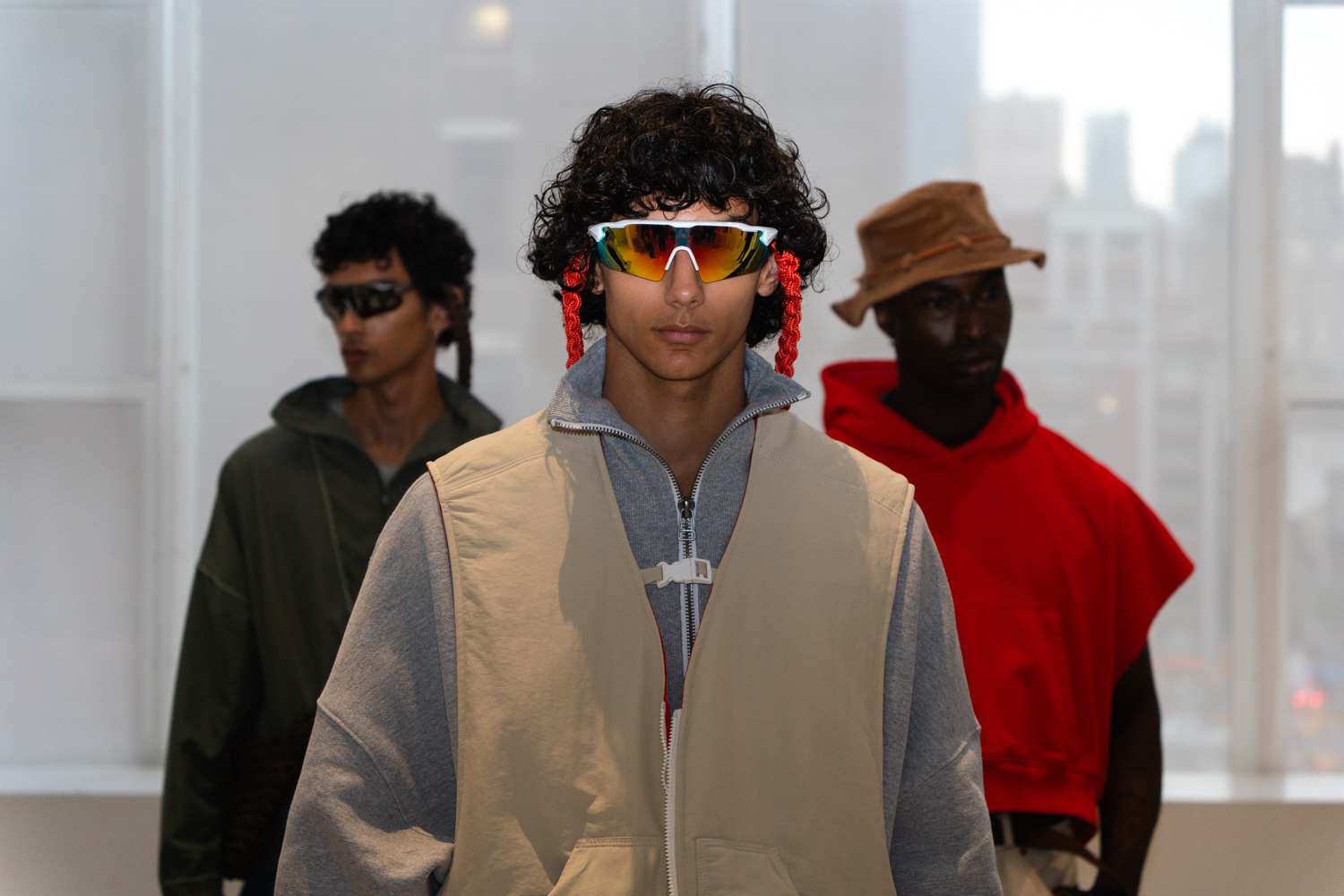 In SEBASTIEN AMI.'s studio, a piece of artificial turf lined the floor under the models and outdoorsy equipment, separating them from the rest of the room and offering guests a glimpse into the collection's camping origin. The brand, reborn during the pandemic, used a series of camping photos from 1996 — abounding with muted colors and old-school fabrics — as inspiration for this collection.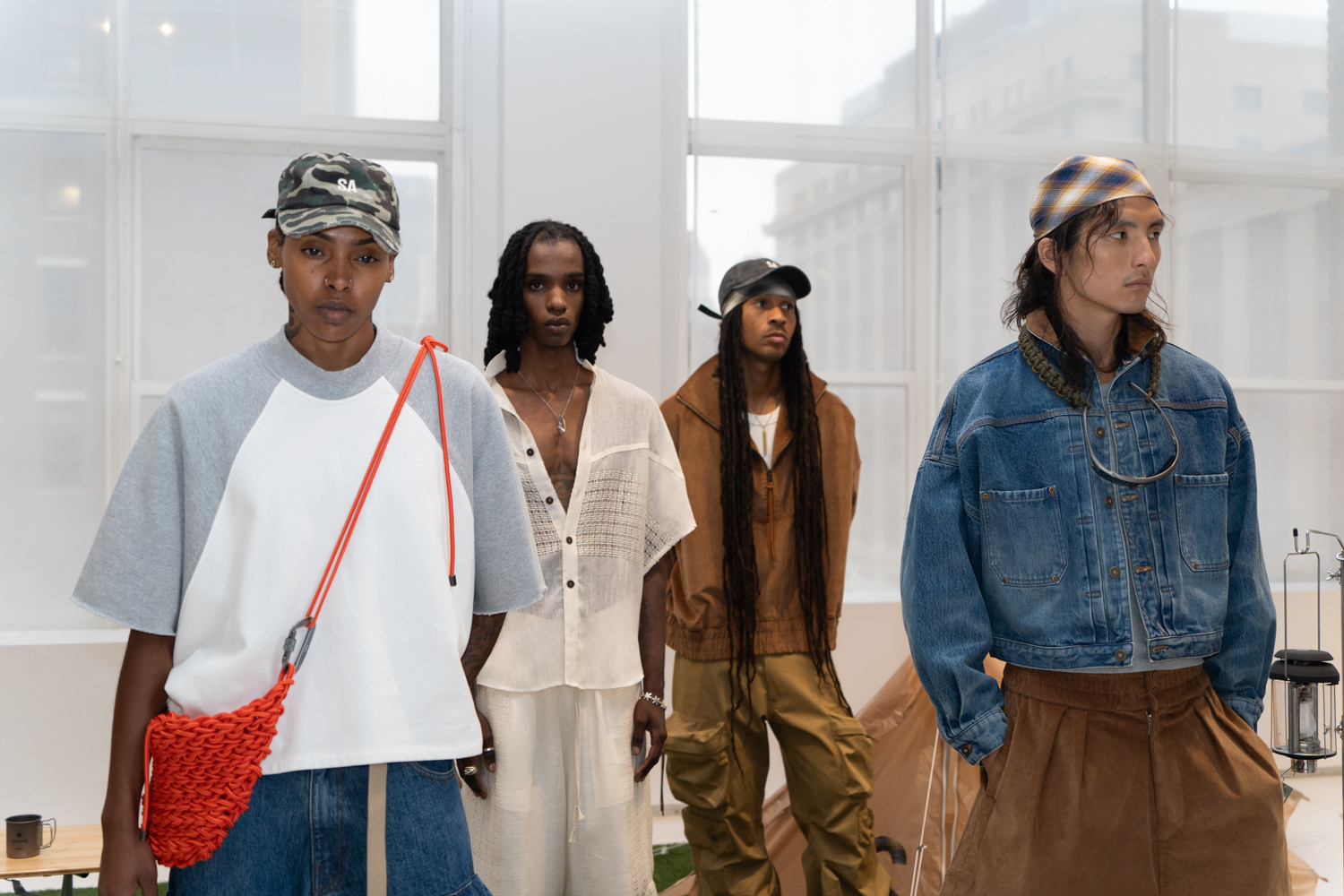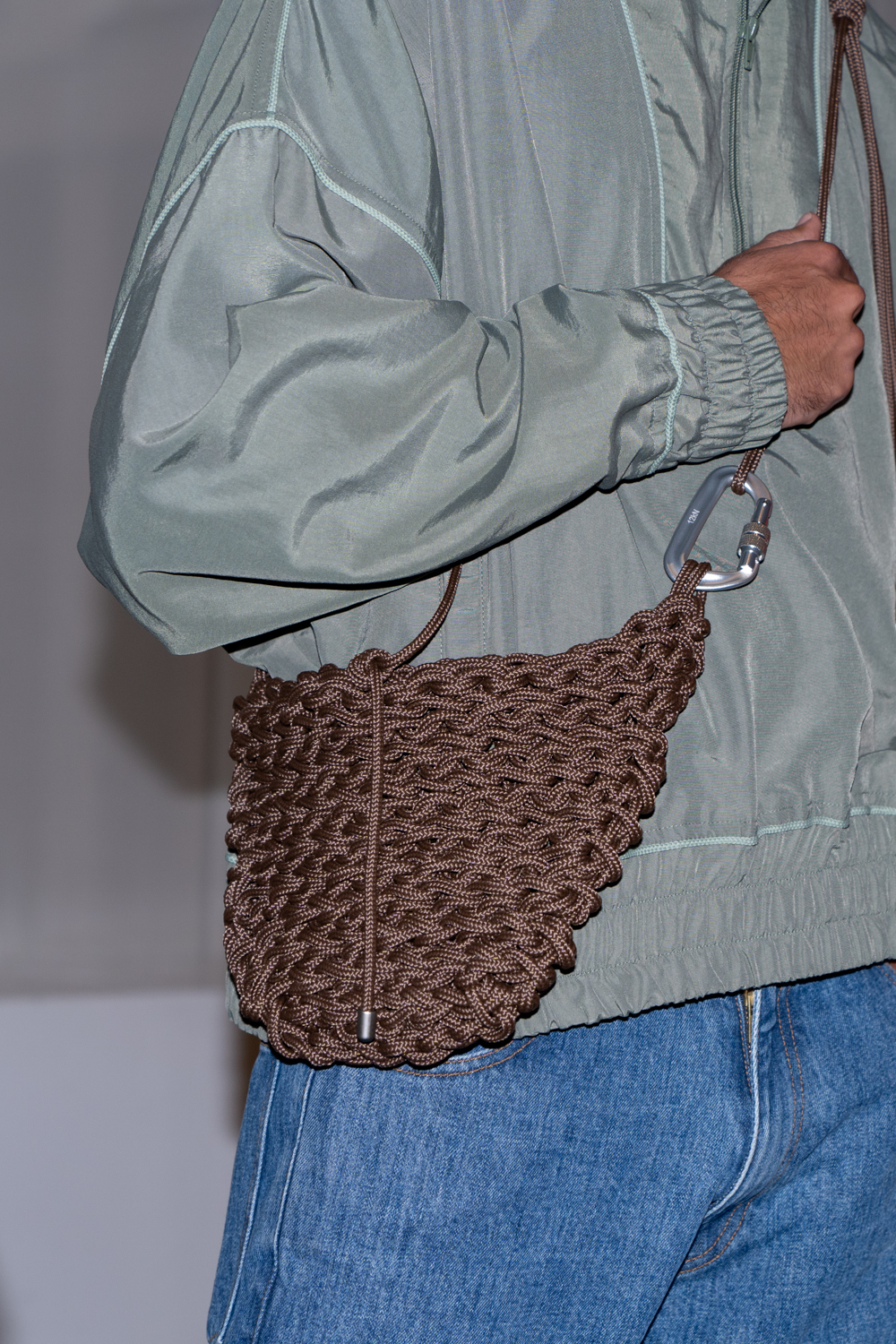 One model wore a windbreaker made out of green synthetic fabric and a pair of classic blue jeans. A brown knit crossbody bag finished the look, adding an artisanal touch to the otherwise practical outfit.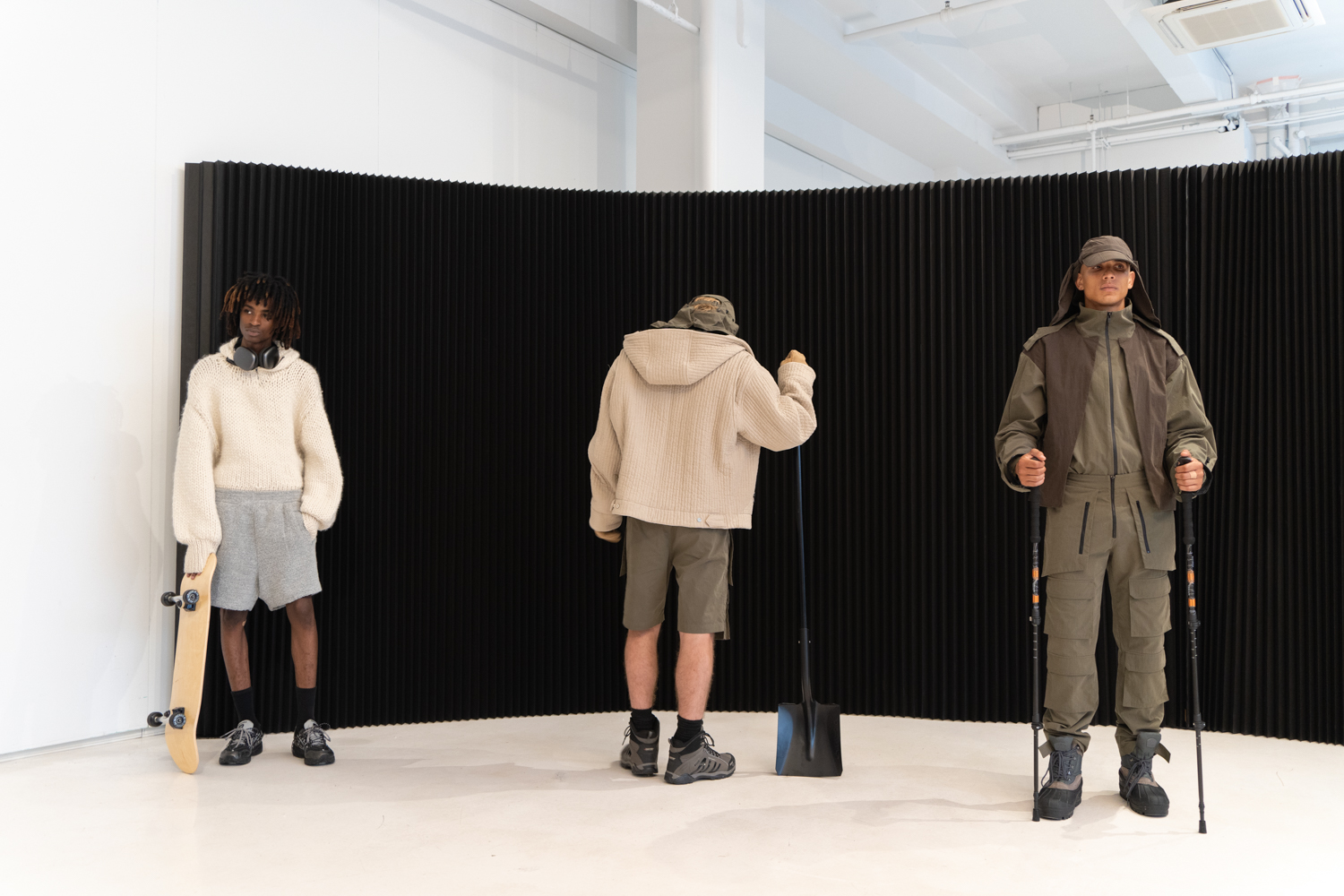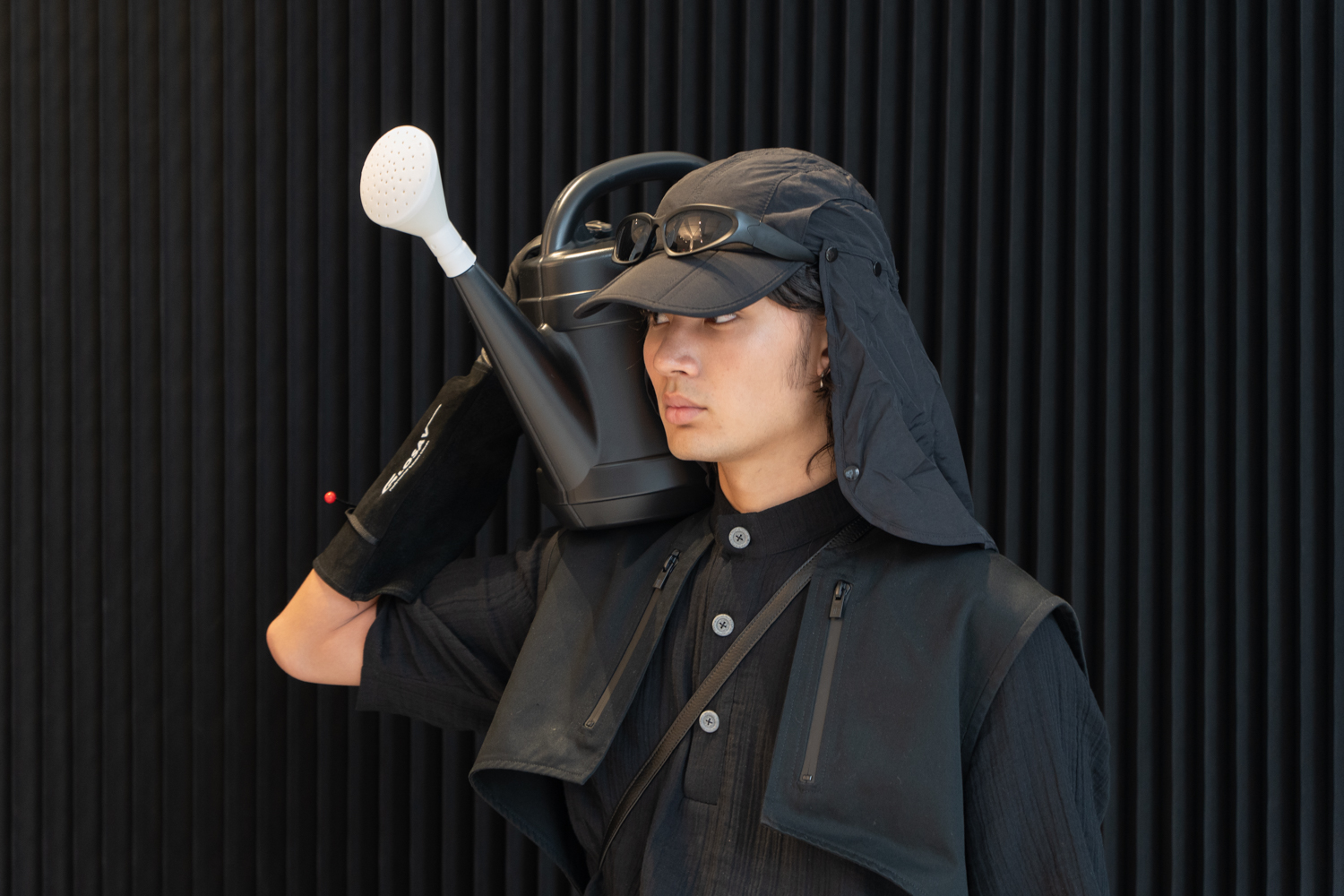 Tarpley continued the trend of utilitarianism at NYMD. Though the collection was grounded by a neutral palette, there was a balanced mix of casual streetwear aesthetics and outdoor clothing with the use of clean-cut layers and form-fitting silhouettes. Models held and maneuvered props like skateboards, watering cans and shovels, alluding to outdoor activities like hiking, commuting and gardening.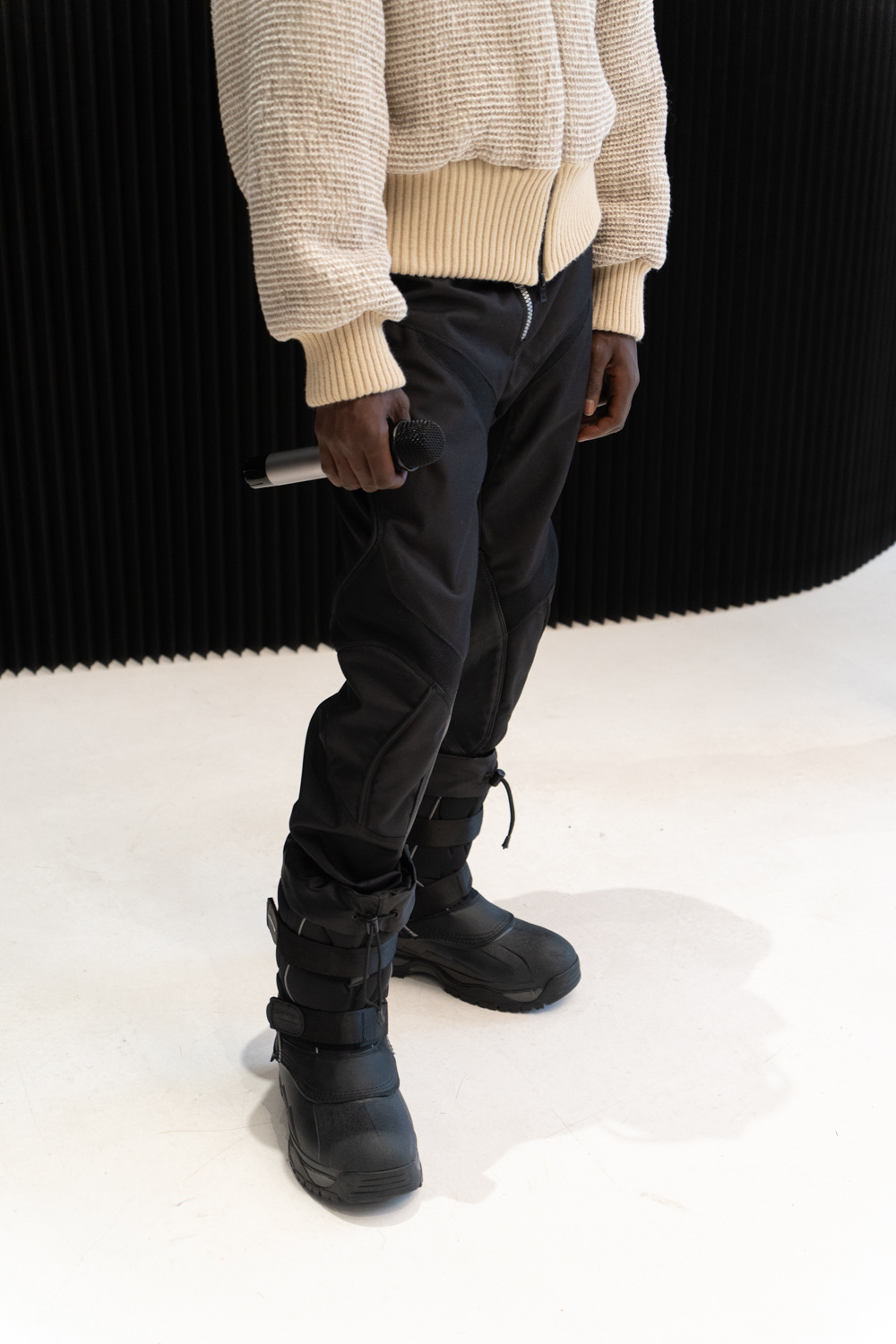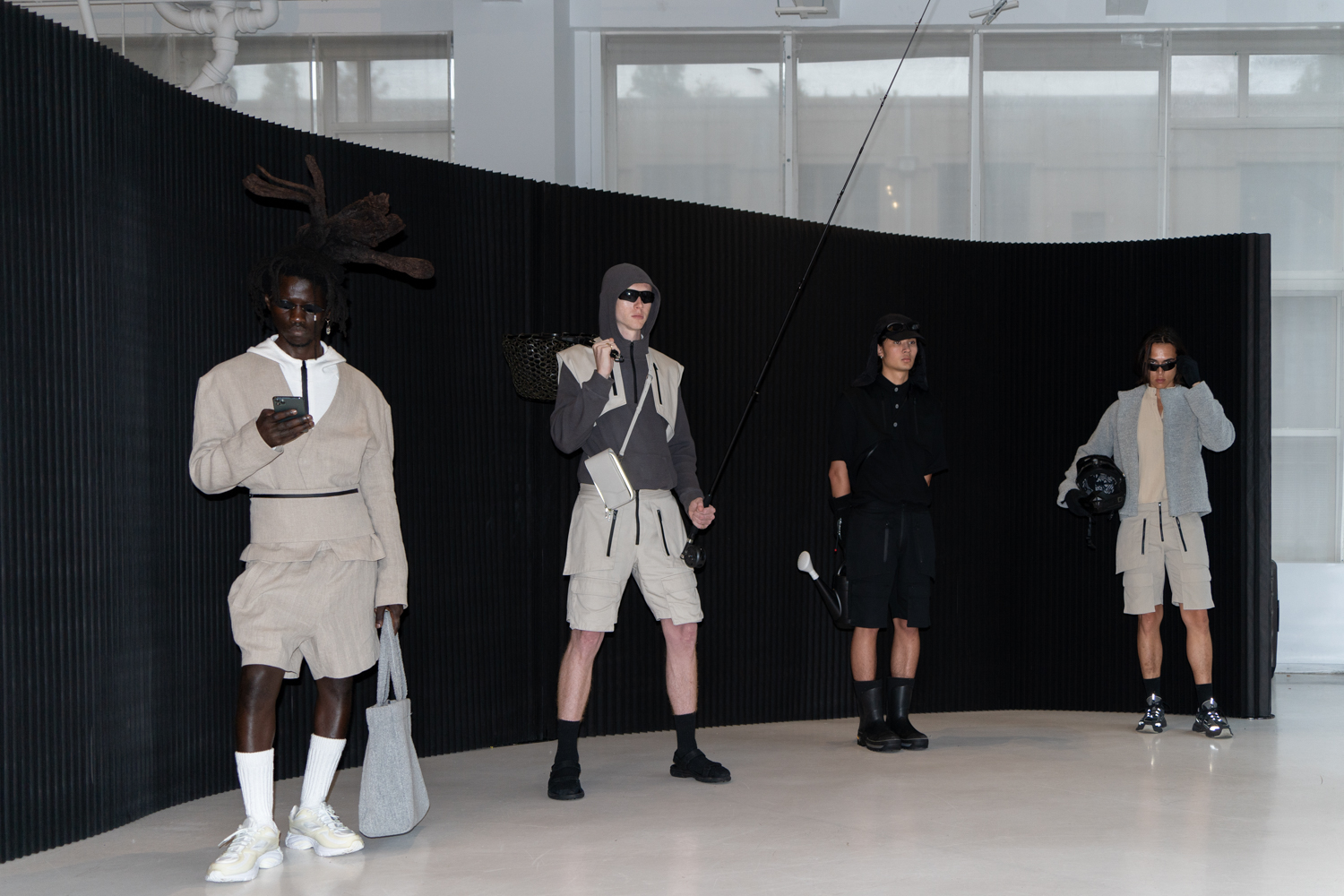 One model wore a layered, olive-green look that was complemented by dark brown accents. The concise design of the jacket, which had a built-in vest layered on top, paired well with the pants, which were covered with lines of pockets. The look was finished with a muted dark brown roofing cap, heavy-duty boots and black hiking poles with orange accents.
From Terry Singh's collection breaking past social norms, to Clara Son's collection processing her trypophobia head-on, NYMD emphasized that fashion can empower the wearer. With collections that refused to constrain themselves to a singular theme, NYMD not only embraced the growing creativity and flexibility in the world of menswear, but did so through personal collections which showed that clothing can offer anyone the opportunity to change how they interact with the world.