Victor Leonard
With tiger-like eyes, in appearance and nature, Victor Leonard has a keen sense for two things: fashion and making connections. He does everything from designing and styling to making connections to giving a voice to underrepresented groups. Leonard might be humble when talking about his talents, but he doesn't discount the value of the work he's done because Leonard isn't on sale for anyone but himself.
After spending his first year dipping his Dr. Martens into numerous clubs around NYU, Leonard, a Gallatin senior, solidified his place in the NYU community through fashion and residential life. His concentration is Perception and Presentation: Fashion Design as it Shapes Our Relation to Clothing and Self, which influences and informs all of his involvement in and out of NYU.  
"I've known I've wanted to do fashion — with purpose — since I came to Gallatin," Leonard said. "But to make it in this industry, you just have to know someone and then continue to keep up those connections. I've made connections outside Gallatin but also within Gallatin, especially the fashion show."
Currently, he acts as the student chair of the Gallatin Fashion Show, but he wasn't always so influential in its production. Starting his freshman year, Leonard taught himself to sew and premiered his first collection — "The Odyssey in Fashion" — at the Gallatin Fashion Show. The following year, Leonard found himself studying abroad in Gallatin's London fashion program, making it impossible to show at that year's show. But his junior year brought another opportunity for Leonard to design for the show.
Leonard's collection, "Umoja," which detailed blackness and the power within blackness, used pseudo-tribal prints and Pan African prints as a way to connect with blackness and the community that exists.
"When I was drawing up inspiration for my collection, the theme that year was 'Power,'" Leonard said. "I thought to myself, 'what's the most powerful thing you know?' And then I thought there's nothing stronger and more powerful than a black woman. This collection [was] a love letter to all those women."
For the runway show, Leonard let his models, who were also his friends, be the inspiration for the pieces and the entirety of the looks themselves — they did their own makeup and hair and walked the runway barefoot to nix any sign of discomfort.
At the same time, Leonard was the mind behind the Stern International Volunteers group going to Ghana during the spring semester of his junior year. As the fashion intern for the group, he outlined the lessons and the marketing plan for the designs that he was set to create with his mentoring group. In Ghana, Leonard taught a group of women how to sew. Together, they worked on designs to sell in the NYU Bookstore.
"I was in there for a total of 10 days, and then anything we made was sold," Leonard said. "All of the profits went back to that village in Ghana."
With all of his fashion experience, Leonard has several fashion-oriented tasks on his hands for this upcoming spring. In addition to all of his work for the Gallatin Fashion Show, Leonard is the stylist for Survivors magazine, which is a publication focussing on people's stories of sexual assault, run by fellow Gallatin student, Maria Polzin.
"When Maria asked me, I jumped at the chance," Leonard said. "She has such a clear vision and rich history with the project itself. Being a part of this project, I get to help realize the message these survivors want to convey through the clothing worn in the [photo] shoots."
Leonard is constantly busy and always with a project on his hands. For the past two months, he has been working with Savannah Engel, his boss and public relations freelancer, on a project with artist Arianna Margulis, known as ButLikeMaybe, and Planned Parenthood New York City to commission a 100-foot mural at the First Street Green Art Park.
Upon arriving at the mural, Leonard, with paint on his hands, sweatshirt and Docs, gave me a welcoming hug and kiss on the cheek and brought me around to meet the main players of the project — Engel and ButLikeMaybe. Other attendees included Laura McQuade, the president and CEO of Planned Parenthood New York City, and Olivia Perez, founder and editor-in-chief of Friend of a Friend, who all stopped by in support and to help take part in the mural. He talked about how this eye-catching pink mural came to fruition.
"At first, we were going to do a campaign [with Planned Parenthood] during October, which is Breast Cancer Awareness month," Leonard said. "It was going to be all about breast cancer and screening. Partnering with a bakery, we would have had an accompanying with mural that said, 'Treat your cupcakes right.' But instead we went with [the mural]."
After connecting with Voices for Planned Parenthood at NYU, Leonard then reached out to PPNYC, on behalf of ButLikeMaybe, to make the massive "Don't F With Us. Don't F Without Us" mural come to life. The mural, looking out onto East Houston Street, is situated a few blocks from Second Street Resident Hall, where Leonard has been a resident assistant for the past year and a half.
Acting as a mediary between roommates and working at the hall's Resource Center, Leonard uses his skill of making connections to help his residents and foster a community within Second Street.
"I'm good at bringing people together," Leonard said. "I was able to connect one of my residents who was transferring into Gallatin [and] wanted to know more about writing, wanted to know more the way that Gallatin functions — I connected them with the [Gallatin] writing coordinator June Foley because I had worked with her last year on the dean's 'baby,' Great World Texts, with six other hand-picked Gallatin students."
Leonard's efforts to make connections haven't just benefited students, but affect his co-workers as well. CAS junior Jessica Rahmoune worked with Leonard as a summer assistant at Second Street and found him to be one of the most warm and inviting people she knows. Leonard would always be there to reassure her whenever she had doubts in her life.  
"He's one of the most proactive people I know," Rahmoune said. "But even while he's pushing himself to greater heights, he consistently pushes the people around him to be the better versions of themselves."
Recently, Leonard started a YouTube channel, Tied, with his best friend, designated stylist and recent NYU Graduate, Malasia Apparicio, to give a voice to black culture and share the goings on of their day-to-day lives. Apparicio said Leonard has a special approach and proactivity.
"I'm just amazed by all the connections he has," Apparicio said. "Anytime we're doing anything — whatever the context may be — he knows someone. Victor can immediately connect us to the culture the project calls for, whether that be the black community or just anyone who would be useful and key."
In the future, Leonard hopes to continue working in the fashion industry, specifically in public relations. Through fashion, he seeks to give a voice to the voiceless and make the industry a more inclusive platform overall. During his time at NYU, he has worked as either a designer, stylist or a medium between those in the fashion world. His current boss, Engel, commented on the qualities that make Victor so successful in what he does.
"He understands the fashion world almost innately," Engel said. "He is competitive. That is why he is so good at what he does — he doesn't like to not be the best. He is a star. A true star."
A version of this article appeared in WSN's Influential special edition on Thursday, Dec. 8. Email Pamela Jew at [email protected].
About the Contributors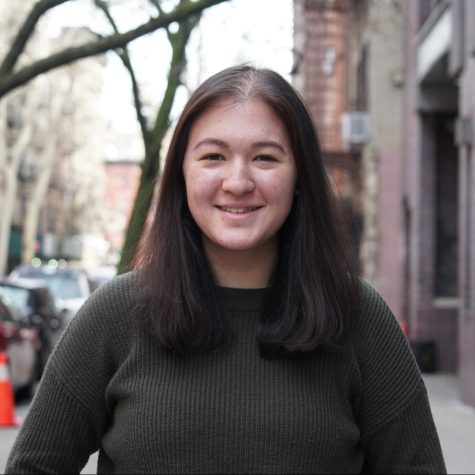 Pamela Jew, Under the Arch Managing Editor
Pamela Jew is the Managing Editor of WSN's magazine, Under the Arch, and a junior in Gallatin studying 'Community Through Commodity' with a Anthropology...
Anna Letson, Senior Multimedia Editor
Anna Letson is the Multimedia Editor at the Washington Square News. She is a junior in Gallatin and finally ready for you to ask her about her concentration....