Cam Mesinger
Breaking Boundaries on Campus and in Comedy
"There are so many people at NYU saving refugees and changing the world," Messinger said. "I don't do anything.
While Messinger — an LS sophomore who uses they/them pronouns — quickly becomes uncomfortable at the thought of being labeled influential, their time at NYU has been far from ordinary. At a very young age, Cam Messinger, who is average height and wears thick black glasses, learned that in order to live authentically, they could not be defined by any traditional societal roles.
Messinger explained this just hours into a busy Saturday afternoon during which they were balancing everything from leading club meetings to performing at comedy gigs. Messinger is a member of NYU's queer union, a campus-wide club for queer people, and T-Party, a campus-wide club for non-cisgender people. Also, they co-run inQUEERY, an LS club for LGBTQ students. For Messinger, their seemingly never-ending list of commitments is not a part of some vast resume-building scheme — they are just doing what they love.

"Unlike high school, I don't think any graduate school is going to care that I was the leader of some queer club," Messinger said. "I just do this because honestly I do not know what else I would be doing with my time."
When Messinger is not in class, they are often busy organizing events such as NYU's Pride Month. This year, Messinger oversaw the funding for the month, which celebrates queer students and encourages activism. After endless emails and meetings with the NYU administration, Messinger was able to secure the $12,000 needed to carry out their vision for the month.
Messinger's activism does not stop there; they are involved in one of NYU's most active LGBTQ clubs, inQUEERY. They became a member of inQUEERY early last year, and now Messinger has somehow found time to lead it. Chris Packard, the club's faculty sponsor, is constantly impressed by Messinger's leadership and authenticity.
"Cam is the kind of person you want on your team because with Cam comes humor — the kind that unifies with warmth and belonging," Packard said. "Cam pulls people together and makes them optimistic."  
Being gay and transgender, Messinger never found a place among traditional Americans, forcing them to pave their own path. This is evident throughout every aspect of Messinger's life. For example, some may think one can only be an activist or a comedian, not both. Messinger refutes this.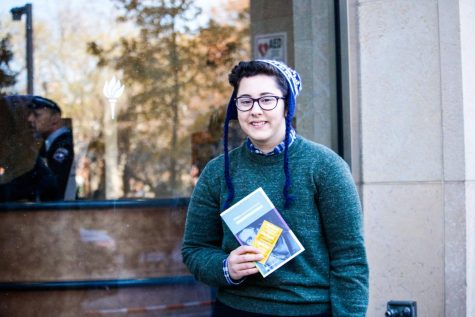 Viola Mai
On the weekend, Messinger can often be found performing at local comedy clubs. At many of these gigs, Cam is at least 10 years younger than all of the other performing comedians. Messinger tries to interweave social justice throughout their comedy — refusing to accept the notion that political correctness and humor cannot coexist. Mesinger even plans to transition to Gallatin to study how comedy can be used as a way to progress society, not attack it.

"I want to start bushwhacking a path in which you do not have to be problematic to do comedy," they said.

To do this, Messinger often sets themselves up as the butt of the joke.
"I know what I look like," they joked at a recent comedy show. "I know that I don't look like a woman. But I am enough of a woman that every time I get in an Uber and they lock the door, I sh-t my pants."
When asked if there is a particular comedian that Messinger looks up to, they hesitate. Messinger then goes on to explain that no one currently in comedy currently seems to understand how to write jokes that are not at the expense of other people. Messinger, on the other hand, is determined to change this, truly following no one but themself.
Despite not adhering to any of society's expectations, Messinger seems entirely self-aware, and their friends agree.
"Cam's wit and sense of humor make them a delight to be around, but their kindness and compassion sets them apart as a friend and leader," Audrey McCabe, a member of inQUEERY explained. "Cam is always working to ensure that inQUEERY is a welcoming, inclusive environment and that our discussions are well-rounded and open-minded."

Email Andrew Heying at [email protected].