Brittany Claybrooks
Building the Foundations of Success
"Education was always like my sport," Brittany Claybrooks said during a First Generation College Students panel hosted by NYU's Robert F. Wagner School of Public Service. Claybrooks, a second-year Master of Urban Planning and Development student at Wagner, grew up in Detroit and a small suburb outside of the Motor City called Inkster. From a young age, she was forced to face harsh realities in a place where receiving a great education was a privilege and a rarity, not commonplace.
"Michigan is a blue-collar state," she said. "When I was coming up, you could either go to college or you could work at the plant. Where I come from, people didn't do either one of those things. They were in the streets, it was crime-ridden."
Claybrooks was fortunate enough to transfer to private school in high school. She excelled in academics and chose to attend Florida A&M University, where she received a degree in Healthcare Management. Upon graduating, Claybrooks jumped into a rich slew of jobs and internships. After interning at the Department of Health, she applied to work at her local congressman's office, but was instead offered a position on Nancy Pelosi's house floor staff. While in D.C., Claybrooks also had the opportunity to work on Obamacare, during which the pursuit of a master's degree became real for her.
Now in her second year at Wagner, Claybrooks serves as the President of the Black Student Association. Last year, she was an integral part in the development of the First Annual NYU Wagner Black Alumni Conference, which was an outstanding success. Claybrooks has already begun planning for the Second Annual Conference, which she hopes will continue to stimulate even greater conversations about diversity and provide a place where black students and alumni can cultivate lasting connections.
"My goal is to start having this conversation not in a silo space, but with other folks who are allies or who want to know what it's like to be a black public servant," Claybrooks said. "How can we work together as public servants who look different and how can we foster and activate allyship?"
In addition to her role as president of the Black Student Association, Claybrooks is an NYU Social Sector Leadership Diversity fellow. The fellowship — a highly selective program comprised of approximately 40 graduate students — allows students of color to exercise and nurture their leadership skills and build relationships within the NYU community. It's clear why Claybrooks was chosen to be part of this program, as her presence is kind yet unwavering, recognizing the importance of taking a stand.
Claybrooks' desire and drive to study Urban Planning can be traced back to her roots in Detroit. Whether it be education or crime, Claybrooks believes that the journey toward a better society starts in changing the cities.
She has recognized a distinct pattern among many burdened by poverty.
"The issues that they have aren't because of who they are as people or how they live as people, but where they are from and where they live," she said. "I believe that every issue that exists here in the United States for people who are in poverty or people of color is heavily wrapped in where they live because they're all concentrated, nine times out of 10, in the same type of environment."
Claybrooks exudes the qualities of an intuitive leader — one who possesses the selflessness needed to be the voice for those who don't have one. She is passionate and steadfast in her beliefs, determined to share her growing knowledge with others and use it to promote a positive evolution of society. In the future, Claybrooks hopes to return to her hometown of Detroit and work to improve the city's urban structure.
"For me, heaven would be if I could go back to Detroit and help shape the future of the city after industrialization, help diversify the economy," Claybrooks said.
For Claybrooks, the choice to involve and immerse herself in activities and organizations around campus is simple: only by being a leader can she use that power to guide fellow students and motivate the change that our country needs.
"If you could have an influence on how a city is zoned," Claybrooks said, "you can help people live out the part of the American dream that they deserve."
Email Daniella Nichinson at [email protected]
About the Writer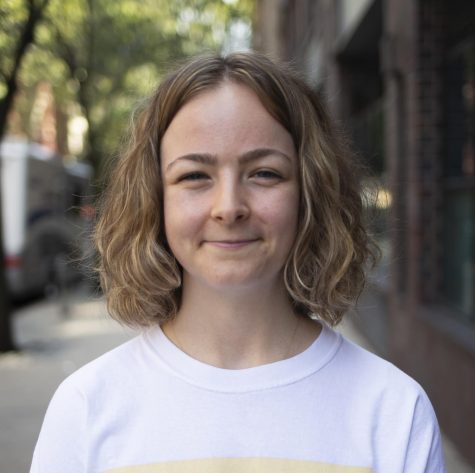 Daniella Nichinson, Arts Editor
Daniella is the co-Arts Editor and is studying Marketing and Creative Writing, but lately has gone through the utterly clichéd phase of life known as...