Jessica Martinez: CAS, Journalism and Social and Cultural Analysis
NYU and New York City have been in the cards for me since my early teenage years. I fell in love with both during my very first visit to the city when I was 14-years-old. Throughout high school, I made it clear that moving here was the plan.
In the years at my Southern California community college, I told everyone I loved New York. But when admission decisions were released, I said all would fall into place with all six universities I had applied to. In the end, I acted as if I was really having a hard time deciding between attending this school and another one.
It's like I'm Ross Geller and this institution is Rachel Green. It was always you, NYU.
Slowly, and without really realizing it, this university and this city have become my home. I've studied in Bobst for hours at a time, had too many trips to Starbucks on West Fourth Street, spent a lot of the little money I had at Insomnia Cookies, interned for a New York City councilmember, lived in a beautiful apartment while studying abroad in Madrid, worked with elementary school kids for a year, accepted an offer for my dream internship when I was on Broadway and Waverly, led a group of transfer students on a service trip to New Orleans and ran an NYU-affiliated 5K across the Manhattan Bridge.
This isn't to say it's all been easy. In my very first week, I took one look at an assigned reading for a Metropolitan Studies class and called home, wanting to get on the next flight to Los Angeles. I decided I wasn't smart enough to be at NYU. However, the response I received from my professor when I asked for help made it clear I had chosen the right school.
That semester, I had frequent encounters with homesickness. I went to the Washington Square Park dog park when I missed my own dog, called my family frequently just to hear their voices and spent my time alone wondering what life would be like if I had attended college at home. My mom often said I could always return home if I was unhappy. Stubborn as I am, I felt that going home would mean I had failed, and I wouldn't have that. So I stuck it out.
Sticking it out led to visiting — and living in — Europe for the first time, meeting my best friends, mentoring 65 new transfer students, being exposed to classmates from just about every state and many countries, serving as a Welcome Week leader and leading an Alternative Break trip to work with Habitat for Humanity in Louisiana.
As cliche as it is, my experience is everything I wanted it to be and more. As the great philosophers Snoop Dogg and Wiz Khalifa once said, I'm young, wild and free. NYU was, is and will always be my dream school because of every person and opportunity I've come across here.
My latest accomplishment that I owe, in part, to NYU is scoring an internship at The New York Times this summer. Although I won't be far immediately after graduation, I'm planning to move home to California in August. With just about three months left in this city, I'm already stocking up on Insomnia cookies, Halal Guys and Tompkins Square Bagels sandwiches.
Email Jessica Martinez at [email protected]. 
About the Writer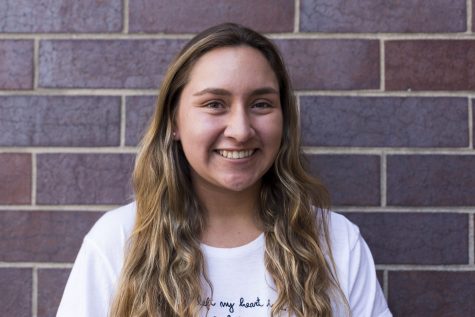 Jessica Martinez, Social Media Editor
Jessica Martinez is happy to be serving as the Social Media Editor again this semester. Originally from Torrance, a small beach city in Los Angeles County,...