NYU Divest in 2016-2017
From protesting Standing Rock in North Dakota to occupying the Bobst Library elevators and lobby, NYU Divest is holding everyone accountable for a more sustainable future.
NYU Divest is an activist group that strives to reduce the university's carbon footprint by divesting from its fossil-fuel investments. The group believes that in order for NYU to be truly sustainable, it cannot associate with companies that invest in fossil-fuel.
This past academic year, the group has continued to make its presence known on campus through weekly meetings and other larger efforts.
October 2016
On Oct. 20, 2016, a member of NYU Divest dressed as board Chair William Berkeley and acted out an apology for the memorandum Berkeley and President Hamilton sent to Divest and the University Senate at Gould Plaza.
On Oct. 23, 2016, Divest released several zines about the board of trustees' memorandum on voting on the University Senate's passing of a fossil-fuel divestment.
November 2016
On Nov. 11, 2016, Divest collected donations at the Native American and Indigenous Students' Group's film festival to support Standing Rock by contributing the money towards more sustainable energy at the site.
On Nov. 15, 2016, the group supported the National Day of Action to Stop DAPL event at the Kimmel Center for University Life. They later joined the Native American and Indigenous Student Group in a #NoDAPL march to Foley Square.
December 2016
On Dec. 7, 2016, Divest joined NAISG in hosting a civil disobedience training session in the Global Center for Academic and Spiritual Life.
On Dec. 14, 2016, members of NYU Divest delivered a letter to President Hamilton that denounced the board's reasoning against the university divesting from fossil fuels. They also stood outside Bobst Library to sing about climate change.
January 2017
On Jan. 24, members of NYU Divest marched against construction on the Dakota Access Pipeline.
On Jan. 25, NYU Divest published a response to President Donald Trump's Executive Memoranda on the Keystone XL and Dakota Access Pipelines.
February 2017
On Feb. 17, the group launched its #TrusteeOfTheWeek campaign, in which it showcased a different member of NYU's Board of Trustees every week and called the member to encourage them to be more transparent with the rest of the NYU community and advocate for the university to divest from fossil-fuel investments. The first #TrusteeOfTheWeek was John Paulson.
March 2017
On March 31, members of NYU Divest visited William Berkeley's office to deliver messages to him when he was their #TrusteeOfTheWeek.
April 2017
On April 11, NYU Divest members stood in the lobby of Bobst Library to educate students about NYU's Board of Trustees and how the university has invested $139 million in the fossil fuel industry.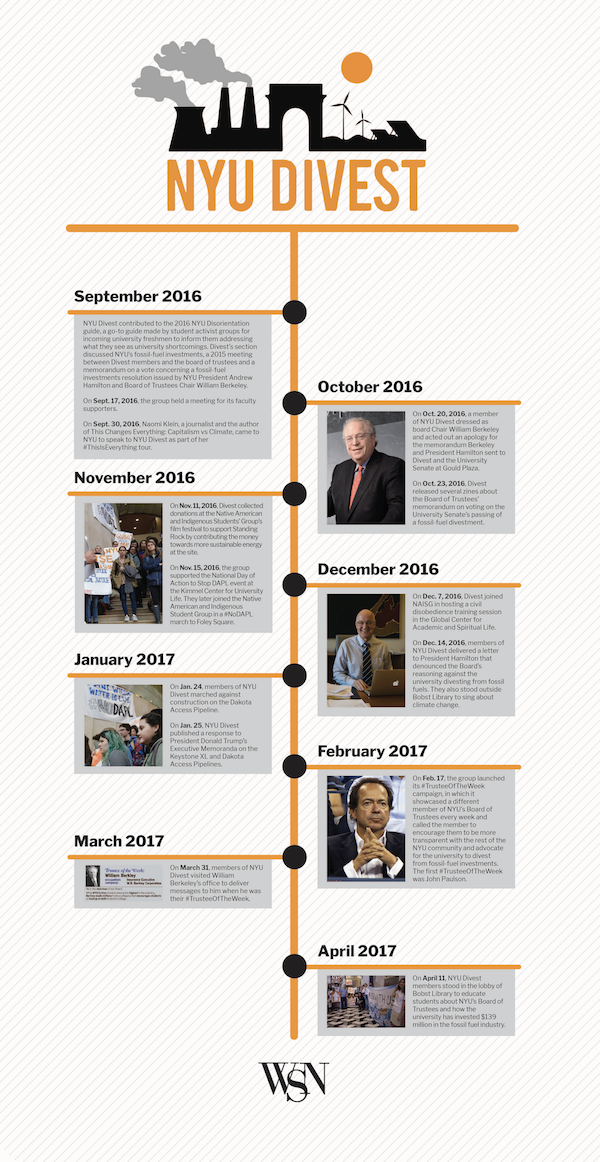 Rachel Buigas-Lopez
Email Natasha Roy at [email protected] 
About the Contributors
Natasha Roy, Managing Editor-at-Large
Natasha is a CAS sophomore studying journalism and public policy, and she's an editor-at-large at WSN this semester. Originally from a small town outside...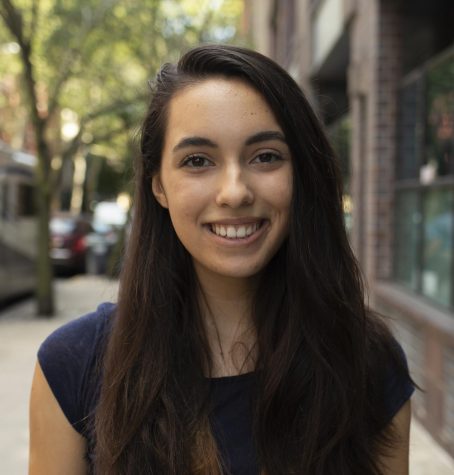 Rachel Buigas-Lopez, Creative Director
Graphic design is her passion. Over the summer, she worked as an Art Design intern for The New York Times. Now, she's a junior studying Integrated Digital...