Michael Leonetti
Re-humanizing the Refugee Crisis
On Michael Leonetti's first day in Skala Sikaminias on the island of Lesvos, Greece, he rode around the sparkling Aegean Sea on a small dinghy, sitting atop bags of broken up boats that were to be recycled. Littered along the shores of the island, these boats had previously been used to carry asylum seekers to Lesvos.
After spending his first year at NYU DC, Leonetti, a GLS sophomore, spent five and a half weeks volunteering at an open refugee camp in Greece. His experiences there spawned a desire to involve a larger community in the relief initiative, and when he returned to the states, NYU provided just that. This semester, he started a chapter of the International Rescue Committee on campus. IRC, one of the largest refugee organizations in the world, provides resources for volunteers to work on the ground in areas most afflicted by the refugee crisis.
"I think when I went over to Lesvos I'd assumed you could only help from the front lines, which is wrong," Leonetti said. "I see that now there's a lot to do from everywhere."
In the coming months, IRC @ NYU will train volunteers to help with a tutoring program for those who have been resettled. Additionally, the club aims to spread awareness of and fundraise for the refugee crisis by hosting events on campus. Leonetti placed weighted emphasis on inviting refugees to these events — "The best experts are those who are being resettled" — and giving them a chance to paint a picture with their own voices.
Many of the core values that Leonetti tactfully applied to the creation of IRC @ NYU were instilled by Lighthouse Refugee Relief, the organization that created the camp he volunteered at — the First Reception Camp — in Lesvos. Lighthouse built an open refugee camp on the island where families have the opportunity to regroup before proceeding to government camps. The First Reception Camp, nestled against the rocky Greek hillside, was small enough that it took less than a minute to walk its entire length. Instead of the authorities making decisions about the structure and programming of the camp, the residents do.
"The goal is to give more agency to the residents," Leonetti said. "It's about increasing the quality of life at a refugee camp and redefining what it means."
He joined Lighthouse's eco-relief team, which had two functions: to receive boats that came in near their camp and to clean the beaches of lifejackets and dinghies that had accumulated as a result of the crisis. Julia Favorito, a Middlebury College graduate, worked with Leonetti on this team and noted the way his intense commitment was underscored by a positive, calm attitude. Leonetti never had trouble connecting on a personal level with those who landed on the island.
"With so many people coming in large groups, it is easy to start thinking they have all had the same experience," Favorito said. "That could not be further from the truth. Michael seemed to understand this more than most and was always interested in listening to people's stories if they desired to share them."
Leonetti's trip to Greece last summer was a result of following the crisis in the news for much of his young adult life. In addition, NYU DC provided a space for panels and discussions centering on the crisis. However, he knew that there was a less topical way to be involved than solely consuming media.
"Since we're so separated from the crisis — physically and emotionally — I didn't really feel that much agency." Leonetti said. "I thought the best idea for me was to just go over there and see what I could do."
A recent Gallatin Human Rights fellow, he plans to build on his time in Lesvos and continue researching the changing state of refugee camps. Over the course of roughly 12 weeks this summer, he wants to compare the traditional camps to newer camp models — unrestricted by local government — in hopes of seeing how quality of life differs by using metrics such as safety, perception and water access. Leonetti saw the future of refugee camps trending toward these newer camp models, and he wants to gather as much evidence as possible to make sure this trend is the best option. He remains skeptical — "It might not be the best solution, I think it's under-researched" — but he's careful not to jump to conclusions.
Leonetti's on-campus involvement doesn't stop at IRC @ NYU — he believes in the ultimate fight for liberation of the self and the intersectionality that fight shares between different facets of his life. He is also a co-chair of inQUEERy, a Liberal Studies club for LGBTQ students who have an interest in the queer history and culture of New York City, and though these two clubs do not relate by definition, each informs his participation in the other. inQUEERy fosters discussion through tours of the city, visits to galleries and film screenings. It provides a space for LS students to sound their thoughts on current events and the effects they have on the LGBTQ community.
He became involved when Chris Packard, inQUEERy's faculty sponsor and his former professor at NYU DC, approached him, noticing his natural penchant for leadership. Packard honed in on the central characteristic that, throughout Leonetti's laundry list of leadership roles, keeps him grounded in the best interests of all involved.
"If Michael were an orchestra conductor, he'd lead from one of the musician's chairs, not from a podium," Packard said. "He starts by listening."
Read the rest of Influential 2016 here. 
Email Grace Halio at [email protected]. 
About the Contributors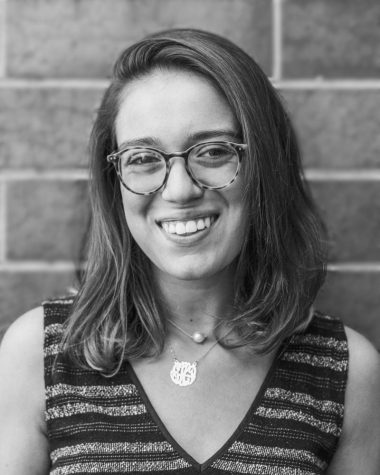 Grace Halio, Editor-at-Large
Grace Halio has spent the past three years working at WSN because her job has an actual title, unlike her concentration in Gallatin. She's studying how...
Anna Letson, Senior Multimedia Editor
Anna Letson is the Multimedia Editor at the Washington Square News. She is a junior in Gallatin and finally ready for you to ask her about her concentration....