Anami Nguyen
A German hip hop artist covered in lettuce convinced Anami Nguyen to become a vegetarian — she was seven years old at the time.
"It clicked to me that if you want to eat meat, somebody has to die for that," Nguyen said. "As a child, I was very empathetic and I didn't want to kill. That's it."
Now, almost 15 years later, she is advocating for herself, other people and animals. The vegan animal-lover is president of the NYU Animal Welfare Collective. She's currently fighting to make Lipton Dining Hall entirely vegan, catering to students with specialized diets and saving animal lives in the process.
"If you're vegan or vegetarian or kosher and you're trying to eat that way, you have a very limited amount of options," Nguyen said. "You're paying a lot of money for that, and if we would have a plant-based dining hall, people with dietary restrictions — or if you have any type of allergy — you're covered."
Leading Animal Welfare Collective has grown into such a time commitment and responsibility that it is just as demanding as a part-time job. But Nguyen finds it worthwhile, because she's focused on bringing people together for a greater cause.
"You have a responsibility towards your work and towards all your colleagues," Nguyen said. "I want Animal Welfare Collective to be a place where we can rant to each other too, because most people don't think about these things for one reason or another."
In addition to running the club, working two other jobs and tending to daily student duties, she is trying to start a club surrounding effective altruism — a potential club at NYU would apply these principles to rally students around the idea of charitable giving. This social philosophy is based on both theory and statistics to find the most optimal way of creating good.
Nguyen said that with effective altruism, one voice can make much more of a difference, and she drew a comparison with breast cancer and prostate cancer — a large sum of money would have a larger impact on prostate cancer than it would on breast cancer, since it has less funding.
Jay Shooster, a research fellow at the Center for Human Rights and Global Justice, said that this concept directly influences how Nguyen leads her life. He has worked with her in animal rights activism and admires her emotional drive to alleviate suffering and fight for justice.
"She does a great job combining the heart and the head," Shooster said. "She's really known to do good — but not just good — the most good, and doing the most good as effectively as possible."
Nguyen believes effective altruism can help people make better daily decisions, and Shooster said that she has a unique understanding that allows her to grasp serious, abstract issues with a philosophical approach. But Nguyen does not hold everybody to this standard. She is understanding of people's flaws and recognizes that it is impossible to always know what to do.
"It's not always easy to be an activist — you see all these images, you know?" Nguyen said. "You know what's going on, and you know much violence and suffering is at stake, and you're constantly confronted with that."
She said that while some people do not know about the suffering they inflict, other people simply don't care, and this is what she wants to fix. Meanwhile, to keep activists from becoming disillusioned or disheartened, Nguyen organizes community-building events such as vegan potlucks and animal sanctuary visits. These events don't just keep morale high, they keep the carrot dangling in front of them.
Gallatin senior and animal rights activist Eve Wetlaufer said that Nguyen's unifying spirit and positive view of everybody makes her one of the most compassionate people she knows. The two visited and volunteered at the Catskills Animal Sanctuary together two years ago, and she said that Nguyen got everybody on the trip to bond during the over six-hour car ride.
"She's honestly just a force to be reckoned with," Wetlaufer said. "At the end of the day, every single thing she does is to make this world a better place for everybody: humans, non-humans, people of color, people with disabilities — everybody."
Wetlaufer said that Nguyen helped make Animal Welfare Collective a more intersectional club and expanded the club's focus to become more inclusive.
Nguyen's passion and conviction in others stem from her belief that people have the capacity to change. Being raised in Germany was synonymous with being steeped in homogeny — despite being half-Polish and half-Vietnamese, she was raised entirely German. This experience rendered her completely unaware of the issues she cares so much about now, so much so that she says the person she entered college as is someone she'd hate now. To her, ignorance is the biggest enemy to social progress.
"Back in Germany, people would question whether I was German, even though I am, culturally," Nguyen said. "Now that I'm here, I feel like I'm allowed to explore and explain these things — I'm allowed to be myself."
Read the rest of Influential 2016 here. 
Email Diamond Naga Siu at [email protected]. 
About the Contributors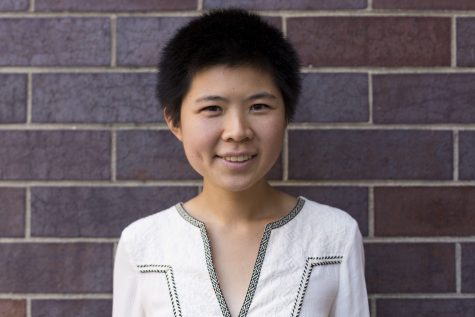 Diamond Naga Siu, News Editor
Diamond Naga Siu is the News Editor for the Washington Square News and is a sophomore studying Journalism and Educational Human Rights in Gallatin. When...
Anna Letson, Senior Multimedia Editor
Anna Letson is the Multimedia Editor at the Washington Square News. She is a junior in Gallatin and finally ready for you to ask her about her concentration....