Afraz Khan
Revealing Beauty in Islam
Afraz Khan gazed up into a crowded staircase during the NYU Rise Above Hate Rally. He was met with a sea of faces, eager to hear him continue reading in poetic verse.
"I see us getting buried alive, that the convictions are so rooted, that as we nourish these bonds, we can branch out to the greatest evils of society, y'all got to trust us," Khan read. "You all have to trust us."
Emotions still raw, Khan, a CAS senior and the president of the Muslim Student Association, called upon students, faculty and staff to stand together in mutual understanding. The rally — just one day after an act of hate in which a Muslim prayer room at the Tandon School of Engineering was vandalized — represented the manifestation of solidarity among Muslims at NYU and in the surrounding community.
"To utilize [my identity] to enter spaces, whether it be going to open mics or speaking at different events, it's really transformed me in seeing how powerful spoken word is for many people," Khan said. "Faith is never really talked about in the slam poetry circle. I think that's something that gives me a unique perspective."
Khan's vision of bridging the gap between communities — shaped by his time as MSA president and a senator on the Student Senators Council — has culminated in events such as the joint panel with the NYU Black Students Union. For this event, they invited activist and daughter of Malcolm X, Ilyasah Shabazz, to engage in a dialogue about the current racial issues facing black and Muslim communities on campus.
The act of listening is a practice that has long stemmed from Khan's faith. Seeing friends practicing the traditional five daily prayers in between their busy schedules at the NYU Islamic Center – a place that created a new channel for his faith away from his family – renewed an overall reassessment of himself.
"I ultimately see faith as a principle of life that allows me to be consistent in times of need and in times of prosperity," Khan said. "For me to live to the standard that goes beyond what this world demands of me makes me feel like I'm developing my character, my actions and my attention on a deeper level."
Khan is pursuing higher education administration, merging studies in International Relations and Management and Public Policy. Rather than being viewed as just a Muslim, Khan wishes to incorporate his multifaceted layers as distinct strengths on the path to leadership.
Khan's close friend and fellow MSA board member RJ Khalaf believes that Khan embodies the role of a leader that the youth Muslim community currently needs.
"When people work with Afraz, they know they are working with someone who will be straightforward and honest," Khalaf said. "This ultimately helps him find balance in his work life, relationships with others and his relationship to himself."
This sentiment for others to feel both included and represented fuels Khan's ambition to extend a hand to students who may not be quite sure of their own identities, an uncertainty he has felt.
"It's such a formative period for students going into college, especially people of minority backgrounds, so for them to see people in positions that look like them, have the same faith and are on the administration side of things helps them understand that faith and identity don't necessarily need to stop," Khan said.
Before reaching this future goal, Khan has actively pursued the ambition to help others with his willingness to listen and share advice. As a mentor at the Violet Leadership Institute, Khan guides first- and second-year students to pursue personal growth and use the various resources at NYU.
Khan does not take the rash correlations of Islam to terrorism and extremism lightly. The beauty of faith is something he's been living out since childhood. He sought to revitalize discourse around this beauty when he launched the Tasbeeh Initiative last year — "tasbeeh" meaning a state of remembering. This initiative seeks to build spaces for him and fellow peers to engage with different praises of God.
Steve To, a residence hall director who serves as a supervisor for Khan's role as a resident advisor, stresses that Khan's charisma is what sets him apart.
"When he speaks, everyone is captivated and listens to his message of respect, unity and equality," To said. "He is compassionate, which allows him to understand difference and [focus] on bringing people together."
At his core, Khan believes in the power of creating communities that hold people accountable — a trait that will serve his ambition to pursue higher education administration. His future prospects include a desire to continue dialogue around the teachings of Islam, which he hopes will help mitigate the constant bombardment of hate targeted at the Muslim community.
"I would hate for that to be the only narrative [young Muslim children] hear, to the point where they turn away from this faith that I've used as so much a guiding set of principles," Khan said.
In fact, Khan may already have the foundation for a potential resolve, conveyed in one rhythmic line:
"The moment we start denouncing hate, we can start purging it from the realms of our society."
Read the rest of Influential 2016 here. 
Email Nina Jang at [email protected]. 
About the Contributors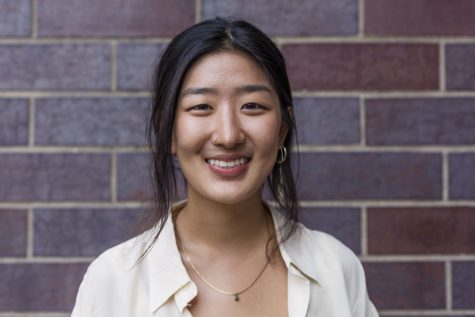 Nina Jang, Digital Director
Nina Jang is the Digital Director for the Washington Square News. Follow her on Twitter.
Anna Letson, Senior Multimedia Editor
Anna Letson is the Multimedia Editor at the Washington Square News. She is a junior in Gallatin and finally ready for you to ask her about her concentration....