Communities Offer Stability to All Who Seek It
It was the first week of October when NYU hockey Head Coach Chris Cosentino taped up a list of name pairings onto the main wall of his team's locker room.
"He came into practice and there was a list on the main wall," senior forward David Shaby said. "Next to every player's name on the list was another name, and he said 'This is gonna be something new that we do this year.'"
Cosentino calls this "something new" the wingman program, an experiment in the Violet locker room. Every player is paired up with a teammate — his wingman, for better or for worse. When a guy is late, he skates extra laps — so does his wingman. When a guy has a busy schedule, he lets Cosentino know he needs a day off. His wingman testifies for him.
"Really what these pairings are is a way of keeping an eye on one another and supporting each other," Cosentino said. "Whether someone's having a tough time academically, athletically, socially or whatever it is, we'll go to their wingman and say, 'Hey what's going on here? Are you talking to him? Are you helping out?'"
It's no secret that college students are strung out on stress, and that stress can have adverse effects on mental health. According to NYU's website, a hair under 60 percent of college students classify as more stressed than the average individual. Almost one-third of college students have their normal daily function interrupted by depression, and nearly 20 percent say that it interferes with their academic performance. All this is to say nothing of the pre-professional climate that is unique to NYU and the go, go, go attitude that distinguishes New York City. New Yorkers consistently test higher in stress levels pertaining to aspects of life like money, work, family health and personal health, according to an American Psychological Association study from 2012. In the same study, more than one-third of New Yorkers claimed to have a rising stress level after just one year of living here. Imagine what it's like to an aimless twenty-something after four.
Being away from home, for many, is hard. Being away from home in New York City is harder. Being away from home at NYU — a school of many small communities but which struggles to cultivate one large community — may be the hardest of all. That is, until you find that one community.
"Being a part of a team, especially with the hockey team where we have 28 guys, you have 28 other people going through the same things you are," Cosentino said. "New York City can be a lonely place — especially with the expectations and the academic workload, the distractions."
The diversity of club type at NYU is astounding. You name it, it's probably in the directory. Girls Who Lift? Get swole. A recreational puzzle club called Puzzled for Good? Of course. Cheese Club? Sure. But the one thing that unites all of these clubs is the sense of camaraderie that comes with them. It brings the shy out of their shells. It puts leaders in position to bond with uncertain freshmen.
"I'm pretty shy, so it's nice to know that I don't necessarily have to constantly step out of my comfort zone," Molly Potter, a CAS junior and president of the NYU Quidditch Club, said. "These are things that I wouldn't have done by myself, but when I had a whole bunch of people telling me to go to this, that really helped me feel more connected to NYU."
And much like hockey's wingman program, Quidditch provided Potter a place where she could bridge the gap between seniors who seemed like they had their lives in order and those such as herself — a freshman who balked at making new friends in her classes. Now in her third year at NYU, Potter is paying that forward to the fresh faces of the club.
"I'm a tutor at the writing center, so I read other people on the team's essay if they need help," Potter said. "That's what's so nice about having this mix of freshmen and sophomores and juniors and seniors — there's people who are there to tell you what classes to take, what professors are good, how to get through this class or whatever it may be."
Now more than ever, as the national political climate uproots the comfort of individuals on campus, community serves as a sturdy support. This past Friday, the Student Labor Action Movement organized "Collective Support Space" in Kimmel, which the group described as an event "for folks to process, discuss, grieve, and express in the wake of our national election." Gallatin senior Katie Shane, a member of SLAM for three years, said being part of a club goes beyond just interwoven communities. Clubs are a chance to learn invaluable skills that bring the best out of students.
"What's really unique about [clubs like SLAM] is that they equip people to feel like they are empowered and they do have the ability to make change," Shane said. "Doing that in an environment of people who believe and support you and are willing to teach you how to use certain skills is really important."
In amplified political climates where it feels like politics are in every conversation, Shane said that students are looking for any opportunity they can take to make their voice heard.
"Right now, people are really activated and willing to do things, but they don't have the tools to do that," Shane said. "I think a group like SLAM gives people the tools to do that and allows people to learn those tools."
But even when the national climate is not thick with tension, clubs set a foundation of compassion and promote good mental health. Something as small as a club's channel on Slack — a group messaging platform — can be replete with compassion.
"Slack is something where people can share as much or as little as they want," Shane said. "There have been instances where I've been like, 'Hey y'all, I know we have a meeting tonight but I have to take some self care.' And people are like, 'Yeah, do it. Let me know if I can help, let me know if there's something you need, let me know if I can deliver dinner to you.' It's really just no questions asked, take some time for yourself."
Strapping up with a club is no surefire guarantee to avoid compromised mental health. Nothing is. But in the right community, you might have found the first place you can turn when backed into a corner.
"It keeps you organized. It helps keep you stable," Shaby said. "Seeing that everyone is able to embrace that family mentality is really cool. We all are family."
A version of this article appeared in the Monday, Nov. 14 print edition. Email Bobby Wagner at [email protected]. 
About the Writer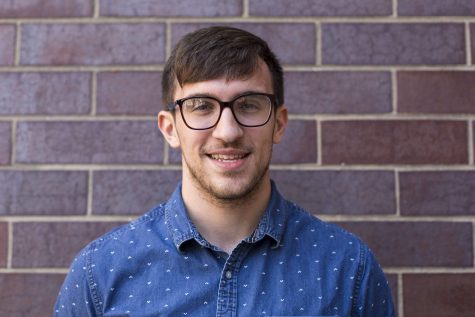 Bobby Wagner, Managing Editor
Bobby Wagner is the Managing Editor for the Washington Square News. He's from Philly, much like his icon, Meek Mill. You can catch him yelling abhorrent...