Tyler Sanchez
The modeling industry's influence has grown significantly in recent years, allowing for models to play a larger role in fashion by embodying a designer's vision or a brand's image. Tyler Sanchez, a 19-year-old Film and Television student at Tisch, has been modeling for over six years. Represented by the agency Next Miami since 2003  Sanchez has had many notable opportunities: including shooting for clients such as Coca Cola, JC Penney and Rue 21, as well as modeling for a Tom Ford store opening in Miami.
Sanchez learned a great deal about the ins and outs of the modeling industry during his time working as a model. According to him, modeling, like any job, is a service, which explains why agencies go through great lengths to protect models' rights. Additionally, for many models, pay is a key factor driving them to pursue this line of work. However, it's not just that models are highly-paid. It's also a matter of supply and demand. The high pay, along with the competition, motivates models to do their absolute best.
"Accommodating talent should be your number one concern," Sanchez said. This ties into the fact that modeling has allowed Sanchez to meet many brilliant people who share common creative interests with him. In fact, during one shoot, by simply bringing up the fact that he's a Film and Television major to a prominent makeup artist, Sanchez is now tasked with creating a documentary involving him.
While it's difficult to say what his future goals are, Sanchez hopes to eventually move to the other side of the camera and be a filmmaker. Although he does not want to pursue modeling as a lifelong career, he certainly would like to focus more on it for a while after college and see where that route takes him.
Some of Sanchez's inspirations include his agent, who taught him to demand respect, and the people who work behind-the-scenes on a set, whose interest, dedication and success in an art form inspire him to follow suit.
Overall, Sanchez encapsulates his experience in the modeling industry and his passion for art with the statement,  "being a model is a lot like being a canvas, and other people are painting you."
About the Contributors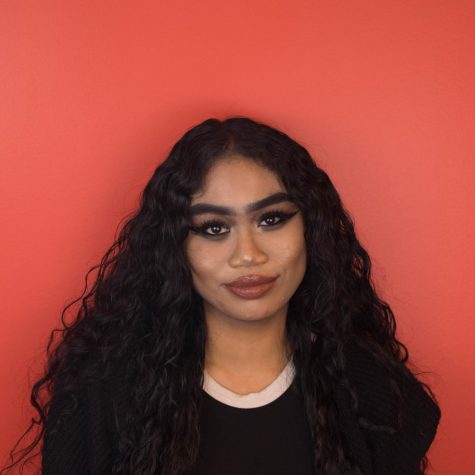 Sherah Ndjongo, Social Media Editor
Sherah Ndjongo is the Social Media Editor for the Washington Square News. She's currently a sophomore in Gallatin studying Entrepreneurship, Innovation...
Anna Letson, Senior Multimedia Editor
Anna Letson is the Multimedia Editor at the Washington Square News. She is a junior in Gallatin and finally ready for you to ask her about her concentration....