LIVE: Bernie Sanders Brings the Bern to Washington Square Park
Democratic Presidential Candidate Bernie Sanders is hosting a rally in Washington Square Park this evening, the latest in a string of canvassing events across New York City. WSN will be bringing you live updates as the night unfolds, but before the rally begins, here's everything you need to know.
Students are expected to attend class/work as scheduled.

Washington Square Park will be closed to the public for a majority of the day. Doors will open for rally-goers at 5 p.m. The event is free, but the Sanders campaign asks that attendees

RSVP.

Students attending the rally can enter the park after 5 p.m. at the South West and South East corner of the park, near Bobst and Hayden, respectively. Guests are asked to not bring bags, weapons or any sharp objects. In addition, chairs and banners on sticks will not be permitted.

Streets surrounding the park will be closed to vehicles, but most will be open to pedestrians. In an email to the NYU community, Executive Vice President for Health Robert Berne advised students to carry their IDs to present to police if they live, work or have class on Washington Square North later in the day.

Vampire Weekend will be joining Sanders at the rally, and music starts at 7 p.m. Sanders will also be joined by Spike Lee, Rosario Dawson, Shailene Woodley, Linda Sarsour, Tim Robbins and Graham Nash.
Washington Square Park is filling for the Bernie Sanders rally. Follow @nyunews for live updates! pic.twitter.com/QGIHXxzaCY

— Alex Bazeley (@a_bazeley) April 13, 2016
Crowds have amassed around the fountain in WSP awaiting Sanders. Follow @nyunews for all the latest! pic.twitter.com/KV4r81RuYL

— Bobby Wagner (@bwags1121) April 13, 2016
15 minutes before 7: crowds finally move in @nyunews @BernieSanders @SenSanders #FeelTheBern #BernieSanders pic.twitter.com/k0nC16OI6G
 Vampire Weekend has now taken the stage at 7:15 p.m.
This is Vampire Weekend's third Bernie Rally! But according to them, there's no place like New York ?@nyunews

— #rachelfromcanada (@Rachel_ruecker) April 13, 2016
Vampire Weekend amping the crowd up for Bernie. #FeelTheBern @nyunews pic.twitter.com/2eeSZDzWdA

— Alex Bazeley (@a_bazeley) April 13, 2016
 Sanders supporters talk to WSN about why they "feel the Bern."
"I believe @BernieSanders is the first step in the right direction that america should go in. A voice for all." pic.twitter.com/XUC7LlMnVo

— Diamond Naga Siu (@diamondnagasiu) April 13, 2016
"He's into the young kids and he's helping out all the young kids in college and all." #FeelTheBern #peopleofbernie pic.twitter.com/9pRKXJbIRk
Actor Tim Robbins is now addressing the crowd, voicing his support for the senator. Robbins' speech is followed by other notable supporters including Linda Sarsour and Spike Lee.
Bernie Sanders makes his way center stage to speak to thousands of attendees.
Bernie Sanders: "Yes, we can change the status quo." @nyunews pic.twitter.com/bLXcjYvuK0

— Jessica Martinez (@jessicatakesnyc) April 14, 2016
Bernie Sanders takes the stage: "It's not just about electing a president; it's about starting a revolution." pic.twitter.com/e4L4qAGxrL

— Alex Bazeley (@a_bazeley) April 14, 2016
"Bernie! Bernie!" being chanted all around @nyunews pic.twitter.com/tBA6iBO322

— Jessica Martinez (@jessicatakesnyc) April 14, 2016
The rally has now concluded with thunderous applause from the crowd.
Bernie's message before he leaves: "If everyone comes out and votes, we've got a surprise for the establishment." pic.twitter.com/EeJToG4yTf

— Alex Bazeley (@a_bazeley) April 14, 2016
Be sure to check back here for real-time updates throughout the event. In addition, follow us on Twitter and Snapchat @nyunews.
Email Anne and Lexi at [email protected].
About the Contributors
Anne Cruz, Abroad Editor
Anne Cruz is the Abroad Editor for the Washington Square News. She is a junior from Orange County, CA studying journalism and politics and minoring in...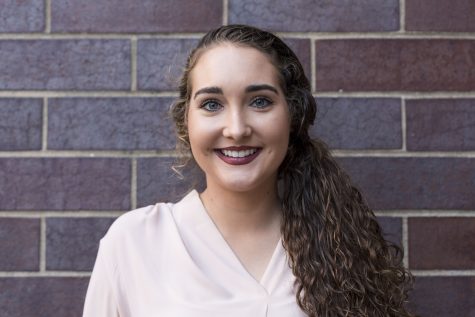 Lexi Faunce, Investigative Editor
Lexi Faunce is a junior studying journalism and politics, and she will be joining WSN this semester as the Investigative News Editor. She hails from the...