Rohit Mittal
Rohit Mittal does not speak like the average startup CEO. He has that sort of dorky, disarming charm that makes him instantly approachable. When he talks — whether about his company, Mitley, his experiences as a resident assistant or his strange passion for studying airlines — he carries in his voice a professorial enthusiasm, a desire to understand how everything works. As Vice President of the RA Council, former president of the Liberal Studies Council and a frequenter of the Aviation Club, the only thing more impressive than Mittal's myriad of talents is his passion for every single one.
But Mitley is easily his crowning jewel. The idea for the company first came about when Mittal, a Stern senior, and his co-founder Lindsay Heatley, a CAS senior, noticed that there was a distinct barrier preventing aspiring musicians from getting serious about their work — the entry cost of musical equipment. So they founded Mitley, which was designed to take that pressure off of musicians. For a monthly fee, musicians can sign up and gain access to Mitley's library of guitars, mixing boards and other musical equipment, all of which the company owns. What sets Mitley apart from most other startups, however, is Mittal's unique insistence on no outside investors.
"The normal route is you have an idea, you get some users, and you go to investors and get money," Mittal said. "But I was like, why go to investors? Why would anyone just try to grow inorganically with investor money if they can't keep up with the company?"
Instead, Rohit insisted on organic growth — building a customer base out of New York City musicians, growing off of pure cash flow and well-won grants, including from the NYU Entrepreneurs Festival and the Harvard Innovation Competition. Now he's even stopped pursuing grants, preferring to operate entirely off of customer revenue. Investors and outside money, to him, are a crutch.
"If your idea is not sustainable, then forget investor money, because you're just going to burn it," Mittal said. "We firmly believe in this idea, which is why we said no to investor money. We don't need them to actually grow. At the end of the day, the most successful companies are going to grow whether or not they have investor money."
In residential life as well as startups, Mittal's ideas work. As an RA, he's gained a hit following among his residents through his insistence on creating a community based off of mutual interests — whether it be resume-writing workshops, tea in his room or trips to the Empire State building, where Mittal teaches residents about the history of various pieces of the skyline. It's an approach that lets Mittal show off his contagious enthusiasm for learning, while also inviting his residents to turn to him for advice, guidance or a simple chat. Fellow Founders RA Ellen Jang described him as highly personable.
"Rohit's kind of like the cool dad," Jang said. "He's actually the type of person who's just passionate about everything he does. Everyone knows him, he's super friendly, everyone wants him to be their RA. He's always willing to help."
Central to Mittal's RA formula is his insistence that every event is voluntary. He pays close attention to residents and understands that a sense of community doesn't come about when anyone is forced to do anything. Founders Residence Hall Director Ashley Nickelson testified to this empathy.
"What makes him stand out is his ability to relate to residents on a level that is really about what they want," Nickelsen said. "A lot of times RA's will start with programs they enjoy. But Rohit really notices if the residents are enjoying something or not."
The payoff for the RA work it seemed was not dissimilar to the payoff for his wholly self-guided startup. He loves the feeling of making an immediate impact on the world — one not fettered by the pressures of investors, nor by the pressure to force anyone to be friends. Just him and the people who choose to come to him — in residential life as well as in Mitley. In the end, he explained, the results he earned himself are the most satisfying.
"My moment of pure happiness was when I met my residents last year and saw how far they've come," he said. "It's the kind of thing that makes us think, 'now I can move forward, I know that I made an impact on somebody else myself'. I think that's the moment — that's the moment we all want to live through, that we go day to day thinking about."
Read about more of this year's Up-and-Comers here.
About the Writer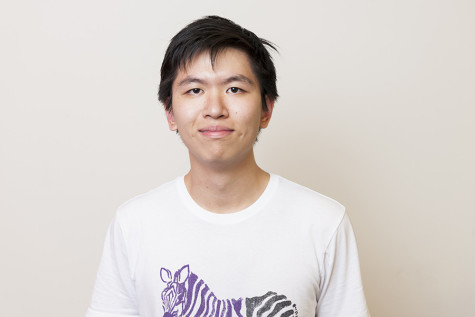 Richard Shu, Deputy Opinion Editor
Richard Shu is a Deputy Opinion Editor. He also was the Deputy Copy Chief. He also is a major in math and economics. He also conducts research review at...