Robert Clinton
Robert Clinton is the kind of NYU student who gets written about in admission brochures and featured on university websites. When school administrators needed an Admissions Ambassador to show Malia Obama around campus, they choose the Gallatin senior. But the most remarkable thing about his NYU career might be that he ended up here at all.
"I wasn't gonna go here," Clinton said. "It was not on the list of schools I was considering, I didn't know what NYU was — like 'eff you, New York.'"
A high school quarterback, Clinton planned on attending one of the schools that had offered him a football scholarship. While visiting New York City for the first time in his senior year of high school, Clinton begrudgingly met with a friend of his mother's — NYU Clinical Law professor Tony Thompson.
Like Clinton, Thompson grew up in Richmond, California, and he worked hard to change Clinton's mind about his college plans.
"We actually fought a great deal about him applying to NYU, which I tease him about incessantly now," Thompson said. "I thought that this environment, and New York City as a laboratory and a backdrop for your undergraduate education, would just grow him in ways he couldn't even imagine."
Clinton eventually gave in, and said that he now thinks his decision to come to NYU was one of the best he's made in his 21 years. But when he arrived at Gallatin, Clinton had no idea what he wanted to study — just that he was interested in cities.
"All of my classes had the word 'urban' in them," he said.
Eventually he narrowed his focus to how the design of cities impacts the way people access healthy food, and settled on his concentration – "The Sociology and Politics of Urban Agriculture."
Clinton's interest in food justice began when he attended a city council meeting in his hometown of Richmond, where many residents aren't able to afford nutritious food in their neighborhoods. While studying abroad at NYU Accra, Clinton worked on a local farm, planting crops and chopping down banana trees.
Once he figured out what he wanted to do, Clinton applied for every fellowship and grant that would allow him to learn and travel.
As a Gallatin Global Fellow in Urban Practice, he spent three months in Berlin studying how the relationship between ethnic Germans and Muslim migrants impacts the city's sustainability practices. Clinton also visited Naples, Cairo and Athens to research how their cuisines compare to those of immigrants living in Queens.
Back in New York, Clinton also started a student club called "Know Your City."
"We put on events like a 'Know Your Neighborhood' series," he said. "And stuff like a hip-hop guide to Urban Planning."
Though he's clearly a self-starter, Clinton said that much of his success is due to the mentors he's found at NYU.
Clinton is one of the 32 winners of this year's prestigious Marshall Scholarship, which will allow him to move to London after graduation to complete two Master's degrees from UK schools. But Clinton said that he probably would never ever even applied for the Marshall without the support of his professors and advisors.
When he needed a new suit for the Marshall interview, one administrator even accompanied Clinton to Suitsupply, a menswear store on Madison Ave., to help him choose the perfect one — a testament to the extra mile those who believe in him will go.
And while Clinton may be far from home, he said that the support system he's built here feels like family. He's grown particularly close to Thompson and his wife Kim Taylor-Thompson who also teaches at NYU Law.
"They've just been tremendous help since I've gotten here," Clinton said. "I've done Thanksgiving with them, and we hang out. They're really, really nice people."
It's clear that everyone at Gallatin expects big things from Clinton. Becky Amato, a professor who worked with Clinton during his Gallatin Fellowship, said that Clinton will definitely be in charge somewhere soon.
"He'll be running something that's about equity and justice," Amato said. "I don't think he's going to be running a corporation."
This focus on community is a theme in Clinton's senior project — a cookbook. He's collecting recipes from the people who have defined his NYU experience. That group includes everyone from upper level administrators and academics to employees at dining halls around campus.
"NYU's a big scary place," Clinton said. "But when you find people like them to make it worth it, it's really worth it."
Read about more of this year's Up-and-Comers here.
About the Writer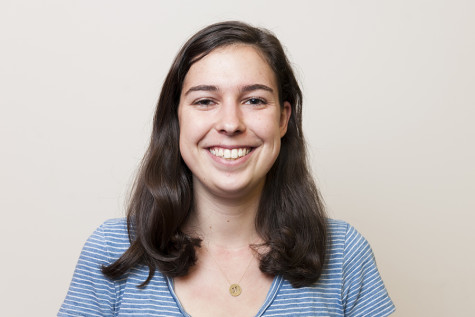 Kendall Levison, Dining Editor
Kendall Levison is the Dining Editor for the Washington Square News. While she loves living in New York, she does miss the great weather in her native...