Isabelle Klinghoffer
Most students feel uncomfortable speaking in public, but CAS senior Isabelle Klinghoffer is able to persuade more than 100 Model United Nations delegates to support her diplomatic approaches to the world's most pressing concerns and lead NYU's MUN travel team to a first place finish in countless competitions.
Klinghoffer feels right at home behind a podium debating foreign policy strategies, as she provides resolutions to maintaining peace and stability in a region and discusses how to create successful economic policies. She can even school you in six languages while munching on her favorite wasabi cream cheese bagels.
"All I want to do is convince people that policy matters," Klinghoffer said. "It doesn't matter if you're interested in politics or not. Every policy decision made will have an impact on your life, and that's why we have to strive to make the best compromises possible."
Klinghoffer ultimately wants to use her public speaking talents to pursue a career in foreign policy. She has already held esteemed internships at the State Department and the White House. After getting a full-time internship at the White House her junior year, Klinghoffer made the decision to drop out of school for six months to take full advantage of the opportunity to work among world leaders.
"I'll admit it was scary having to drop all of my classes, but I had the full support of my parents," she said. "I truly felt that this opportunity was leading me toward my ultimate career goals and the internship was something I was meant to do. Once you find that passion for your dream, whatever it is, you're willing to sacrifice whatever it takes to get there."
Her father's job as a commercial airline pilot initially sparked her interest in foreign policy and gave Klinghoffer the opportunity to travel all over the world as she lived in places like Italy, France, Thailand, Macao and China. These real-world travel experiences ultimately led to her decision to major in politics, history and East Asian studies with a concentration in U.S. foreign policy.
"Living in all of these places really taught me how to be an American from abroad," Klinghoffer said. "I was striving to learn more about each country I lived in, but at the same time I always wondered how my friends viewed me as an American. Not only did I want to learn about the affairs of each country, but I was particularly interested in how U.S. policy played a role internationally."
While each country holds a special place in her heart, she said the cultural divide between Americans and foreign nationals can be a challenge. In fact, when she was in high school in the rural town of Xiamen, China, she was the only American in her class of 20 students. However, this experience only pushed her to become accustomed to a foreign culture, and now she is fluent in Mandarin.
"You get the language down, you become immersed in the culture, and then you come to somewhere so culturally diverse like the U.S. where that background is now an incredible asset, especially for what I want to do," Klinghoffer said.
NYU seemed like the perfect place for Klinghoffer to attend college because its student body is diverse and she could comfortably settle back home in the United States. Close friend and CAS senior Laura Leira met Klinghoffer during the first week of their freshman year, and said any conversation with her, regardless of the topic, always leaves her feeling inspired.
"Isabelle truly makes you believe that the world is yours for the taking — that you are capable, intelligent and important," Leira said. "She's a leader and change-maker, and an incredible friend."
Many of Klinghoffer's friendships were forged through MUN, as the team became like a second family to her. Klinghoffer's colleague and MUN teammate Robert Hankins said her work engaging the team led the group from their 13th ranking to fourth in the world during her junior year.
"Isabelle is the type of person who is able to inspire others to become leaders and challenges her peers to compete at a higher level," Hankins said. "I have the utmost respect for her ability to remain calm in the wake of chaos."
Klinghoffer plans to follow in the footsteps of her idols like Susan Rice, Madeleine Albright and Lael Brainard by working as a business analyst at the McKinsey and Company New York office after graduation before ultimately pursuing a career in foreign policy.
"I need to find my entry point into foreign policy," Klinghoffer said. "But it'll come. I've found something I truly believe in, and that's diplomacy. Through foreign policy you can convey such a powerful message and genuinely impact people's lives."
Read about more of this year's Up-and-Comers here.
About the Writer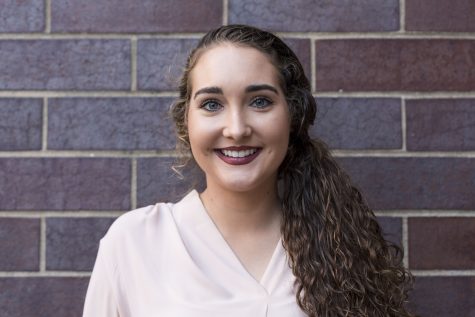 Lexi Faunce, Investigative Editor
Lexi Faunce is a junior studying journalism and politics, and she will be joining WSN this semester as the Investigative News Editor. She hails from the...