Christopher Cole
Under the fluorescent glow of blue and pink lights surrounded by meticulously decorated walls, a sea of young people filled the room, swaying to the smooth music heard above the hum of conversations. Among the group was Tisch junior Chris Cole, who welcomed friends to the special event he was co-hosting — a night of promoting dialogue with a clever #OscarsSoWhack boycott, held at director Spike Lee's spacious 40 Acres and a Mule Filmworks studio.
A filmmaker himself, Cole experiments with all aspects of creative endeavors including directing, writing and producing. Last spring, Cole wrote and directed a short film about an obsessive Drake fan called "If You're Reading This, It's Too Late" as a final assignment for his "Sight and Sound" filmmaking class with David Irving.
"I thought 'If You're Reading This, It's Too Late' was both topical and had a tremendous amount of energy," Irving said. "Cole has a good handle on how to engage an audience."
In fact, the video, which juxtaposed hip hop with dark humor, drew vast audience appeal and went viral. Following a post on Reddit, the short accumulated over 30,000 views overnight. The film was covered by prominent music publications like the Fader and Noisey, and was even chosen as a featured film of Nitehawk Cinema's Short Film Festival in Williamsburg last November.
"I wanted to do something with Drake because I think he has an interesting persona and I've always liked dark comedy," Cole said. "What many people have told me is that the more you watch the film, you notice something new. The first time you watch it, you may not see the underlying thing and then you notice it the more you go."
Cole appreciates the bombardment of attention but assures he's not a one-hit wonder. His interests go beyond pop culture to its relationship with social issues. Cole's storytelling delves into the connections between seemingly disparate issues, including hip hop and race relations.
His co-written screenplay about privilege was chosen for an upcoming MTV project, but Cole cannot elaborate on the project as it waits in post-production for distribution. Cole does acknowledge how fortunate he was to be provided with the right working environment.
"I've learned from this opportunity that filmmaking is so collaborative and working with people is the best part," Cole said. "I was able to have my friends do music and have friends act in it. I was working with my friends and the guys from MTV. It's crazy to be at this level and this age to be able to get that experience."
Recognizing the influence of visual media in shedding light on prevalent issues, it is not surprising that Cole has sought to vocalize the struggles of minorities in creative fields through the collective Chromatic. Co-founded with six other friends, the newly formed group is one way for Cole to respond to the current climate through his craft.
"It's our goal to provide a service and a space for any underrepresented voices within media to be able to get their voices out there and get the proper education to get to that level," Cole said.
Cole's desire to develop his skills in lending guidance for people in his fields of expertise is only one aspect of his future plans. He references NYU alum Donald Glover as an individual of great versatility as a rapper, actor, comedian, director and writer. Cole hopes to one day emulate Glover's ability to have multiple successful projects.
"It takes building," Cole said. "I don't want to be there right now but that's the point where I want to get. And if that means having a show that nobody watches or never gets picked up, so be it."
Another source of inspiration for Cole is the sketch comedy "The Chappelle Show," and one day he hopes to produce content of similar value and style.
"I'd love to do a sketch show. Here at NYU, my friends, Tisch or non-Tisch, filmwriter or not, I feel like I'm surrounded by so many hilarious, talented people," Cole said.
Conversing with these same friends at the Sunday night event protesting the Oscars, Cole's presence is indicative of not only the various stages his work has carried him through but also alludes to the many frames still yet to come.
"I still very much consider myself as someone in development, in my craft and what I'm trying to say," Cole said. "You never really know what's going to happen. If something were to come up sooner than later, I'd love to just fail and learn from it, or at least try and fail to embrace that time. When things come around in 10 years perhaps, it's going to be even better."
Read about more of this year's Up-and-Comers here.
About the Writer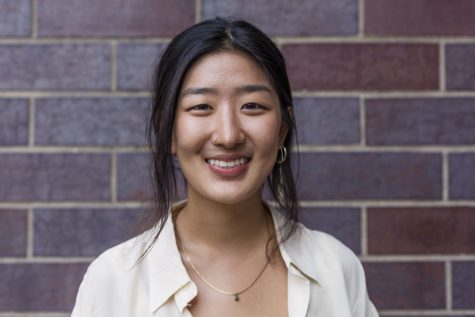 Nina Jang, Digital Director
Nina Jang is the Digital Director for the Washington Square News. Follow her on Twitter.