Off the Ice: The Little Club Hockey Team That Could
"Off the Ice" is an ongoing all-access series that goes behind the scenes of the NYU men's hockey team.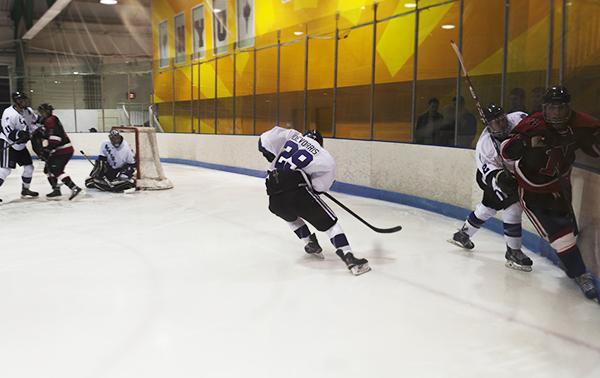 One day at practice, NYU men's hockey goaltending coach Dan Fortunato skated by asking me to pass him the medicine ball under the bench. I did not anticipate its heft and struggled to lift it but when I went to hand it to Fortunato, he insisted I throw it, and when I did, he passed it back and made me do it again. Two of the team's managers who sat alongside me on the bench exclaimed "You're in!" Hockey is a special sport, and this is a special team.
The hockey team is officially a Division II club team in the American Collegiate Hockey Association. It's a team with players who in all likelihood will never be bound for the pros. Sports aren't big at NYU, where the arts reign supreme. However, you wouldn't be able to tell as much while aboard the vans that depart from Coles for the Chelsea Piers Sky Rink on Tuesday and Thursday nights at 7 p.m. Regardless of the level at which they may be playing while attending NYU, there is something in head coach Chris Cosentino's locker room that breeds success, both on and off the ice.
The guys are like any hockey players. The sport's jargon is always alive and well on the team bus, as nicknames are employed in reference to teammates. Conversations largely revolve around extracurricular activities, so to speak, but beneath it all, a quiet sense of camaraderie and a love for the game permeates. This attitude is persistent with the image Cosentino has been painting since he arrived as coach six years ago — a mixture of academic prowess and elite competition.
"The school itself is the big selling point," Cosentino said. "Once recruits come in and see how well the program is run, it's a pretty easy decision for them."
Talent is essential for those joining the team, but beyond that, what is of chief importance is character, motivation and hard work.
"It's not easy to manage their time properly, it's not for everybody," Cosentino said. "We've had really good players in the past who were really good guys, and it just didn't work out. The guys that do stick it out are the guys that really want to be here."
Senior captain Gabriel Gollette has been on the team for five years after a two-year junior career in Idaho and has seen the program go from mediocrity to top-notch during his time with the Violets.
"It's been awesome to see where we started and where we're at now," Gollette said. "We've got kids calling left and right to come here.  We're having to turn guys away."
That's not a bad problem to have for some ho-hum hockey team at a revered arts school.
But this team is not some group of rag-tag guys on a sad little club team dreaming of playing Division I — although DI hockey is where the Violets would like to see themselves one day. This is a competitive team that seeks to dispel notions that the ACHA is not a viable avenue for players want to play at the collegiate level.
"A lot of players that we go after are pursuing varsity teams, and that's the way we want it. We want to go after the guys that are hungry and that are shooting for the highest level possible," Cosentino said.
Cosentino is eager to tear down the stigma of ACHA hockey, and junior forward Pete Jorgensen believes that the team's 13 freshman are getting the message loud and clear.
"The younger guys are starting to realize what they can do in this league," Jorgensen said.  "You see a guy like John Kowalewski pop in two goals [in one game] and that inspires you as a veteran."
Beyond a competitive, talented roster of academically-gifted guys, the family culture shines through in every corner of the rink. Sitting on the bench during practice, one can watch as the guys try their best at bouncing the puck on their sticks, with varied results. And when things start to get a little sloppy at practice, you better believe Cosentino is going to call them on it.
"[Cosentino] is a unique character," Gollette said. "He brings a determination to do better. He gets everyone on board with the team philosophy. When everyone buys in, good things happen."
When game night comes around and the team confidently strolls in — clad in their matching purple ties, or bow ties in the case of sophomore goaltender Alec Hardman — there is an obvious connection between the guys and the crowd. The Sky Rink is more electric, unlike most NYU sports outings.
"Everyone loves watching hockey," Gollette said.
And you can tell these guys like to play it too.
Email Rachel Ruecker at [email protected].
About the Writer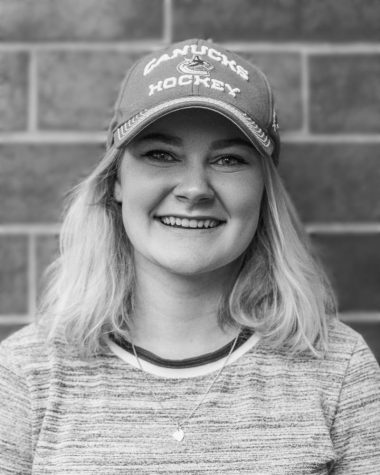 Rachel Ruecker, Editor-at-Large
Rachel is a Senior Editor here this semester, whatever that means. She really likes proving to people that she's complicated and as such spent last semester...