Sana Mayat
The students of the University of Missouri protested on Nov. 9 over the lack of response addressing racism on campus. As a result, their president resigned. One week later, NYU President John Sexton organized a Diversity and Inclusiveness Forum at the Coles Sports Center to address cases of racial inequality — a forum for listening.
CAS junior Sana Mayat has had enough with listening.
Mayat strode up to the microphone to address the student body. Facing the rows of professors and students, she gave a brief glance at her phone and began.
"My name is Sana," Mayat said.
"I look up and I speak to people who don't look like me," she said, voice ringing. "I sit in classrooms with professors who don't even remotely look like me. I can't even imagine myself in high positions because I've never seen people that look like me being there."
CAS senior Shanjida Chowdhury, who attended the forum and has known Mayat since middle school, was proud of the way Mayat commanded the audience.
"She gave a voice to all of us, but in the most beautiful way possible," Chowdhury said. "I'm grateful for that. In middle school, we already knew she had an innate ability to command audiences and make the room look at her and not think about anything else."
Growing up in Long Island and Westchester, New York, Mayat is particularly astute of racism in the school setting. In Long Island, she enjoyed an education with relatively liberal classmates and peers. When Mayat moved to Westchester her junior year of high school, she was one of few Muslims in a conservative community.
"People in my old school were more open than in my own school," Mayat said. "There were these sentiments, these very conservative ideas that were coming from peers, not just teachers. At my old school, I heard it from teachers, but I never heard it from peers. I was so caught off-guard."
When Mayat chose to attend NYU, she had high hopes for the promises of diversity and cultural awareness that both city and university boasted. She joined the Muslim Students Association, finding a home in the Islamic Center but feeling slightly disoriented everywhere else. For one thing, she started out as a computer science major. Mayat now plans to double major in Middle Eastern and Islamic Studies and Politics.
She strengthened her new curriculum with an internship at the Brooklyn Defenders and Brooklyn District Attorney's office over the summer before sophomore year. After seeing both sides, she decided she would prefer to be a defender. It was also that summer that Mayat chose to start wearing a hijab.
"Did I want being Muslim to be the first thing you knew about me?" Mayat asked. "I was insecure. I didn't know if I was ready. But after I started wearing the hijab, knowing how people see Muslims and knowing I was a visible Muslim made me want to speak out more."
This December, Mayat created her own Multiple Identities Series program at CMEP called "Wearing the Hijab: Faith, Fashion and Feminism." Mayat's program strives to empower and inform a woman's choice to wear the hijab.
Associate Director of CMEP Selima Jumarali believes this event introduces new narratives to the discussion of diversity on campus.
"Her bringing her own identity into the space," Jumarali said, "her knowledge and connections to her community based on her background and her experiences has brought increased diversity, representation and intersectionality into our programming series."
Mayat's hijab and her decision to wear it is a driving force behind her advocacy on campus. But her choice to wear it was a personal decision first, a platform for advocacy second.
"It was a lot of spiritual growth," Mayat said. "Just me being closer, feeling a lot more connected to God because I felt good about being Muslim. Khalid was a big part of it."
Khalid Latif is the university's chaplain. Latif has watched Mayat find her voice since she joined the MSA freshman year.
"You can see who she's been as a freshman to where she's at now as a junior that there's been a lot of different growth," Latif said. "How you can really understand it as tangible growth is that she's helping other people to grow. She makes contagious ideas about being selfless and giving while really energizing people in certain ways."
But while she enjoys working on these issues at NYU, what makes Mayat happiest is seeing the impact of her work back home in Westchester.
"My little sister is in middle school and she's been growing up in Westchester," she said. "The kids in her class will say racist things about Muslims, but she speaks up. She's 12. Me and my twin sister, we talk about race and Islamophobia all the time. And she's always listening. And from listening, she speaks up." Mayat shook her head and smiled. "It's so impressive."
About the Contributors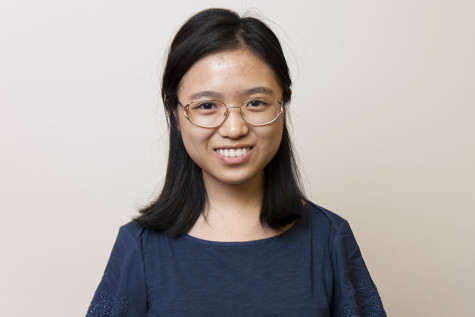 Audrey Deng, Arts Editor
Audrey Deng joined WSN thinking it stood for Whoa, Snacks'n Naps. Alas, it turned out to be a newspaper organization, of which she now serves as Arts Editor....
Anna Letson, Senior Multimedia Editor
Anna Letson is the Multimedia Editor at the Washington Square News. She is a junior in Gallatin and finally ready for you to ask her about her concentration....