Robert Jackson
Tisch senior Robert Jackson believes acting is an agent of change. He has sought to use his own story to give voices to members of the black and Latino communities he identifies with.
"The reason I'm an actor is because I have this passion for the art of storytelling, to take a life that goes untold," Jackson said. "Stimulating current events on stage or on film to capture the narratives that go untold, I realize I'm a vessel."
Jackson stands confidently in front of fresh faces in the Kimmel Center for University Life and defines the term "paideia." Defined as the "rearing and education of the ideal member of a society," the word is the name of Jackson's organization, committed to the empowerment of young black and Latino men in New York City.
By incorporating minors in sociology and public policy and management, Jackson has established the Paideia Program as an extension of what he had learned abroad back to the city.
"It is possible for you to come from a low-income community as a black or Latino male who had all odds against them, to realize you are capable of more than you even see," Jackson said. "And I'm going to show you the potential, I'm going to show you the resources that are abundant in my life currently that you didn't even know existed."
In a Title I school in Houston where more than 90 percent of the students relied on free and reduced-price lunches, Jackson only learned of NYU through a high school teacher's recommendation. But Jackson took a leap of faith and committed to four years at NYU. The decision signified several milestones, as he was the first in his family to attend college, the first to go out of state and the first to go to New York.
"For me, it was like, 'Here we go. Time to make it,'" Jackson said. "Ever since then, I've been trying to push going towards my goals. And at first I thought I knew what goals were, and then as I got older I realized that I didn't know."
Initially driven by a zeal to try everything, Jackson gradually focused on specific passions to hone a deeper expertise. Following the required two years in primary Tisch studio training, Jackson studied in both London and Amsterdam. It was in London that Jackson realized how to mold acting into his own craft.
During Jackson's first years at NYU, the representation of the black and Latino communities was close to nonexistent. As part of groups on campus such as the Collective, a Tisch support group for artists of color, Jackson and fellow students have pushed the dialogue for diversity among all students of color.
"There's been an evolution of conversation on what diversity means at NYU," Jackson said. "I love the fact that I can walk into a dining hall, a residence hall or a resource building and not know every person of color. It was so small back then that we had to all come together to say we have to make it. But now the conversation is about how can we make everyone feel comfortable as a student at NYU."
Jackson is just as committed to being supportive of his friends. Best friend and fellow Tisch senior Alana Bowers recounts their time studying abroad in Madrid, when Jackson supported her development of an educational curriculum meant to create safe spaces at all of the NYU global programs.
"He truly learned in Madrid to really support me, specifically being that number one fan and allowing me to know that no matter how busy and overwhelmed he may be, he will always be there for me," Alana said.
As for the future, Jackson's ultimate goal to establish his own theater company is only a minute part of his mantra to always instill consciousness both in mind and action. By balancing six jobs including babysitting and Academics Committee Chair of the Academic Achievement Program, Jackson is confident that his current schedule is a stepping stone to his project.
"Hashtag stay woke," Jackson said. "Stay awake on what is your calling and your path. Acknowledge your gifts and your talents and use those to your advantage, as well as stay awake on current events and on how you feel."
A few years back as part of the Disney Dreamers Academy, a mentoring program for aspiring artists, Jackson had been challenged by media figure Steve Harvey to write down 500 goals in a notebook. What had been a part of Jackson's own experience as a mentee, now each Paideia mentee in the room was handed a notebook. With reversed roles, Jackson challenged the current mentees of the Paideia Program to do the same.
"Once you mentees have the goals as part of your subconscious, they are going to happen," Jackson said. "When you speak goals into existence, they will come to life."
About the Contributor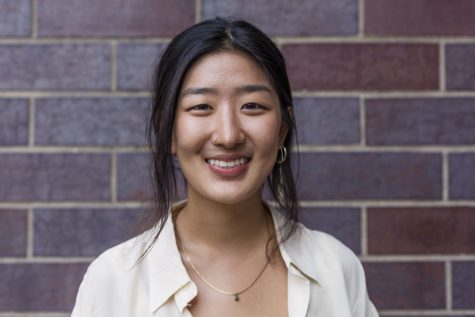 Nina Jang, Digital Director
Nina Jang is the Digital Director for the Washington Square News. Follow her on Twitter.