Arielle Andrews
NYU saw the largest public demonstration in its history taking place at the steps of the Kimmel lobby on Nov. 16. Arielle Andrews, CAS senior and president of the Black Student Union at NYU for two years, was responsible for this. Right after the unrest at Mizzou and Yale in November, she began organizing the Blackout at NYU to emphasize how these incidents are not as far away from our campus as they appear. Whether standing in solidarity or organizing a protest, it is important to Andrews that she plans ahead so she can do the most to further education for both people of color and their allies.
"People want to see action immediately," Andrews said. "I just don't work like that, I need to think out a strategy. Whatever we do, there has to be meaning behind it. NYU isn't isolated from the situation and I felt like we could use this as a platform to make change here on our own campus."
This philosophy has guided Andrews in her activism. During her tenure as president of BSU, she has organized two major events in addition to the recent Blackout: the NYU Die-In at Bobst and the Black Presence Campaign. On the morning of the Black Presence campaign, students began filling out "#Black _____ Matter" signs.
Andrews said the strength of the Black Presence Campaign was that it was spontaneous and outside the direction of the administration. But at the event, Public Safety officers and personnel from operations almost immediately tried to stop students from hanging these signs all over the first floor of Kimmel. They told Andrews that she needed to obtain a permit.
"I was there, tears dropping, trying to articulate the importance of this," Andrews recalled. "You get tied to your social justice actions. What was on there was people's narratives, it was more than a poster."
Andrews is not opposed to pushback, however. As she put it: "What is activism if you're not ruffling feathers?"
She said there will always be people who miss the point. She wanted the Blackout to be an opportunity for the NYU community could step back and figure out the importance of these current events.
Monroe France, assistant vice president for Student Diversity and director of the Center for Multicultural Education and Programs, works closely with Andrews in her role as BSU president.
"She is without question a dynamic leader that is dedicated to advancing social justice and human rights here on campus and more broadly," France said. "Under her leadership, BSU has grown in membership and has expanded the types of programs it offers to build community and raise awareness here at NYU."
During her time at NYU, one of Andrews' top priorities has been to further diversity education on a student, faculty and administrative level. Andrews is one of many in our community who is trying to shape what that kind of education will look like.
"I think too many people come here and the diversity aspect goes right over their head," Andrews said. "It's important to create a true welcoming environment. When you come to NYU, you're educated on diversity."
The desire to create community may be spurred by her having lived in 12 different places across the country and around the world. She understands what it's like to arrive in an environment where everyone already has a social circle, a routine and an understanding of the turf. Members of BSU who attend their events and friends of Andrews alike recognize how tirelessly she works to foster an inclusive atmosphere.
"She likes to make sure that everyone around her is also setting goals and making steps to reach them," said Mariah Rodgers, College of Nursing senior and close friend of Andrews. "Building a welcoming community definitely tops the list of things that Ari cares about."
In addition to her work for BSU, Andrews is the Co-Chair of the Academic Achievement Program. She chairs AAP rap sessions, where students dialogue about current events in their communities and around the world. CAS senior and Academics Chair Phylicia Ashley recalled how Andrews has led sessions since she was a freshman to foster discussion on issues that matter.
"Ari believes that the present work she does now means nothing if those after her are not able to be successful as well," Ashley said. "She is always ready to teach anyone who wants to learn."
Andrews is altering the landscape of race relations in the United States, and plans to continue on this road after graduation. She is optimistic about the future, and recognizes the best method is to take charge and be active both inside and outside of institutions.
"I want to create legislation and policy that's going to make sustainable change," Andrews said. "Hopefully, with that, I can contribute to improving race relations."
About the Writer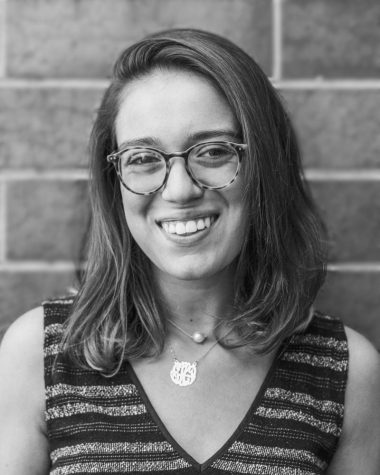 Grace Halio, Editor-at-Large
Grace Halio has spent the past three years working at WSN because her job has an actual title, unlike her concentration in Gallatin. She's studying how...