Sophie Lasoff
In February 2013, NYU Divest hosted its first event — a lecture that featured environmentalist Bill McKibben as the main speaker. The event brought 500 people to Cooper Union. On that day, Sophie Lasoff, founder of NYU Divest, knew her hard work had paid off.
"That momentum was what really got our campaign going," Lasoff said. "I was put into a leadership position that I had never been in before and became kind of the face of the campaign."
Lasoff founded NYU Divest in December 2012. Divest is an organization with the continued goal of convincing the university to stop investing in companies affiliated with fossil fuels within five years. It also encourages divestment from direct ownership and any commingled funds that include fossil fuel public equities and corporate bonds. In the past two years, the club has grown to include 15 to 20 core members who work on the campaign, and its petition has received 1,800 signatures.
Christian Forte
Lasoff decided she wanted to start Divest after attending an event where McKibben spoke and encouraged students to start a divestment campaign at their respective schools.
Lasoff became deeply concerned with the climate crisis and began studying the intersection of environmental and social justice. She began her activism work in 2011 by co-creating Farm to Live, an initiative working to build low-impact farms in northern New Jersey and New York. The initiative was a finalist in the 2011 Reynolds Changemaker Challenge.
"Farm to Live … really helped me discover that that was my calling and that that was something I was really passionate about," Lasoff said.
Julianne Lutz Warren, LS professor and Lasoff's instructor for a foundational environmental studies class, said Lasoff caught her attention from the very first day of class because of her enthusiasm.
"She stood out as someone who would stir things up in a good way, asking the hard questions and also having announcements for students to be involved in things she was also involved in outside the classroom," Warren said.
Even in times of personal financial struggle, Lasoff did not stop advocating for change. After her freshman year, Lasoff had to move out of NYU housing. For the next two years, she could only afford to go to school part time. She took two evening classes because she had to work full-time as a live-in nanny to finance her education. She is now a full-time Gallatin student.
"I could drop everything because of my own personal challenges," Lasoff said. "But I care enough about those issues and about the community that I'm a part of, that I've made a lot of sacrifices for that and I think that has gone a long way."
Although she is the founder, NYU Divest does not have a president. Lasoff recognizes the importance of sharing responsibility as a team and encouraging other members to speak up. She said she tries to not control everything.
"I think it's actually a lot harder to take the back seat and let people grow in terms of their leadership than it is to just control everything and do everything yourself," Lasoff said.
CAS senior and NYU Divest member Priya Mulgaonkar said Lasoff has been trying to develop awareness on environmental issues across the student body and motivate people to fight for their goals.
"So many students forget that we have influence over how the university is run," Mulgaonkar said. "She reminds people of that and inspires them to do something about it."
Lasoff grew up in suburban Los Angeles, in a family where community values were important, but felt isolated from her peers. Once she came to NYU, Lasoff found her niche by providing a helping hand to students looking for support.
"Finding that community was so important to me," Lasoff said. "Because I feel like NYU is often very isolating and when they come into this work they find a community that really not only cares about real issues in the world, but cares about them."
At the moment, NYU Divest is working with the official University Senate Working Group on Fossil Fuel Divestment, which was established after the organization asked NYU President John Sexton to meet with them last spring.
Lasoff hopes the University Senate will approve a divestment resolution and bring the case to the Board of Trustees, which will decide on divestment. In the meantime, Divest is continuing with its campaign to mobilize the NYU community and pressure Sexton to speak publicly on the issue.
"I've proven to myself my capacity to make change, and that reinforces my desire to continue, because I know that if I stick with it and I work hard and I stay passionate, then I can do amazing things," Lasoff said.
Email Marita Vlachou at mvlachou@nyunews.com. A version of this article appeared in the 2014 Influential print edition.
About the Writer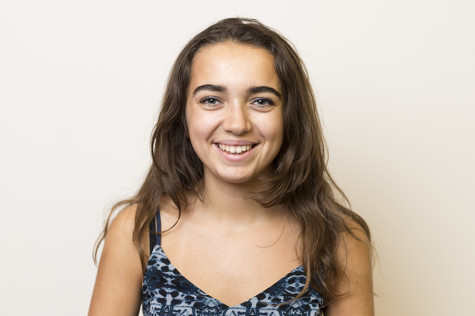 Marita Vlachou, Deputy Managing Editor





Marita Vlachou is a junior at the College of Arts and Science studying Economics and Journalism. She is currently the Deputy Managing Editor...