Protests grow on second night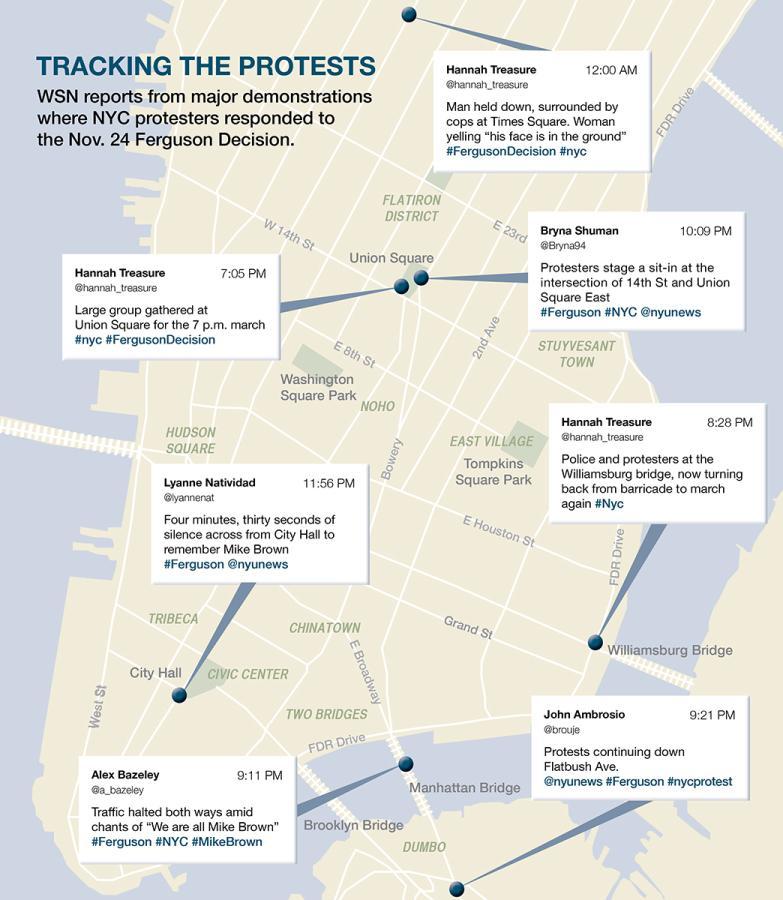 Cicek Erel
Thousands of demonstrators took to the streets of New York City for a second night to protest the decision handed down by the St. Louis County grand jury on Monday, Nov. 24, which did not indict Ferguson police officer Darren Wilson for the shooting of Michael Brown.
The demonstrations began around 6 p.m. in Union Square, where a large group, organized by the Trayvon Martin Organizing Committee NYC, held a rally before marching just after 7 p.m. The group then splintered, holding simultaneous protests in locations including Downtown Brooklyn, Lower Manhattan, Union Square, Times Square and Harlem for over five hours.
New York City resident Christen Schaffer said she was inspired to join the protest after seeing how many people were involved. 
"I couldn't sit home and prepare for Thanksgiving," Schaffer said. "So many things have been happening in the city, and for Ferguson to be able to take to the streets. I've never protested before, and I wish more people in New York would."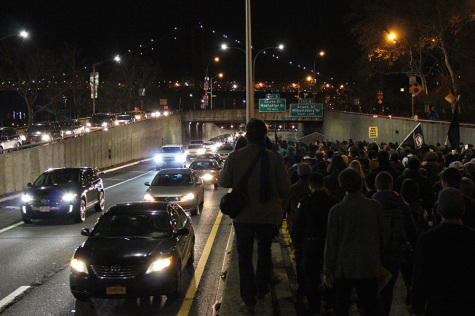 Tuesday's New York City demonstrations were much larger than those held Monday, but were similarly nonviolent in nature and produced few arrests. Protest activity did, however, shut down traffic through the Lincoln Tunnel. As they marched, protesters brought traffic temporarily to a standstill on several major arteries, including the FDR Drive and the Manhattan Bridge. Protesters also returned several times to Union Square, and staged sit ins there and elsewhere.
Many NYU students participated in the demonstrations last night, including LS freshman Caty Cherepakhov, who said while the heavy police presence worried her, she was glad to see people had been mostly civil.
"I was honestly afraid to get involved yesterday because I have been seeing the police brutality in Ferguson on the news, and I was petrified that everyone was going to get gassed here," Cherepakhov said. "The police haven't been that bad, but it's a little scary to see them surrounding everyone, but they haven't been that bad. I guess that is because no one is being violent — we're all just here to protest."
Several New York City politicians weighed in on the issue earlier Tuesday, including a group of New York City council members who left City Hall in protest over the lack of indictment. Mayor Bill de Blasio also commented on the situation, offering his condolences to the Brown family.
"The family lost their son," de Blasio said in a press conference. "They are in a lot of pain. They've been in a lot of pain since the tragedy occurred. In the end, what we ought to try to do is alleviate people's suffering. So the first thing we should think about is the Brown family and everything they are going through."
De Blasio said the situation in New York City was not comparable to that of Ferguson, where people have looted several stores and police have fired tear gas and bean bags at protesters.
"Obviously, it's been a very tortured path in Ferguson," de Blasio said. "We approach policing and the relationship between police and community very differently."
NYU Law student Jon Laks said he went to the protest out of sympathy for similar cases of police shootings in New York City.
"Obviously Akai Gurley was murdered on Thursday by NYPD, so obviously this is really a solidarity protest with Ferguson," Laks said. "You know both for Mike Brown's murder and the non-indictment but also the continuous struggle that the people are waging there."
Central Park East High School senior Anthony Kirnon, 17, said he hoped the demonstrations would continue to raise awareness of the issue.
"My hope is that this goes on for days, because a protest that only lasts one day is forgotten by everybody, so as long as this thing goes, the longer we keep pushing this for the struggle, the more we're going to get," Kirnon said.
A version of this article appeared in the Wednesday, Nov. 26 print edition. Additional reporting by Alanna Bayarin, Alex Bazeley, Marita Vlachou and Hannah Treasure. Email John Ambrosio at [email protected]
About the Contributor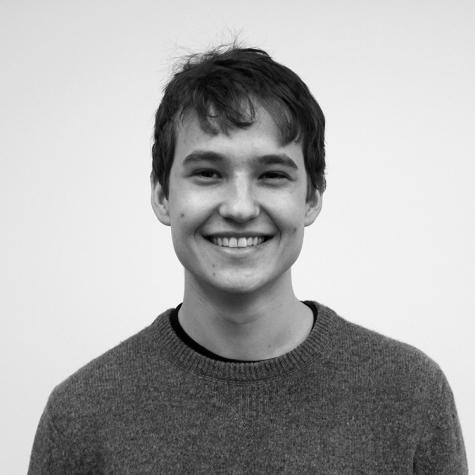 John Ambrosio, Assistant Managing Editor
John Ambrosio is the Assistant Managing Editor at WSN and a junior studying journalism and history in the College of Arts and Science. When he's not...