Costumes transform to daily wear
One of the most exciting aspects of Halloween is choosing your costume and shopping endlessly for each part of it. After one or two days of celebrating, however, you realize you have spent a ton of money on ears, tails and dress-up clothing that you probably will never wear again and the post-Halloween stress kicks in. Don't fret, though, because there are many creative ways to incorporate pieces from various Halloween costumes into your everyday wardrobe.
The quintessential schoolgirl costume is a Halloween favorite. It normally comprises a white blouse, plaid skirt, knee-high socks and glasses, which are all versatile items that can be reused to enhance your wardrobe. A white blouse is a basic essential, that you can layer under sweaters for a casual look with a blazer or motorcycle jacket. Plaid is a popular print for the fall and winter seasons, and incorporating it into your closet is a no-brainer. Pair your skirt with a sweater, tights and tall boots, and no one will guess that you bought it as part of your costume.
If you channeled "101 Dalmatians" this Halloween and went out as Cruella de Vil, you will not have any problems wearing your faux fur coat or bright red pumps again. Cruella's signature coat is a great addition to your winter wardrobe that will make a statement and keep you cozy in the cold weather. The pumps will also spice up any evening outfit to give you a bold look.
Mime costumes are another Halloween classic that merges into your closet well. You cannot go wrong with a high-waisted pair of leggings or jeans, so whether you had a pair before or not, getting your hands on another is definitely a perk. The black bowler hat is a great accessory for the fall and winter. Simply adding the hat to any outfit will give it a casual yet classy vibe.
The "Beetlejuice" costume is an old-time Halloween favorite that always steals the show. Although the costume is more on the quirky side, black-and-white stripes are not hard to wear again. A black-and-white striped blazer can be thrown on top of an all black outfit to instantly update the look, and a pair of striped pants can effortlessly do the same. The two pieces are a unique addition to your wardrobe and offer some punk rock flair.
If you rocked Rosie the Riveter this year, an all-denim outfit will definitely not go to waste. A denim shirt is a fundamental piece that is easy to style and use for layering. Whether you opted for flare or boyfriend jeans with your costume, the dark wash in either cut will provide you with endless outfit options for the fall and winter.
As for the ears, tails and other Halloween accessories, it is a little more difficult to find a time to wear them again. Don't throw them away, though, because they may come in handy for a themed party or as part of next year's costume.
A version of this article appeared in the Wednesday, Nov. 19 print edition. Email Caroline Ogulnick at [email protected]
About the Contributor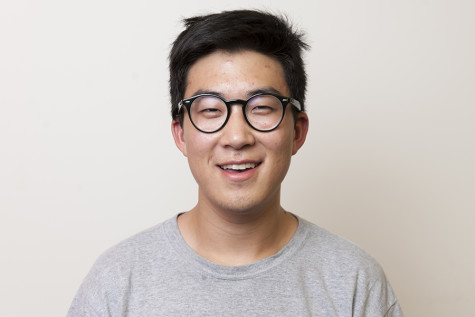 Shawn Paik, Editor-at-Large
Howdy. Y'all can just call me Uncle Lightnin'. I been shootin' since I was just a boy down in Chattanooga, Tennessee. I shot everything from kids to politicians....