Students set standard for leggings as pants
In a famous "Gossip Girl" scene that incited countless Tumblr rants, Blair Waldorf made a girl cry by saying "Tights are not pants." Whether they are inspired by Blair or not, women continue to debate what can be classified as pants, and if leggings truly fit into that classification.
Some people refuse to accept leggings as pants since they lack the typical weight and structure of a trouser. Some see leggings as being only appropriate as athletic wear, and others believe leggings are best worn in the privacy of one's home.
The debate has been heated in high schools and other institutions that have strict dress codes, as many principals have deemed leggings a distraction. This has sparked articles arguing that female students should not be punished for the inability of others to focus in class because of how they are dressed. Steinhardt freshman Cassidy Miller took a similar stance.
"I think people should wear what they want to wear and shouldn't be discouraged from wearing that just because it might 'distract' someone else," Miller said.
The belief among many college students is that leggings are perfectly acceptable as pants, but with limitations. Worn with a dress, oversized T-shirt or sweater, leggings are a comfortable alternative to everyday jeans. Most agree that leggings should not be worn with crop tops or even regular-length shirts, as a longer top is typically more flattering.
CAS freshman Jessie Osterman noted the importance of not only the top, but also the legging itself and of the specific quality it must have.
"It can't be a thin legging. None of that Forever 21 stuff that's see-through. It needs to be thick," Osterman said. "Athletica, go for it. But if you can stretch out a pair of leggings and see your hand through it, they should never be worn as pants."
Within some confines, it seems that college students love leggings. They provide a certain freedom and comfort that make getting out of bed for class more bearable, and they are versatile, so the fashion possibilities are endless. Leggings are typically much more affordable than pants or jeans and can be found at virtually any store — thin, inexpensive leggings are sold at H&M, Target and Asos while thicker, pricier leggings can be found at Nike and Gap.
With a college student's dream price point and a coziness perfect for class, it is safe to say that leggings are the new pants.
A version of this article appeared in the Wednesday, Nov. 19 print edition. Email Sophie Lewis at [email protected]
About the Contributor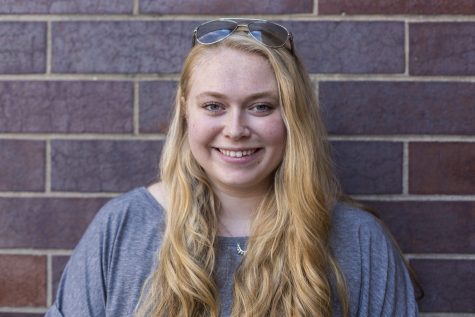 Sophie Lewis, Social Media Editor
Sophie Lewis is a junior in Steinhardt studying Media, Culture, and Communication and is the current Social Media Editor. She's from Long Island, but please...