Crime Log: Oct. 25-29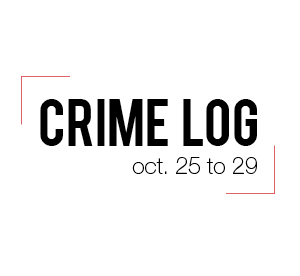 The NYU Department of Public Safety has received reports of 11 incidents of larceny and one incident of sexual offense in the past week.
Sexual Offense
At 7:13 a.m. on Oct. 26, a student at Alumni residence hall notified Public Safety that he or she had been raped. This incident is still under investigation.
Larceny
There were six reports of bicycle theft between Oct. 25 and Oct. 29. The thefts took place at the NYU Dental Center, Tisch  Hall and Warren Weaver Hall.
At 9 p.m. on Oct. 29,  a student reported that when she came back to the eighth floor of Bobst Library, her laptop, which she had left unattended, was missing. A police report has been filed. This case is still open and under investigation.
At 8:12 a.m. on Oct. 29, a student studying in NYU Florence reported that coins were stolen from a jar placed on his desk in his dorm room. He reported that he observed his coins missing on Oct. 5.
At 10 p.m. on Oct. 28, a student reported her laptop stolen from a lounge at Tisch Hall when she left it unattended from 9:20 p.m. to 9:30 p.m.
At 6:30 p.m. on Oct. 28, Public Safety received a report of a stolen wallet that had been in a cabinet at Carlyle Court residence hall.
At 12:10 p.m. on Oct. 26, a student found her cellphone missing after she left it unattended for three minutes on a water fountain at Bobst Library. This case is closed.
A student reported a backpack theft from his dorm room at 1:05 a.m. on Oct. 26. He stated that he left his backpack at 3 p.m. and came back to his room in Lafayette Street residence hall at 8 p.m. to find the bag missing.
All except the incidents that occurred in NYU Florence and Bobst Library are still under investigation.
A version of this article appeared in the Monday Nov. 3, print edition. Email Christine Park at [email protected]