DKNY, Cara Delevingne team up
Supermodel, street-style star and "Instagirl" Cara Delevingne, known for her game-changing eyebrows and endless variety of wacky faces, has officially launched her capsule collection with big-name designer brand DKNY. 
This is not Delevingne's first foray into designer collaborations. Earlier this year she launched a line of handbags with luxury designer Mulberry. This time, she is focusing on clothing and accessories.
Delevingne has been working with DKNY for two years, starring in major ad campaigns for the brand. This is her first time helping with designs, however, and her collection with them has been highly anticipated by industry professionals and superfans alike. 
The price point of the collection varies. At $735, the black leather moto jacket is the most expensive item, followed by athletic varsity jackets and gray blazers.  Loose track pants, baggy hoodies and navy and black jumpsuits are on the slightly more affordable side. 
On the lower end, black and white graphic tees are $150, and yellow beanies and sports bras are priced at  $70. The line is available at DKNY's Madison Avenue store, Bloomingdale's flagship store on 59th Street, dkny.com and shopbop.com.
This collaboration is just one of many between established designers and up-and-coming Instagirls, including supermodel Karlie Kloss and of course Delevingne, making their names into brands. These young women have used social media to gain millions of followers, and now they are turning that influence into a profit. Delevingne herself has over 7.6 million followers on Instagram alone, and millions on her other social media platforms. 
Delevingne's signature model-off-duty style is a clear match with DKNY's athletic and urban aesthetic. Her personality, which shines through her Instagram photos, is also evident in the clothes; they are a direct translation of the slouchy, tomboyish style she commonly sports.
Some, like CAS freshman Jessie Osterman, are hesitant to praise the collection, noting its athletic simplicity despite its high price point. 
"It's kind of weird," Osterman said. "I feel like someone as unique as Cara could have come up with something a bit more interesting than a hat with her name blasted on it." 
This seems to be the general consensus among women who were expecting a bit more from the line than what appears to be fancy workout clothes. But while most pieces are certainly inappropriate for work, they are pretty much perfect for any on-the-go college student that wants to look cool but also wear sweatpants to class.
The pricy collection does not fit into an average student's budget, but many Delevingne fans will likely race to the shops anyway to grab these limited edition pieces. 
Specifically, shoppers are gravitating toward the graphic beanie, a Delevingne staple and one of the cheapest items in the range. The pieces definitely exude Delevingne's style, but the collection may not appeal to everyone.
A version of this article appeared in the Oct. 22, 2014 print edition. Email Sophie Lewis at [email protected]
About the Writer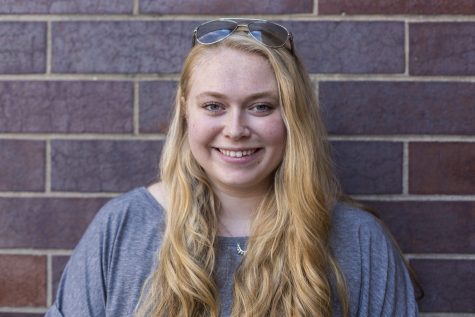 Sophie Lewis, Social Media Editor
Sophie Lewis is a junior in Steinhardt studying Media, Culture, and Communication and is the current Social Media Editor. She's from Long Island, but please...