Ditch your JanSport, find new style
The school year is in full swing, and achy shoulders from last year's tattered backpacks are likely starting to appear. It is time to trade in last year's bag for something a bit more fashionable, comfortable and practical. Alternative backpacks have been a huge trend on the runway the past few seasons, and now they are starting to appear on everyone from street style stars to NYU students. 
The most common backpack alternative is the classic tote bag. The rectangular shape is perfect for laptops, textbooks and binders, and they are so popular they can be found at virtually any price, from a $30 colorblocked version at Forever 21 to a $200 nylon bag from Marc by Marc Jacobs, which is a cult favorite. Students with all kinds of aesthetics can be seen strolling to class with this chic look, versatile enough for any outfit.
Steinhardt freshman Cassidy Miller enjoys the classic style.
"I use a black Longchamp [tote] bag because I like the way it looks more than a backpack," Miller said. "I like having my bag at my side instead of facing away from me. To me, it's more versatile because it matches with more and is both chic and casual." 
Another student favorite is the Cambridge Satchel. The long strap allows for comfort and versatility, the spacious inside has room for books and the large buckles prevent the bag's contents from falling out. While the largest size of the original runs for $190, countless brands have come out with their own versions at a much more college-friendly price. Asos is well-known for making these Cambridge look-alikes, usually starting at $34, and they are just as sturdy. They also come in a wide range of colors and sizes.
Another popular choice is an oversized shoulder bag with a long strap attached. These sprouted from the Céline bag street style trend that has appeared during the last few seasons, and now the structured and sophisticated purse is everywhere. Stern freshman Louise Lai follows this practical and fashionable trend.
"I used to have a backpack, but now I use a handbag from Aldo designed specifically for books. There's a dividing wall inside so my stuff doesn't get messed up. It's also deceptively roomy," Lai said. "The bag makes any outfit look more put together."
If you are dying to hang on to the classic backpack style, try a chic leather version to add a bit of trendiness to any look. Great and affordable styles can be found from Daily Look, Madewell and Topshop. These updated versions will certainly look more chic than a 10-year-old JanSport.
A version of this article appeared in the Wednesday, Oct. 8 print edition. Email Sophie Lewis at [email protected]
About the Writer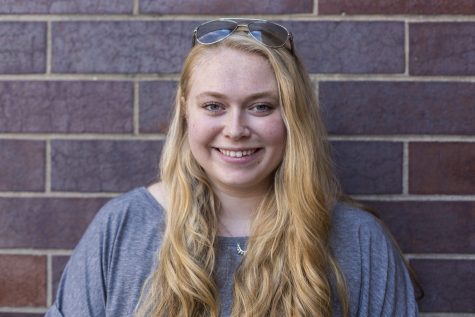 Sophie Lewis, Social Media Editor
Sophie Lewis is a junior in Steinhardt studying Media, Culture, and Communication and is the current Social Media Editor. She's from Long Island, but please...