Cyclists file lawsuit against DMV
A group of New York City cyclists filed a class action lawsuit against the Department of Motor Vehicles on Sept. 16, to refund thousands of dollars to bikers fined by the DMV.
The cyclist groups allege that they were forced to pay a mandatory $88 surcharge for traffic violation tickets and received additional points on their licenses. Many cyclists, seeing the word mandatory on the ticket, paid the fine. These extra penalties, however, are only supposed to apply to motor vehicle operators.
Steve Vaccaro, the attorney arguing the case, said the DMV is ignoring the problem.
"[The DMV admits] there were hundreds of people who faced these surcharges or had been charged them," Vaccaro said. "At least 600, but we think the number is a lot higher than that."
Vaccaro said the plaintiffs in the case hope cyclists who paid the charge, not knowing it did not apply to them, will be compensated. He said he alerted the DMV of the issue back in August and was informed that the surcharge did not apply to cyclists and that appropriate refunds had been issued to a small number of his clients.
The DMV has not rectified the problem, however, as the online ticket payment system still does not recognize cyclists as a separate class. Instead, it groups them in with operators of motor vehicles — making the charge mandatory.
New York DMV commissioner Barbara Fiala said they had reviewed their ticketing procedures, referred to as plead and pay, and said the problem stems from clerical errors.
"Our review of those tickets did not discover any systemic issues in either the 'plead and pay' application or the [Traffic Violations Bureau] database in general, or, as [Vaccaro's] letter suggests, any 'practice' of 'unlawfully' charging surcharges and/or levying points," Fiala said in a press release from Sept. 15. "Instead, it appears that the errors are caused by improper data entry."
Vaccaro said these penalties have led to serious consequences, however, including a driver assessment responsibility fee, which must be paid once someone receives six points on their license, and increases in automobile insurance.
"The DMV is the Department of Motor Vehicles, and I think they overlook the fact that they regulate bicyclists by processing their traffic tickets," Vaccaro said. "I have not yet seen any evidence to suggest that there was an intentional desire to collect money that was not owed from cyclists."
Patrick McCullough, a CAS freshman and occasional biker, said it is good that someone is standing up for the cyclists against the DMV.
"You know there's a problem when the DMV sees and ignores an issue like this," McCullough said. "I'm glad that someone is taking action and not letting something like this slip by. I'm a bicyclist and I want to have the rights that the DMV says I do."
A version of this article appeared in the Wednesday, Sept. 24 print edition. Email  Alex Bazeley at [email protected]
About the Writer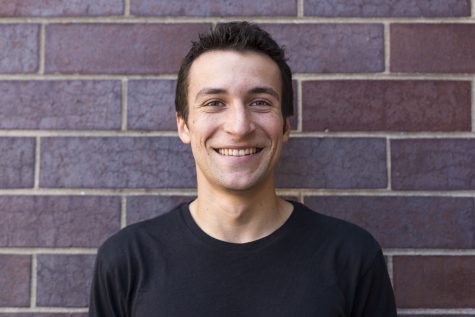 Alex Bazeley, Editor-In-Chief
Alex Bazeley is the Editor-in-Chief for the Washington Square News. Hailing from Oakland, he is a junior studying journalism and metropolitan studies....