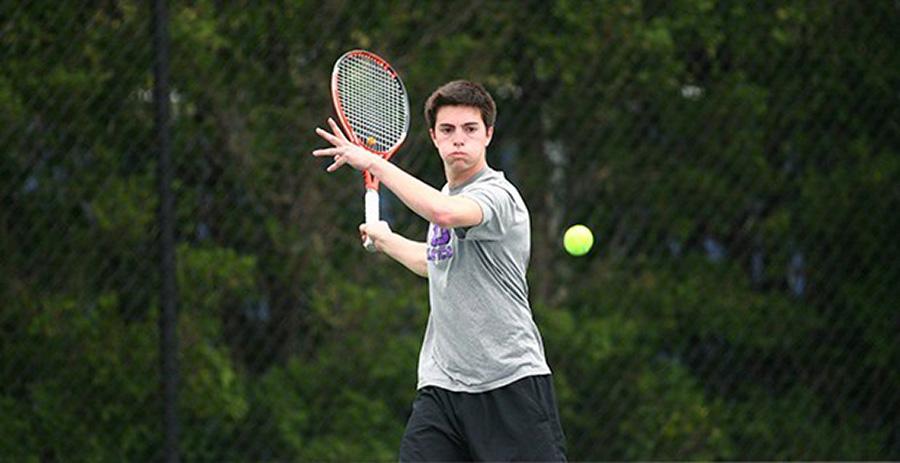 The NYU men's tennis team had a successful conclusion to their fall season, competing at the Intercollegiate Tennis Association's Northeast Regional Championships from Sept. 20 to 22, in Geneva, New York.
The Violets started the tournament on day one with an overall record, going 9-5 in singles and 1-3 in doubles.
In singles, juniors Aaron Meltzer and Sidd Thangirala, seeded at five and 15 respectively, each advanced to the round of 16. Freshman Karan Goyal, who was unseeded, also advanced. In addition, Goyal won a doubles match with senior Billy Smithline. The duo lost in the round of 16.
"I was very impressed with the team's performance this weekend at the ITAs," Smithline said. "Everyone who traveled with the team this weekend contributed wins."
In day two of the tournament, Thangirala came up short of reaching the quarterfinals, losing his first match. However, both Meltzer and Goyal won their matches, advancing to the quarterfinals, where they coincidentally had to play against each other. The match lasted three sets, in which Goyal won 6-3, 3-6 and 7-5.
This propelled the freshman into the semifinals on Monday in a match against The College of New Jersey's Pierce Cooper, the number two seed. Goyal took the first set 6-4, but was ultimately defeated by Cooper in the next two sets by scores of 6-1 and 6-2.
"It was a great run for the NYU team as a whole and for me to reach the semis," Goyal said. "This tournament gives me motivation to work hard and hopefully continue the success into the regular season in the spring."
Smithline said he was impressed with Goyal's performance.
"It was exciting to see freshman Karan Goyal make a deep run in the draw," he said. "He will definitely be an asset to the team in the coming years."
As the Violets prepare for the spring season, freshman Samuel Khoshbin is confident the team will be able to carry over its strong play.
"I believe the team is poised for great success in the upcoming spring season," he said. "The practices have been intense, and every one of us has taken to the court with a definite purpose."
The team will not take the court again until Feb. 28, 2015, against Swarthmore College in Swarthmore, Pennsylvania.
A version of this article appeared in the Tuesday, Sept. 23 print edition. Email Jonathan Schifman at [email protected]