New Abu Dhabi campus to open amid controversy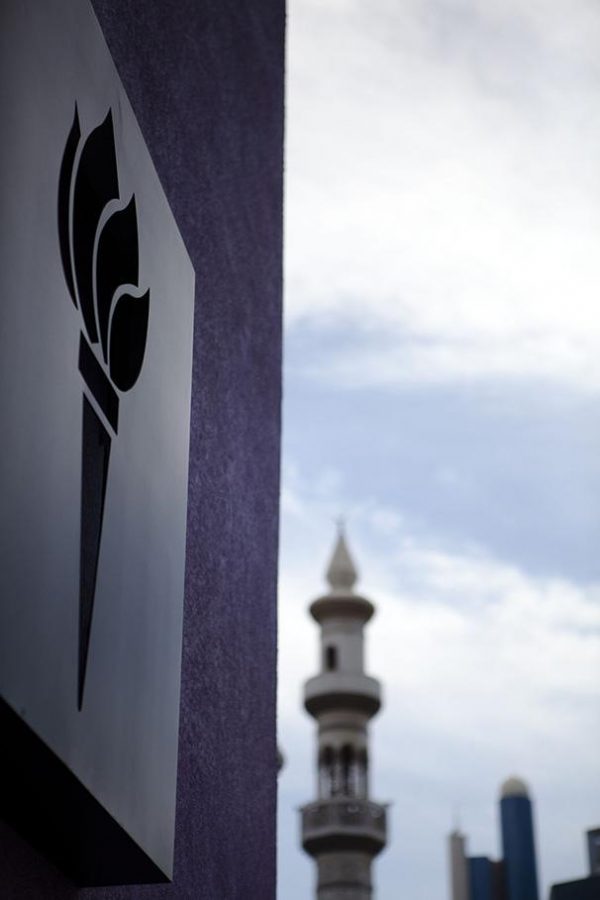 The start of this academic year marks the opening of NYU Abu Dhabi's controversial Saadiyat Island campus and the arrival of its first incoming freshman class at its new permanent home. Classes begin Aug. 31.
The joint-project between NYU and the United Arab Emirates has been four years in the making, and as the Washington Square News previously reported there have been numerous allegations of labor violations, which have led to public scrutiny.
The Kafala System
The campus was built by a migrant labor force predominantly recruited from Bangladesh, India and Pakistan and financed by the government of Abu Dhabi.*
The U.A.E. has come under scrutiny from international watchdog organizations like Human Rights Watch and Amnesty International for their use of the Arabian Kafala System. Ostensibly a system for safeguarding migrant workers' legal status and welfare in Gulf Arab states, the New York Times' Tahmima Anam describes it as anything but.
"Though Kafala, which ties workers to their employers, is supposed to act as a safety net for workers, abuse is rife," Anam wrote in a New York Times opinion piece from April.
In practice, Anam says the Kafala allows contractors to confiscate migrant passports, withhold wages and force migrants to labor under exploitative conditions by making them legally dependent on their employers.
Statement of Labor Values
Given the challenging human rights environment surrounding the construction of NYUAD's Saadiyat Island campus, the university enacted an ambitious "Statement of Labor Values" in early 2010. This stringent charter requires that contractors fairly pay and accommodate migrant workers, along with leaving them in control of their travel documents and not subjecting them to a recruitment fee.
However, the enforcement of these guidelines was a responsibility of the contractors employed by the U.A.E. government to develop the island and build NYUAD's new campus. Investigations in previous years led by the the Human Rights Watch and the Gulf Labor Coalition turned up numerous violations.
Mott MacDonald Controversy
NYU attempted to quash these concerns by cracking down on the violators and bringing on board the independent auditor Mott MacDonald to oversee enforcement of its labor values.
However, an investigation and activist campaign led by members of faculty and the student body involved in the Gulf Labor Coalition and the Coalition for Fair Labor at NYU brought up alleged continued migrant worker rights' abuse even after these measures were put in place. In addition, Mott MacDonald was awarded a contract by the Abu Dhabi government to develop the infrastructure of the island.
Professor Andrew Ross, the founder of Gulf Labor, argued against the veracity of Mott MacDonald's positive findings.
"[We] argued that Mott was not an independent monitor, and we recommended other auditors more appropriate for the task," Ross said. "All independent investigations — by Human Rights Watch, The Guardian and now by Gulf Labor — have uncovered violations that Mott has not been able to find. Clearly, their monitoring methodologies have been inadequate."
NYU spokesman John Beckman told WSN previously that Mott MacDonald's involvement in the establishment of the island does not impact its monitoring.
"Their appointment as compliance monitor was made through a competitive process, and their contract contains provisions to ensure there are no conflicts-of-interest," Beckman said.
New York Times Investigation
With the labor abuse issues supposedly put to bed, in May 2014 the New York Times published a critical investigation of the continued migrant worker rights abuse just months before the expected completion of the campus.
A day after The New York Times ran the article, NYU President John Sexton issued an official apology, vowing that the university would take greater pains to protect affiliated workers' rights in the future and investigate alleged past misconduct.
In the wake of The New York Times article, NYU's regional partner Tamkeen hired independent auditor Nardello & Company to pursue a retroactive investigation into instances of migrant worker rights abuse.
Rahul Karishnamoorthy is a deputy news editor. Email him at [email protected] 
*Correction: An earlier version of this article misstated that the campus was financed by Sheikh Khalifa bin Zayed al-Nahyan, the President of the UAE. WSN regrets this error.