Join the Washington Square News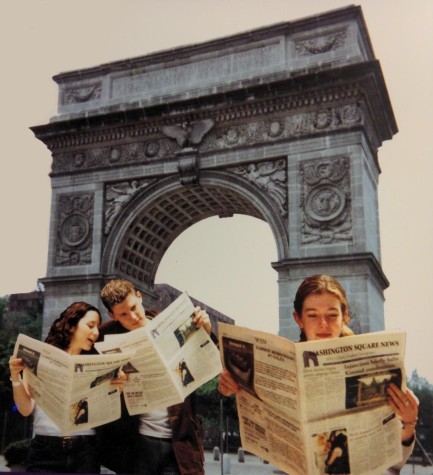 Spring 2023 update: Application information has been posted on this page.
WSN is looking for students interested in joining its staff ahead of the upcoming spring 2023 academic semester. Submit an application to contribute or come meet our editors at our Open House on Sunday, Jan. 29.
Spring 2023 Open House
Drop by the WSN office on Sunday, Jan. 29, anytime between noon and 4 p.m., to learn about how you can get involved with the paper as a writer or photographer. All of WSN's sections, including news, arts, culture, opinion, features and sports, are looking for new writers.
The WSN office is located at 75 Third Ave., in the same building as the Third Avenue North Residence Hall. Enter via the 12th Street entrance and take the elevator to level C3.
Can't make it to the Open House? You can also submit an application online. Before you submit, read our guide to applying below.
Since 1973, WSN has delivered news daily to thousands of readers across NYU's Manhattan and Brooklyn campuses, and global sites. We publish stories five days a week during the academic year focusing on NYU and surrounding New York City neighborhoods. We publish news, culture, abroad, arts and sports coverage, opinion essays, photo and video features, and special issues through our magazine, Under the Arch.
WSN is produced by students with a diverse array of interests and backgrounds such as reporting, writing, editing, coding, photography, video production, design, illustration and business. We pride ourselves on fostering a collaborative community, where students are able to explore their interest in journalism and gain real-world newsroom experience.
Students who contribute to WSN typically start as writers. In addition, we have a number of other roles available for students interested in copy editing, photography, videography, web design and illustration.
Apply to be a contributor
To write for any of WSN's desks, apply here.
To work with WSN's copy desk as a copy editor, apply here.
To work with WSN's multimedia desk as a photographer, videographer or illustrator, apply here.
If you contributed to WSN in the fall semester, you likely do not need to reapply for spring 2023. You should receive information from your desk editor before the start of the semester. Reach out to them with any questions!
---
What to know about applying to be a WSN editor
What is the difference between editors and other positions, such as writers?
Editors are listed on WSN's masthead and form a part of our core staff of approximately 50 students. They plan, manage and edit all of the paper's editorial content, and take on roles that typically require a larger time commitment than non-editor positions. Since many editors continue to work with the paper throughout their time at the university, only a limited number of editor positions open up each semester.
Can I apply for more than one position?
Yes!
What does being an editor at WSN involve?
WSN offers several different editor positions. Desk editors are responsible for managing and working with their staff on a daily basis, including hiring their own writers. They oversee all content under their section and communicate with other desk editors. Editors host weekly pitch meetings on Sundays, edit stories submitted by their writers and schedule stories for website publication throughout the week.
Typically, editors spend at least 15 hours a week at the office, including all day on Sundays and at least two other weekday evening shifts. The management team works closely with editors to ensure their role at the newspaper does not interfere with their academic or personal responsibilities.
What experience do I need to become an editor?
WSN's editors typically begin as writers, illustrators, photographers and videographers, but no experience is required for any position. Our editors come from a wide range of disciplines across every school at NYU — not just journalism. Before you submit an application, read the job description at the top of the form for a full list of requirements and expectations.
What benefits come with being an editor?
Editors have access to an extensive alumni network that is willing to connect you with job opportunities and experiences outside of the newsroom. Russell Berman, WSN's adviser and a staff writer at The Atlantic, provides training sessions in editing and writing and is available for appointments with WSN editors to discuss career planning. Former WSN editors have gone on to work at The New York Times, The Atlantic, The Guardian, The Wall Street Journal, NBC News, Bloomberg and the New York Daily News, and several other major U.S. and international publications.
WSN also strives to create a sense of community within our newsroom, offering a space for editors to meet other undergraduate students with similar interests. We encourage editors to get to know one another outside of the newsroom through events and staff gatherings. Editors are also paid a small stipend.
Contact [email protected] with questions.