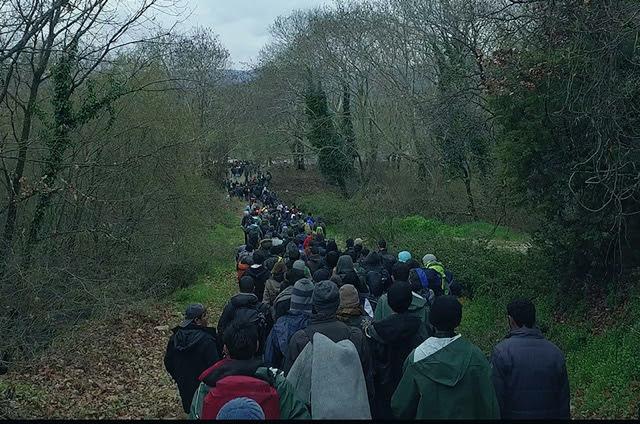 Millions are displaced from their homes around the world everyday. Despite the harsh reality that the number of refugees is growing, the resources for them remain stagnant. Ai Weiwei, an activist and filmmaker from Beijing, set out to raise awareness of the intensity of the crisis and follow the people drastically affected in his first feature-length documentary. Ai's heart-wrenching documentary, "Human Flow" shot footage in over 20 countries, expanding the story of not just one crisis, but of the many happening across the world. Instead of "Human Flow" just being about the statistics and the politics of the refugee crisis, it is about the people.
"It's incredibly beautiful and aesthetically complex and layered and textured," Participant Media's Executive Vice President of Documentary Films Diane Weyermann said of the film. The film never loses sight of its purpose — to bring the tragic stories of the refugee crisis to light. Ai's emphases on drone (aerial) shots were to show another perspective, as he put it. There are also many still, long shots of structures, kids playing and adults reacting to their situation that are not only gorgeous, but also haunting.
Ai himself appears many times in the film. Whether it is interacting with humanitarian aid or just playing with young children, he remains a constant presence throughout the film. However, it does not feel like the normal celebrity action for another popular humanitarian issue to support. Instead, his presence makes the rest of the story more real. It is not just a documentary of interviews where the audience is always put at a distance — it is much more vivid and raw.
There are also many subtle and well-placed references the absurdity of the borders that dictate people's lives. The documentary is not about the politics of being a refugee but rather the cruelty that refugees endure. There are very few moments of happiness in "Human Flow." Instead, the anger and frustration of the refugees is conveyed with stark authenticity. As one young girl in a refugee camp in Germany puts it, "I'm just so bored with this life."
"Human Flow" forces the audience into discomfort, but does not allow them to take their eyes off the screen. In order to get people to actually pay attention to what is happening to refugees across the world, the situation must be depicted with brutal honesty, even if it causes discomfort. It is very easy to dismiss a problem when you are at such a great distance from it; with "Human Flow," there is no escaping the reality of the crisis.
"Human Flow" opens in New York theaters on Friday, Oct. 13.
Email Sophie Bennett at [email protected].