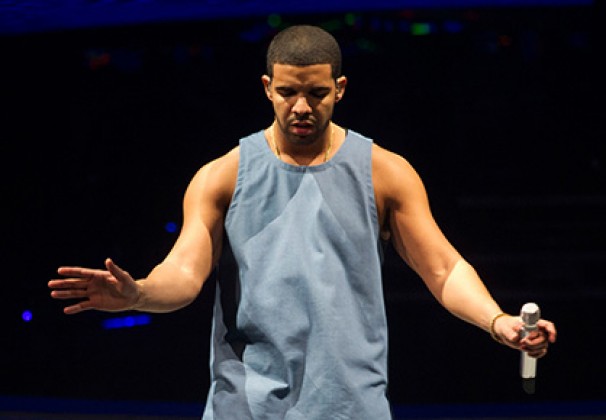 Despite a three-week delay and tour drama, Brooklyn welcomed Drake to the Barclays Center on Monday night for his "Would You Like A Tour?" with Champagne Papi accompanied by Miguel and Future. The relentless crowd, a majority of whom were screaming girls, sold out the venue's 18,000-capacity limit.
Mesmerizing the crowd with his sleek and flashy lighting set-up, Drake graced the stage and immediately began the show. The set list was dense with hits from his newest album, and the crowd responded by rapping along word-for-word to "Tuscan Leather," "Furthest Thing" and "Wu Tang Forever."
The crowd seemed surprised when Future joined Drake onstage — an unexpected moment because last week, controversial news broke that the Atlanta rapper had been removed from Drake's tour for his critical comments to Billboard magazine regarding Drake's new album, "Nothing Was the Same." Future had allegedly said to Billboard, "Drake made an album that is full of hits but it doesn't grab you."
However, the duo told the audience, "All they want is a cover story." Future then excited the crowd with over 10 of his popular songs including "Turn On the Lights" and "Magic." Every audience member was standing for the duo's performance of "Same Damn Time" and "Honest."
Vocalist Miguel followed Future's performance. Ascending onto the stage, accompanied by a four-piece band, he treated the audience to cuts from his two albums "Kaleidoscope Dream" and "All I Want Is You." The audience stayed silent to enjoy his phenomenal falsetto sound.
Drake seemed to quickly tire of the upbeat vibe, and carried the show to an easy, slow pace. Tissues were required for this portion, as Drake took the audience though "The Motion," and was later joined by Jhené Aiko, who is heavily featured on "Nothing Was The Same." The duo's undeniable chemistry showed, as they performed some sensual tunes, including "From Time" and "Come Thru."
Drake claimed he was celebrating his birthday because he was unable to on the actual day. He brought out Busta Rhymes for "Put Your Hands Where My Eyes Can See." The entire A$AP Mob, including A$AP Rocky joined Drake at the end of the show, and the pair performed "Fuckin' Problems."
Giving the crowd a much-needed dose of his acclaimed hand movements, and performing with some phenomenal guests, Drake stole many hearts at Barclays.
A version of this article appeared in the Wednesday, Oct. 30 print edition. Aicha Fall is a staff writer. Email her at [email protected]