NYU labor groups stage May Day protest
Two unions representing NYU employees protested the university's handling of labor issues.
The unions representing NYU's contract faculty and its graduate student workers gathered near Bobst Library on Monday afternoon to protest the university administration's treatment of labor groups on its campus. The demonstration coincided with International Workers' Day, observed annually on May 1.
Nearly 50 people, including members of the two unions and their supporters, demanded that NYU distribute back pay to graduate course assistants and called for union recognition of the university's contract faculty, a group of approximately 1,000 untenured, full-time professors whose contracts are renewed every few years.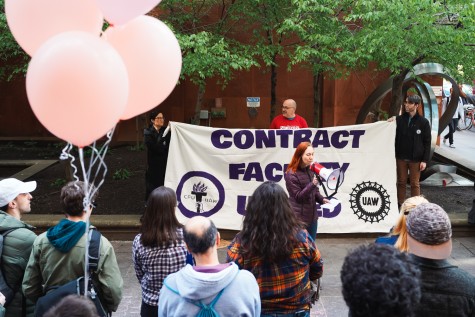 The union for graduate student workers at NYU — known as the Graduate Student Organizing Committee — is calling for the university to pay course assistants a combined $1.3 million in back pay for their work between the spring 2021 and spring 2022 semesters. The university agreed to the settlement last summer after NYU failed to properly compensate them at the time. Last week, GSOC started a petition calling for administrators to distribute the funds.
Gabe Levine-Drizin, a third-year Ph.D. student who attended the protest, called the lack of back pay for course assistants frustrating.
"The university benefits a lot from graduate student worker labor being pretty invisible," Levine-Drizin said. "I think it's really only through these mass events right here that students and everybody on campus gets to see that without us, the university doesn't really run."
After demonstrating at Schwartz Plaza, GSOC members made their way to President Andrew Hamilton's office on the top floor of the library to deliver their petition. A representative accepted it in Hamilton's place.
John Beckman, the university spokesperson, said that NYU offered the graduate student union an updated version of the settlement agreement two weeks ago and hopes the issue is resolved quickly. Union representatives told WSN that they do not know of an updated agreement.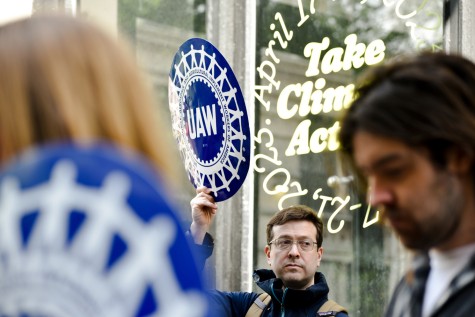 NYU's contract faculty union, CFU-UAW Local 7902, has been campaigning for formal recognition from the university, which would allow contract faculty to engage in collective bargaining for compensation, benefits and other workplace issues. Union representatives met with the administration in March to negotiate recognition, but they were unsuccessful. Since then, the union has continued to push for its demands, which include wages that reflect inflation rates and defined guidelines for faculty terminations.
Beckman said that the university has continued to communicate with the contract faculty union over how the union might best form a bargaining unit. He said that NYU recently shared a proposal with Local 7902, and that the union plans to respond this week.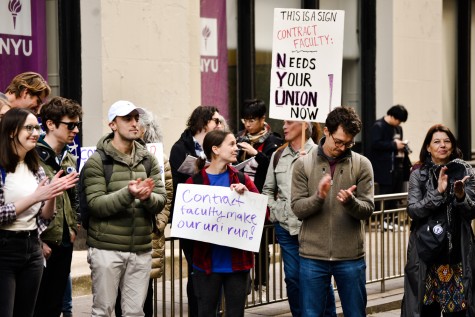 Jacob Remes, an associate professor at the Gallatin School of Individualized Study who is a member of the union, said that the administration's proposal would allow CFU-UAW to begin the recognition process if the union can define who would be included in the bargaining unit. He said that the proposal would exclude certain members of the union from being included, including faculty at NYU's nursing school and professors that the university considers to be in supervisory roles. Remes said that the university did not explain why nursing professors would be excluded from the proposal.
NYU's adjunct faculty, who are represented by the same chapter of the United Auto Workers as the contract faculty union, reached an agreement with the university last year after months of protests, narrowly avoiding a strike.
Richard Dorritie, who teaches at the nursing school and participated in the demonstration, said that contract faculty not being protected by unions jeopardizes their academic freedom. 
"I've got no security and I've got no academic freedom if I don't have security," Dorritie said in a speech at the protest. "If I don't have academic freedom, how can I deliver world class education?"
Bruna Horvath contributed reporting. Contact Graylin Lucas at [email protected].