Look No Further for Authentic Indian Food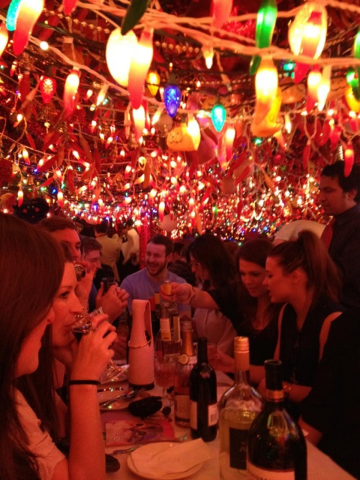 When it comes to Indian food in the city, the restaurants around the East Village are completely hit or miss. While some places are able to duplicate the spices and unique flavors found in many Indian dishes, others lose the essence of good Indian food by adding too much water or milk.
LS freshman Shubanghi Shekhar argued that the best and most authentic food shouldn't change to cater to an American palette.
"Authentic Indian food is shameless in its flavor," Shekhar said. "The spices are bold but addictively delicious. Real Indian food doesn't hide behind other flavors to dampen its zest."
So if you're looking for real Indian food that doesn't shy away from adding some spice, check out these delicious restaurants around campus.
Panna II (93 1st Avenue)
Panna II is known for its personality as much as its delicious food. A small and cozy space, the venue is great if you're looking to eat out with friends. There are hundreds of colorful lights hanging from the ceiling, upbeat Bollywood music playing from the speakers and a friendly staff to greet you as you walk in the door. If you're willing to compromise a bit of personal space for speedy service and a good price, check out this restaurant.
Malai Marke (318 E. 6th Street)
A nice, sit-down restaurant in the East Village, Malai Marke places the utmost importance on its service and quality of food. The menu is varied and includes almost any Indian dish you can think of. They are known for their traditional dishes such as chicken tikka masala or chicken in creamy tomato sauce, as well as their garlic naan. Some of the dishes can get a little pricey, but the serving size for a main course is good enough to share between two people. Malai Marke is also good for those who aren't looking for as much spice in their food.
Mirch Masala (95 Macdougal Street)
Translated into English, Mirch Masala literally means "hot spices." But don't be too intimidated by the name — a relaxed and casual setting, Mirch Masala is known for their almost 30 different types of breads as well as their lamb and vegetarian curries. They offer dosa, which is essentially a thin crepe; uttapam, which looks like a thick pancake; paratha, which is stuffed wheat bread and different flavors of naan. Additionally, the restaurant delivers if you don't feel like leaving the house.
New York Dosas (50 Washington Square South)
It doesn't get much more authentic than New York Dosas, which started as a tiny food cart entirely operated by Thiru Kumar, who wished to bring good, simple Indian food to New Yorkers at a cheap price. He serves dosas and samosas stuffed with potatoes and vegetables. With its location next to campus, it's easy to grab a snack here on your way out from class.
Email Ankita Bhanot at [email protected].