Emergency contraceptives will now be easier to access for NYU students, thanks to five vending machines stocked with the medication installed prior to the start of the semester.
The change comes after student demands for increased reproductive health care access on campus last spring. Students can get the medication from the machines for $15 at five different locations, including the Kimmel Center for University Life, Lafayette Hall, Lipton Hall, Othmer Hall and Palladium Hall. 
The vending machines — which carry a generic version of the common emergency contraceptive Plan B — will be available for use at any time of the day for residents and guests at each dorm. The name of the medication will not appear on students' bank statements after purchase, and will instead appear as "Vengo Mini Vending Machine."
According to Student Health Center executive director Carlo Ciotoli, the SHC increased its focus on reproductive health access on campus following the overturning of Roe v. Wade — a landmark U.S. Supreme Court case that protected the right to an abortion.
"The vending machines will provide even greater access to emergency contraception on campus to those individuals who may have need for it," Ciotoli said in a written statement. "We think it's a good development, and we are hopeful that students will agree."
The South Asian Women's Association, a club at NYU, met with Ciotoli several times over the spring 2023 semester to discuss having emergency contraceptives available to students through vending machines, according to a Sept. 5 email from Ciotoli. The group provided input on where the machines should be located, how the project should be rolled out and the cost of the drugs to students, and presented its ideas to the university administration through Ciotoli, according to an email statement from SAWA co-president Gurket Kaur.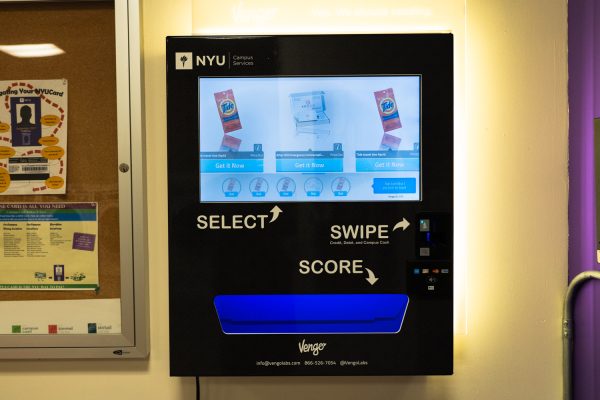 According to Emergency Contraception for Every Campus — an initiative to ensure college students have access to affordable contraception — 43 higher education institutions have already installed vending machines with emergency contraceptives on their campuses, including Columbia University and Cornell University.
Sneha Sridhar, the health and wellness committee chair for NYU's Student Government Assembly, said it took around a year to plan the installation of the vending machines on campus. Prior to the project's completion, on-campus clubs and organizations — including the SGA and the university's chapter of the Young Democratic Socialists of America — had been pushing for increased abortion access on campus. 
"It shows to every single NYU student that the university does care about having access to our health and wellness," Sridhar said. "This is a really great step for not only those who need it, but also just a great tangible reality of teamwork beyond the students and administrators."
In March, NYU announced plans to offer mifepristone — a common abortion medication — at the SHC, and also announced that all abortions, including elective abortions, would be fully covered for those under university-sponsored health insurance. Instead of prescribing the medication to students directly, the university will refer them to abortion service providers. 
NYU YDSA created a petition in response to the decision demanding that the university cover abortions for students who are not under NYU insurance and also offer free pregnancy tests in the emergency contraceptive vending machines. 
A month after the organization wrote the petition, it held a protest at the Kimmel Center to reaffirm its demand for free abortion access to those not under university-sponsored insurance. However, according to an April statement from university spokesperson John Beckman, NYU cannot meet these demands because it has no "authority or influence over non-NYU health insurance plans."
Samantha Del Rio, NYU YDSA's organizing committee co-chair, said the vending machines will increase students' access to emergency contraception, but the next step is ensuring all students have access to reproductive health care at no cost. 
"If you have the privilege of having a penis at NYU, all your reproductive health care is free," Del Rio said. "At every single dorm you can find free lubricant, free condoms, you can go get tested for STDs, for free. All of that is covered by NYU, so why can't people that have vulvas and vaginas also have that privilege of getting free reproductive health care?"
Update, Sept. 5: The article has been updated to include additional statements from Carlo Ciotoli and the South Asian Women's Association at NYU.
Contact Bruna Horvath at [email protected].