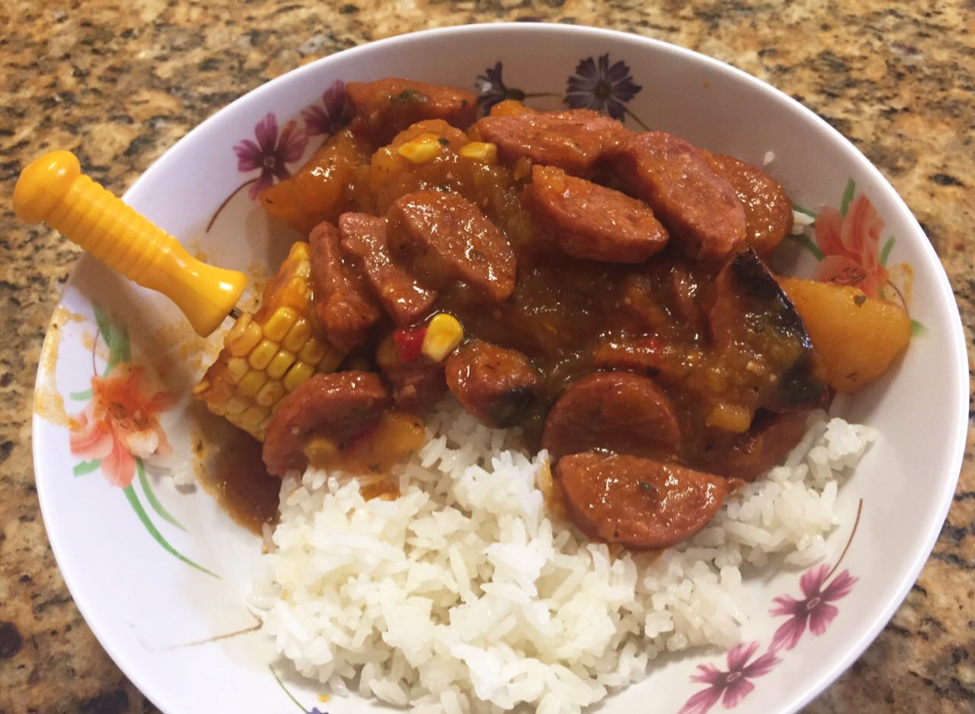 Every year, my birthday is a true treat because I get to celebrate among loved ones with a heaping bowl of Cuban guiso. My mother's gift to me is always her home-cooked meal: smoky kielbasa sausage, sweet corn, potatoes and pumpkin, all smothered over white rice.
Guiso means stew in Spanish. It is a dish most countries have their own versions of. My mother's guiso is a twist on the original Cuban guiso, which is made primarily of corn. For the longest time, I thought it was a family tradition from my mom. Turns out, it was from my dad.
"When I was a boy, my mom would make it and serve it for dinner or lunch," my father Mario Rubio said. "I really liked the taste of corn."
Back in Cuba where my parents grew up, it was not always easy to find certain foods — including corn. This turned the preparation of this dish into a special occasion.
Stews like guiso are a source of comfort because of their hearty vegetables and how they evoke childhood memories. It's no surprise that chicken noodle soup and gumbo fall in this category too.
Wherever you're from, there's likely some recipe that's been tweaked by your family. Whatever the case, tracing the origins of your favorite childhood dish is a great way to reconnect with your heritage.
In the meantime, you can experience the warmth of home with my family's guiso.
•   1 yellow onion
•   2 cloves of garlic
•   1 red bell pepper
•   1 13-oz. package of smoked
Kielbasa sausage
•   5-6 potatoes (in cubes)
•   ½ large pumpkin (in cubes)
•   2 cups of corn (whole kernel)/
cobs to your liking
•   1 can of sofrito (sauce made
of bell peppers)
•   1 cup of tomato sauce
•   Cooking wine to your liking
•   1 tablespoon Kosher salt and
complete seasoning
In a large pot, sautee onions, garlic and bell peppers in olive oil. Add kielbasa sausage and raw chunks of potato, pumpkin and corn. Add the can of Spanish sofrito, tomato sauce and a splash of cooking wine. Season with salt and complete seasoning. Finally, add water until it barely covers the stew. Let the mixture simmer until the potatoes, pumpkin and corn are soft and cooked. Serve over white rice.
A version of this article appeared in the Monday, March 19 print edition. Email Laura Rubio at [email protected]