Pitcher shares devotion to softball
On the softball field, Sage Scheiwiller is the one throwing no-hitters from the pitcher's mound. But if you catch the Poly freshman off the field, you might find her in a chemistry lab before she gets to the dugout. The chemical and bioengineering major studies when two things are meant to bond together — like her and softball, which she could never see herself without.
Since starting at age five, Scheiwiller has never skipped a season. Her parents put her and her brother in tee ball as a way to expand their social circle after moving to Washington Crossing, Pennsylvania. Her mother cheered on the siblings at every game, rain or shine. Her father, a former athlete, acted as a catcher when she needed one. For her, softball transformed from just fun to a new passion that taught her to persevere and believe in herself.
"I think that's something that would drive me crazy — knowing that I could be playing softball but I'm not," Scheiwiller said. "It's definitely a trust thing. I practice in a way that once I step up on the field, I completely trust myself with what pitch I throw, how I throw the ball, how I hit it. I don't need to think anymore."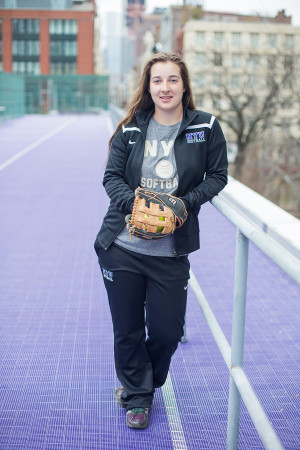 After moving to Spokane, Washington, Scheiwiller spent all four years on her high school's team and seven years playing on different travel teams. She spent her last three years on Spokane Crash Gold: the biggest competitive softball team in town.
"Because I started so young and played it so long, a lot of my defining moments have been shaped by either softball, team members, games that I've played, or tournaments I've played," Scheiwiller said.
Quitting softball was never an option in her mind. She applied to top engineering schools on the East Coast, always making sure they had softball teams. Having previously spoken to the Poly coach about the formation of a varsity team and visited the campus, she enrolled at NYU.
"Usually without a reaction chamber of sorts, all elements may not bond perfectly into a product," Scheiwiller said. "A team is the same way, players start out with side bonds, but as time goes on, if a perfect team is wanted, all must bond and work together."
It hasn't all been a breeze for Scheiwiller and her teammates though. The pressure of being a part of history — the first NYU varsity softball team — has weighed on them since day one.
"It's really disconcerting," Scheiwiller said. "I try not to think about it before a game or during a game that we're making history and that we are history and everything that you do is the historical first season. Otherwise, I get a little flustered out there."
She is doing her best to keep a positive attitude for the whole team, and remains determined to make the Violets' presence known at NYU and in the NCAA.
"Sitting in the banquet hall in Florida during the NCAA tournament it became obvious what a special opportunity this team had, to be the first team to wear NYU jerseys," Scheiwiller said.
A version of this article appeared in the Thursday, April 16 print edition. Email Kathryn Jones at [email protected]