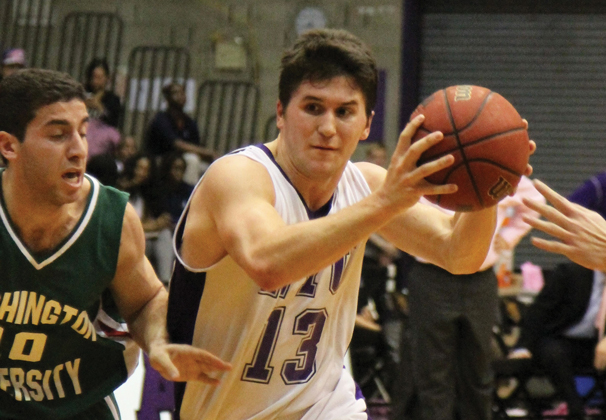 The Violets played their final home game of the regular season on Saturday Feb. 23, against the Brandeis University Judges in Coles Sports Center. NYU won the game 59-57.
On Feb. 22, the Inter-Greek Council and the Commuter Student Council hosted a sports rally for the basketball game as part of the Violet 100 events. Students gathered in the Commuter Student Lounge to get into the NYU spirit.
NYU's five senior players were honored prior to the beginning of the game. Seniors and co-captains Carl Yaffe, Kyle Stockmal and Max Wein, and fellow seniors Cory Stockmal and Devin Karch were all celebrated for their contributions to the team.
In his last regular season game, Yaffe scored 19 points, securing his place in the record books. Yaffe is fifth in career scoring in NYU history, with 1,347 points scored during his college career.
"Being fifth all time on the career scoring list is an honor, there are so many amazing players on that list and I am grateful to be among the best in NYU history," he said.
Kyle Stockmal shot eight points, two of which were three-pointers. He will be remembered for his three-point field goals, as he maintains the record for most consecutive three-point field goals (11), third most three-point field goals in a single game (7), third most three-point field goals in a season (73) and fourth highest three-point field goal percentage (47.1), which he achieved during the 2011-2012 season.
"It felt great to beat Brandeis," Kyle Stockmal said. "They are our rivals in the University Athletic Association, so that on top of having a win on senior night was awesome."
Cory Stockmal came off the bench to play for 28 minutes, scoring four points.
"It meant a lot to the five of us to win our last home game at Coles and I know it is something that I will always remember," Cory Stockmal said. "We also had great fan support this year and it was great to go out on a high like we did."
Karch scored 19 points in his last game, and Wein scored two points.
"I loved the fan support we received for both of our Tear It Up games and for senior day. Having the opportunity to play in front of such an involved crowd was unbelievable," Wein said.
The Violets finished their season 15-10 overall, with a 13-3 record at home. NYU was hoping to make it to the National Collegiate Athletic Association Division III Championships for the second consecutive time.
"We expected a lot more from our team this season," Kyle Stockmal said. "The fact that we couldn't get wins on the road really hurt us this year."
On Monday Feb. 25, NYU men's basketball will find out if they have been invited to participate in the Eastern College Athletic Championship.
A version of this article was published in the Monday, Feb. 25 print edition. Mary Jane Dumankaya is sports editor. Email her at [email protected]