Compost, landfill and recycling bins litter NYU's Washington Square campus. Whether separated or joined, each is decorated with appropriate signage and coloring — green for compost, gray for landfill and blue for all recycling. The system, supplemented with pictures, makes throwing trash away seem simple and self-explanatory.
Or so it appears.
Given the dialogue around The Green New Deal, worldwide climate protests, zero-waste living and veganism, it's difficult to avoid thinking about the impact of climate change on our lives. It can feel impossible to wrap your mind around the ways to tackle it as an individual. NYU has even taken a small step when it contracted student-owned Seastraws to replace plastic straws with paper straws in all dining halls in October 2018.
Properly throwing away that salad bowl from Kimmel Market Place or a cup from Peet's Coffee can be a step toward contributing to a greater cause of solving climate change. Once the plastic utensils tumble into the depths of the recycling bin, we entrust them to someone else's hands. Then what?
NYU uses single-stream recycling — a process in which all recyclable trash is thrown in a single bin instead of separate ones for each type. Although this makes it more accessible for students, it enhances the risk of contamination.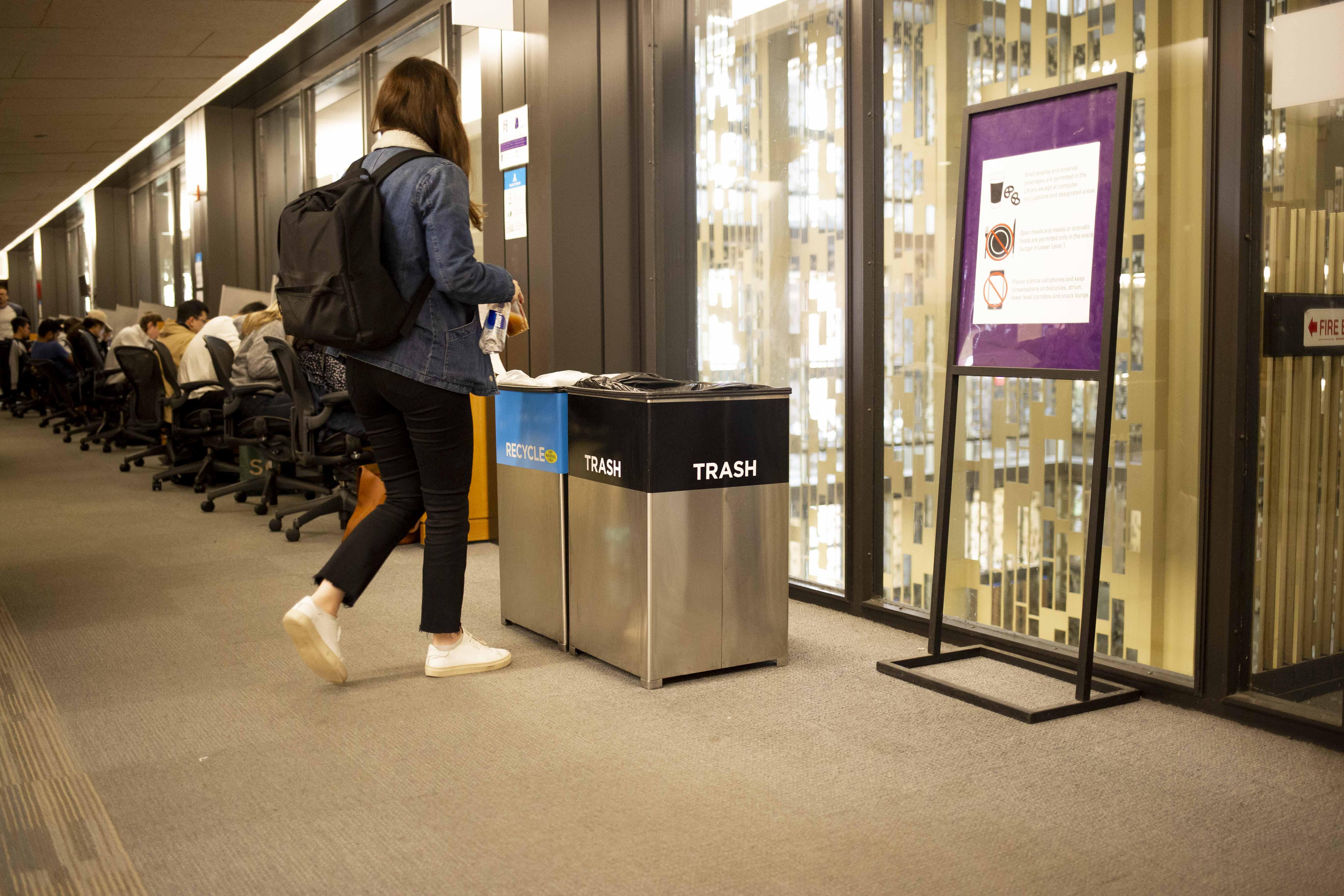 CAS sophomore Lila Jacobs, who takes part in sustainability efforts by opting for reusable items and adhering to a vegan diet, didn't know about NYU's efforts apart from her role as an EcoRep her first year and the fine print posted on disposable bins around campus.
"Recycling on campus is frustrating because it's theoretically easy since NYU has a single-stream system," she said. "Except that I feel kind of pointless actually recycling things because I know the recycling is often so contaminated that custodians put it into the trash bins anyway."
Seeing landfill-bound trash and recyclables ending up in the same garbage bags or containers makes students assume NYU's recycling isn't being handled correctly. This assumption floods Wagner graduate student Edin Thornton's daily conversations.
Thorton acts as the sustainability Senator at-Large and a teaching assistant in the Environmental Studies department. She refers to the issue of contamination of recyclable trash as "the NYU recycling myth."
Thornton explained how recyclables can often get contaminated with food and liquids, such as leftover wasabi on Palladium plastic sushi containers. When the contents of recycling bins are contaminated, it becomes trash, which is not able to be processed in recycling facilities due to how expensive and time-consuming the sorting process is.
"If it's contaminated, it's trash," Thornton said.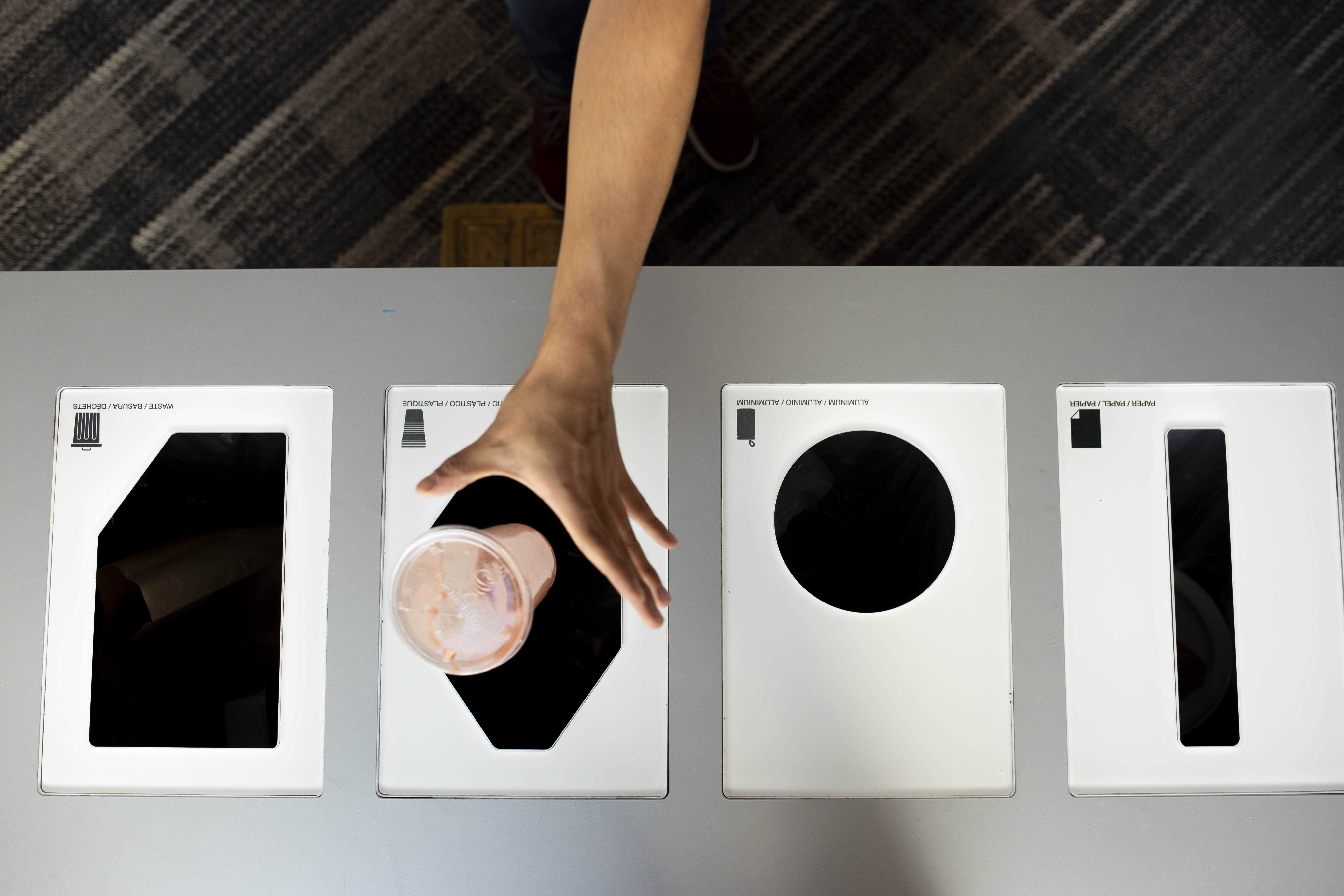 But it's much more than just the trash we throw away — NYU has a greater network of services that handle not only our waste but the university's carbon footprint. 
When Andrew Hamilton assumed the presidency at NYU, he vowed in his inauguration speech to make NYU one of the greenest urban universities in the United States, and to further expand the university's sustainability initiatives. To lead this initiative, Hamilton appointed Cecil Scheib as assistant vice president of sustainability along with Diane Anderson as the Office of Sustainability director in 2018.
In 2009, Scheib took part in drafting NYU's Climate Action Plan. The plan makes a commitment to "climate neutrality," which involves reducing emissions around NYU's facilities and campus by 100% and going carbon-neutral by 2040.
Established in 2006 first under the name Sustainability Task Force, the Office of Sustainability monitors student-run environmental groups, sponsors research in the field of environmentalism through "green grants" and manages trash on campus. Although waste only contributes to about 2% of NYU's greenhouse gas emissions, according to the 2009 plan, Scheib said it's one of the most visible ways that people interact with sustainability in their daily lives.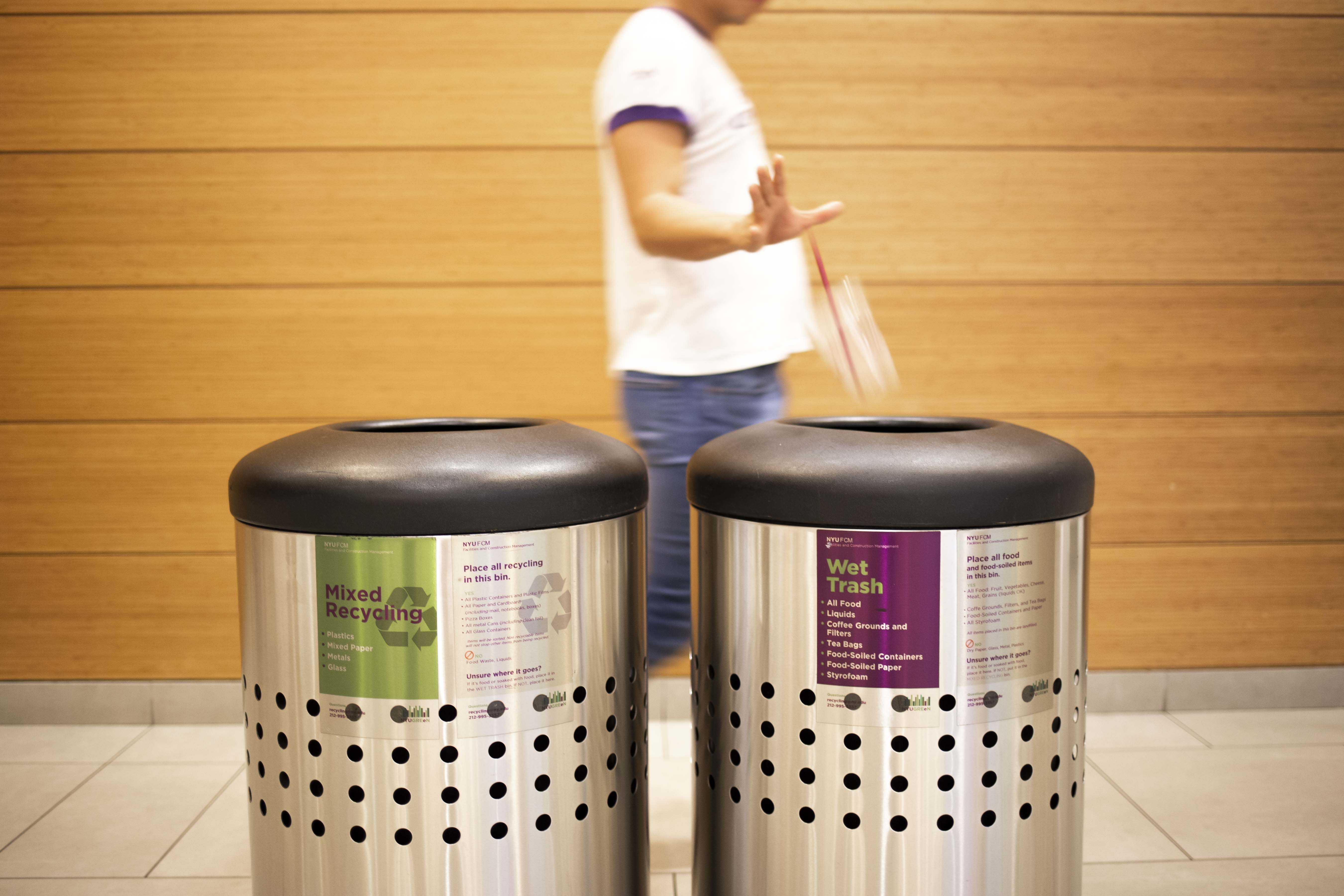 "Most of our movement toward carbon neutrality will come from reducing emissions from energy used by campus buildings," Scheib wrote in an email to WSN. "But reducing waste and handling it properly is still a big part of our efforts since it's very visible in a way that carbon dioxide emissions are not."
That 2% is handled by NYU's Ground and Waste Management within the Office of Sustainability. George Reis began his career at NYU as a gardener in 1995 and has served as the manager of Ground and Waste Management since July 2016. Reis describes his job as overseeing waste removal — landfill, recycling and compost —  from campus at the end of each day.
"There are lots of things that can go wrong, and every day there's a variety of dramas that are involved in that," Reis said, referring to the complications that go into managing NYU's waste.
Reis and his five-person team lead a greater network that takes different forms of trash off campus. The Ground and Waste Management network at NYU currently includes Aramark, Client Services Center and Action Carting.
Aramark
The responsibility for trash collection and disposal around NYU falls on more than one company. The dining service provider, Aramark, bears the responsibility for all trash bins within dining facilities. NYU is currently in the process of switching its dining service provider from Aramark to Chartwells under Compass Group North America, and the contract will be finalized by July. Much like other parts of the contract, such as job retention for dining hall employees and meal plan pricing, it's unknown if Chartwells will continue the same trash disposal that Aramark currently carries out for the university.
Client Services Center
Anything outside of the dining services is handled by the Client Services Center, the umbrella organization which houses NYU's custodian firms Collins Building Services, Inc. (CBS) and Facilities and Construction Management (FCM).
CBS, which is co-owned by NYU, employs custodians across NYU-owned buildings that collect the respective buildings' trash to then be sent out to landfill storing facilities, which are manned by Action Carting, according to Scheib.
FCM is handled by maintenance workers around campus, who collect technoscrap such as printer ink or jewel cases for CDs. Besides technoscrap collection, FCM runs a team of engineers, many of whom are known to fill out work requests throughout residence halls.
Triumvirate Environmental, according to Scheib, takes care of hazardous trash from facilities such as NYU Langone Health and the Silver Center for Arts and Sciences laboratories.
Action Carting
After CBS has collected and sorted waste from around NYU buildings, NYU's waste management provider, Action Carting, picks up all the university's waste and general recycling — glass, plastic, paper and metal.
According to Scheib, the company covers 80 pick-up locations around campus, including NYU-owned residence halls. However, the seven residence halls leased by NYU, now including Tandon's Clark Street Residence Hall, get their trash taken to landfill waste-storing and recycling facilities by The City of New York Department of Sanitation, according to Reis.
Six times a week, Action Carting picks up landfill waste to be taken to its locations in New Jersey. Three times a week, it picks up recycled goods and takes all non-paper material to its Bronx recycling facility.
On its website, Action Carting specifies: "make sure you do not include any food waste or residual food waste with acceptable recycled items."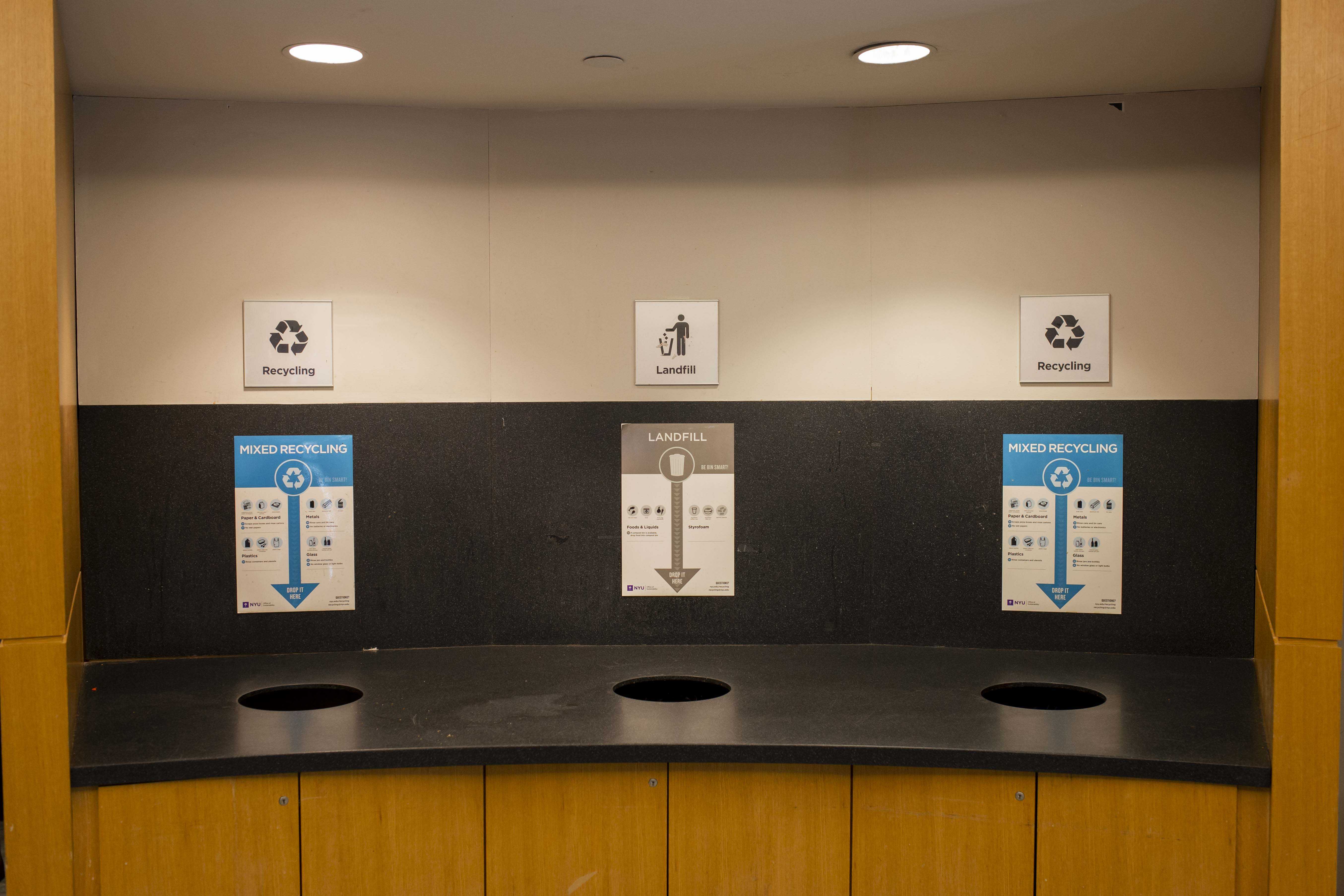 Skyler Barr, the secretary of Community Agriculture and a part of NYU EcoReps, said that when it comes to recycling and making NYU sustainable and environmentally-friendly, the responsibility falls on the community as much as it does on the Office of Sustainability and other services, including Action Carting.
Barr believes, with all the risks considered, single-stream recycling incentivizes people to recycle more. They said one of the biggest issues with recycling is that people simply don't know what can and can't be recycled.
"A lot of people wouldn't recycle if they had five different bins to choose from," Barr said.
GLS junior Josi Riederer, a senior organizer with NYU's Take Back the Tap — which promotes the use of tap water over bottled water — says that NYU has the infrastructure for students to recycle properly, but now it's just a matter of education.
"There are pretty specific directions about what [waste] should go where," Riederer said. "There is just the bigger issue of student education, and if students care or know where to put what. Overall, I would say NYU needs to focus on reducing waste and limiting its sale of single-use goods as a way to bring down the amount of waste thrown out at school." 
Sustainability Senator at-Large Edin Thornton echoes Riederer's concern for educating the greater NYU community about the university's waste procedures.
"It would be so valuable for the entire NYU community to understand what's happening with their trash," Thornton said. "We're a team here."
A version of this article appeared in the Monday, April 22, 2019, print edition. Email Anna-Dmitry Muratova at [email protected].