The NYU women's soccer team knew they were going to start the season hot. On Sept. 1, NYU beat Mount Saint Mary College 7-0 in its first game of the season. Then the team kept on winning.
The Violets started the season with seven straight wins and a goal differential of 40-1 — including a 14-1 win over John Jay College on Sept. 27 — before losing its first game. Currently, the team stands at 10-2-0 and has also broken its record for most goals scored in a single season. NYU has now scored 57 times this year, breaking the previous record of 51 set last season.
"This year, we had a new head coach come in, and just right from the get-go, he was very much saying, 'This is not a transition year. We're going to go out and put everything out there,'" goalkeeper Tyler Hawkins said of head coach Scott Waddell.
Waddell, a former assistant coach for NYU from 2020-22, returns to New York after serving as associate head coach for Brandeis University last season. He comes into the position with experience coaching across Division I and Division III and has spent time playing professionally in Malaysia.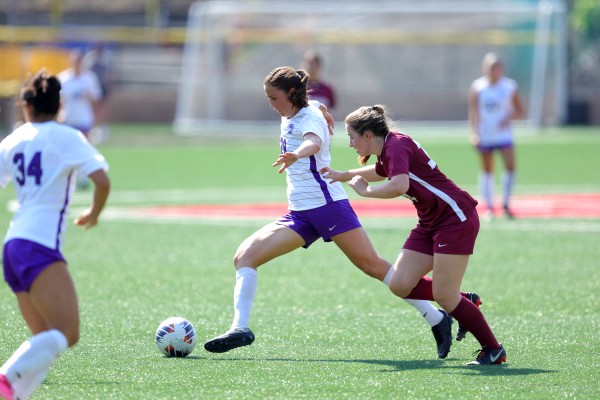 Along with the addition of Waddell, NYU added two new graduate students and six first-year players to its already impressive roster. 
"We had a really great season last year as well, and a lot of the team stayed along with a bunch of great new talented players who were just added into the mix," Hawkins said.
Hawkins splits time in the net with her teammate, Riley Felsher. Together, the duo have allowed only five goals over the course of 12 games — helping lead the team to No. 20 in the nation in National Collegiate Athletic Association DIII and earning Hawkins the title of Soccer Athlete of the Week from the University Athletic Association.
"It feels really great to get that honor and to see that other coaches and players around the UAA are seeing not only what I was doing in goal, but what our backline is doing all together and what NYU is doing as a whole," Hawkins said. "It's a great feeling to know that people are seeing us play and understanding that we're a force to be reckoned with."
But the streak couldn't last forever. On Sept. 30, NYU lost its first game of the season 0-1 to a late goal from Case Western Reserve University, which was ranked sixth. Hawkins, though, doesn't see the loss as a setback in their season.
"I think one of the big things that we came away with is that we were just so proud that everyone put 100 percent effort and so much positivity out there," Hawkins said. "We left it all on the field, and everyone played their hearts out."
Even the loss still felt like progress, considering the team had lost 0-3 to Case Western last season.
"It really built our confidence, and it allowed us to go into the UAAs feeling great and ready and knowing that we can really just beat any team that comes our way," said senior forward Dominique Bevacqua.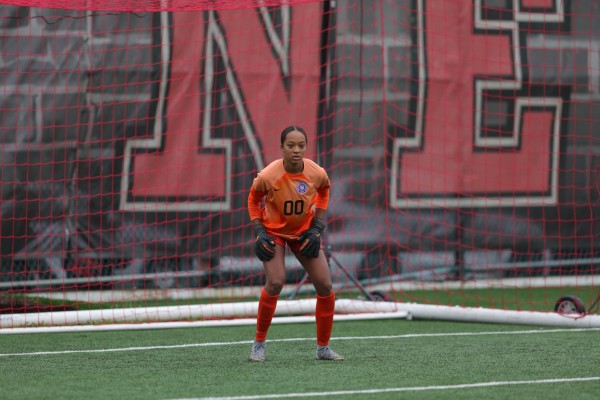 The UAAs are games the Violets play against other teams in the conference and are generally more competitive, as the other schools, like Case Western, are highly ranked.
"We start off the season kind of just feeling out how we all play together, and our different dynamics, but as we go into the UAAs, it's a much tougher battle, and we really have to step up to the plate and play our best," Bevacqua said.
Although pressure is increasing as the NCAA tournament approaches, Hawkins says she doesn't feel it much. The team tries to just keep the next game in mind — although sometimes, Hawkins confessed, they do falter and check the scores and standings of the other teams in the UAA conference.
"We're all just so trusting of each other and everyone back there is such a phenomenal, phenomenal player that we understand every time we go out on the field, we know what we're going to do," Hawkins said. "We can trust each other and play our game no matter who we're playing or what kind of game we're going to face."
Up next, the Violets are set to face the University of Rochester on the road on Oct. 20 at 5 p.m.
Contact Avery Hendrick at [email protected].