More than a hundred students took part in a pro-Palestinian demonstration in Washington Square Park on Thursday, calling on NYU to recognize Palestinian casualties in the Israel-Hamas war and for the university to shut down its study abroad program in Tel Aviv. The protest saw nearly 100 police officers stationed by the park, barricading demonstrators from passersby. 
NYU's Students for Justice in Palestine organized the protest alongside the Palestinian-led community organization Within Our Lifetime. Demonstrators were met with around 20 pro-Israeli counterprotesters, who held Israeli flags and chanted in unison. New York City Police Department officers placed a metal barrier between the two groups. 
Abdullah Akl, an organizer for WOL who spoke at the protest, criticized the university for its response to the war. 
"Over a month into what people are referring to as a conflict, we are calling it a genocide and we are holding the United States and its institutions accountable for their funding of this genocide," Akl said at the protest. "We know that NYU has a campus location in Tel Aviv on stolen land and we are demanding that they shut down that location and that they start to actively stand up against the genocide that is happening against the Palestinians in Gaza."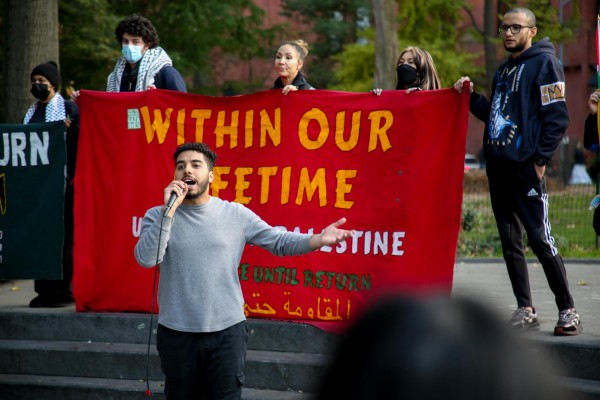 The ongoing conflict began on Oct. 7 after the Palestinian militant group Hamas launched an attack on nearby Israeli towns, killing about 1,200 civilians and taking over 200 hostages in the Gaza Strip. The Israeli military has since initiated a ground invasion in the region, having killed more than 11,000 Palestinians so far, according to the Gaza Health Ministry. 
"All we want is our hostages released and we will gladly free Palestinians from Hamas, a recognized terrorist organization," said a student and pro-Israeli counterprotester, who asked to remain anonymous due to safety concerns. "We are not asking for Palestinians to die, we do not want Palestinians to die. We want Hamas to stop murdering innocent Israelis and stop murdering their own people."
Two weeks ago, pro-Palestinian demonstrators demanded that the university shut down its study away site in Tel Aviv in a protest outside Bobst Library. In the past, students have criticized the program for violating NYU's Non-Discrimination and Anti-Harassment Policy and Code of Ethical Conduct because of an Israeli law barring foreigners who have called for a boycott of the country from entering its borders. The university has reiterated its commitment to the site multiple times, arguing that shutting it down would violate academic freedom. 
SJP organized a separate pro-Palestinian protest at Washington Square Park yesterday, which also saw a heightened police presence. The demonstration was originally planned to take place outside the Stern School of Business's Tisch Hall, but the area was blocked off by metal barriers and being patrolled by Campus Safety officers. 
The university did not respond to requests for comment about either demonstration. 
In response to on-campus incidents of antisemitism and Islamophobia, NYU increased the number of Campus Safety officers around its Washington Square and Brooklyn campuses, as well as police presence near key university buildings. Since the start of the conflict, there have been reports of students facing employment discrimination and being identified online over pro-Palestinian speech, as well as hundreds of reports of antisemitic incidents made to the Bronfman Center for Jewish Student Life.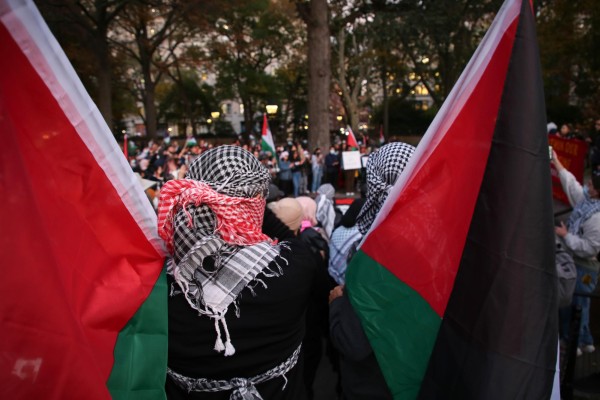 A pro-Palestinian student who took part in the protest, who also asked to remain anonymous due to safety concerns, accused NYU of being complicit in Israel's occupation of the Palestinian territories.
"They haven't said anything about Palestine or the Palestinian people since Oct. 7," the student said. "They've only given out one statement addressing the Israeli side, but they've never once sent out a full email addressing Palestinians. We're here to tell the NYU administration that we do not stand by their silence."
Contact Luke McCrory at [email protected].