'Andy, Andy, you can't hide,' NYU contract faculty say to president
A week after gathering at Bobst Library to call for union recognition, contract faculty at NYU rallied to demand that the university begin a formal process to recognize the union.
Students, professors and local politicians demonstrated outside of NYU's Bobst Library in support of Contract Faculty United, calling for the university to recognize the union, which represents untenured contract faculty at NYU. The rally follows another gathering outside Bobst last week, when the union gave the university a seven-day deadline to respond to a letter of their demands.
At NYU, the term "contract faculty" refers to untenured full-time professors, whose contracts are renewed every few years. Unlike adjunct professors, who make up the majority of the faculty population, typically work part-time, and must renew their contracts each semester, contract faculty do not yet have a recognized union or collective bargaining agreement with the university.
The group of attendees, which included New York City Comptroller Brad Lander, chanted classic organizing lines like, "If we don't get it, shut it down," and more personalized refrains including, "Andy, Andy, you can't hide, we can see your greedy side." Elisabeth Fay, a CAS professor and an organizer with the union, said that the group is hoping for a fair and neutral recognition process from the university.
"You obviously can fix this this afternoon," Lander said at the rally. "This is not that complicated. This doesn't cost any money. This doesn't start negotiating the raises. This doesn't make commitments of job security, just to come down here and say, 'Of course we are so grateful to you for teaching our students, for being the faculty that gives us this great reputation."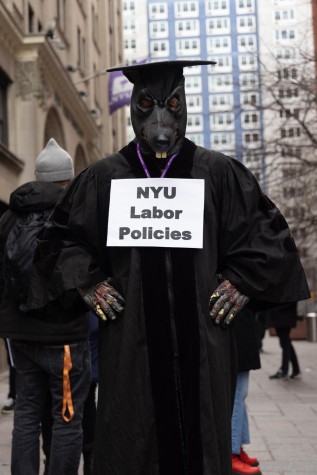 The group's demands include the right to negotiate terms of employment, guidelines to govern contract faculty terminations and annual raises that match inflation rates.​ An email from Hamilton's office the day before the rally informed contract faculty that the university would need more time to respond to the letter.
University spokesperson John Beckman said that the university would respond to the union within seven to ten days.
"We acknowledge their desire to form a collective bargaining unit, and respect their right to rally peacefully in support of their aims." Beckman said. "We will be back in touch with them with a substantive response to their letter soon." 
Jacob Remes — a clinical associate professor at the Gallatin School of Individualized Study and a member of the union's organizing committee — said that the university responded over email just 23 hours before the deadline that the union had set. 
"I like my job. I like my colleagues. I love my students. And so far, the goodwill and unenforceable promises of my bosses have held up," Remes said. "Of course, our teaching, our advising, our mentoring, our classroom work, our grading papers, our work with students, that is the core of our job. The university would not work unless we work."
Other labor groups on campus have had success organizing in the past. In November, NYU's adjunct faculty union, ACT-UAW Local 7902, was able to successfully negotiate a tentative contract with the university, avoiding a strike that was authorized by union members more than a week beforehand.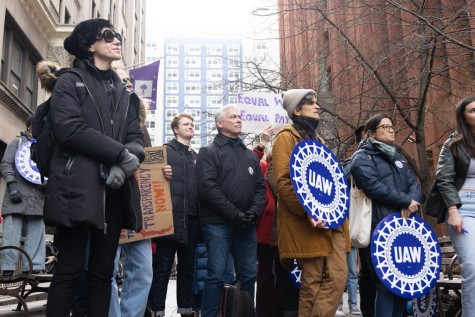 The contract will give adjuncts higher wages, compensation for time spent working outside the classroom, health insurance subsidies and other improvements. 
GSOC-UAW Local 2110, the graduate student union at the university, was also able to negotiate a contract with NYU after a three-week-long strike. The union became the first private university graduate student union to successfully negotiate a contract for collective bargaining in the country. 
Fay said the union will continue to rally until the university initiates the recognition process. She added that she hopes NYU is taking advantage of the added time they have to respond. 
"Advice to President Hamilton as he continues work on this important midterm project in his last semester at NYU: Make good use of that extra time," Fay said. "Make sure that your response is something that the entire NYU community can be proud of."
Contact Bruna Horvath at [email protected].